The third day of declines for Bitcoin has seen the price of the crypto asset slide around the crucial $20K mark again. It was a weak weekend for the crypto market, with bitcoin plunging for the third straight day and slipping back toward $20,000 as of press time on Sunday. There is a growing consensus among some analysts that $17,000 represents a key level of support for the market.
Not a clear path yet
During the weekend, bitcoin continued to decline in value slowly, and it dipped to $20,000 after a relatively calm weekend. In today's trades, it is important to note that most altcoins are also losing value, with the biggest drops occurring in Solana, Avalanche, Matic, and Litecoin.
In the past week, the primary cryptocurrency has done well, surpassing the weekend's stalemate, which led to a spike to and above $20,000 in value over the course of the week. Further, on Thursday, the asset reached a three-week high of around $22,500, which was its highest level in three weeks.
As a result, those gains were short-lived as BTC began to retrace very soon after. Over $1,000 was lost almost immediately. It tried to rebound after the crash but was halted in its tracks as soon as it happened. Because of this, the coin traded sideways throughout most of the weekend in a range between $21,000 and $22,000 during the weekend.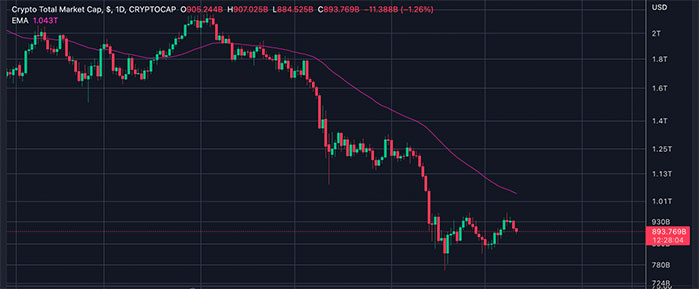 The cryptocurrency began losing value as the day grew closer to its end, and by the time it reached the end of Sunday, it had fallen below $21,000. As bitcoin's price fell a little over $20,300 to just over the four-day low, its nosedive continued.
Currently, it has maintained above $20,000, and its market capitalization has decreased below $400 billion, but it has sustained above $20,000 all day, and its price is 4% lower than yesterday.
Several days ago, Ethereum had a good jump, just under $1,300, for the first time in several weeks. In the following weeks, the value of the coin began to fall, and now it is struggling to trade at $1,150.
As a result of the decline in the cumulative market cap of all crypto assets in the past two days, the total value of all crypto assets now stands at just over $900 billion, down $50 billion from two days ago. After all, the future of the market isn't clear, and many investors are waiting. While some believe the Bitcoin price may even go down (to $10K), others believe the bottom is here, and the uptrend may start soon.