On-chain analytics platform, Santiment, revealed that Polygon MATIC sharks and whales have been in a 'pretty big accumulation' phase boosting Polygon's price over 30 per cent in the last 7 days.
As per CoinMarketCap, Poygon (MATIC), soared 23.28 per cent over the past 24 hours to trade at $0.5067. Polygon price printed a sharp reversal following its bearish trend. However, the digital token which had hit an all time high of $2.92 on Dec 27, 2021, has fallen about 80 per cent in 2022 (YTD) so far.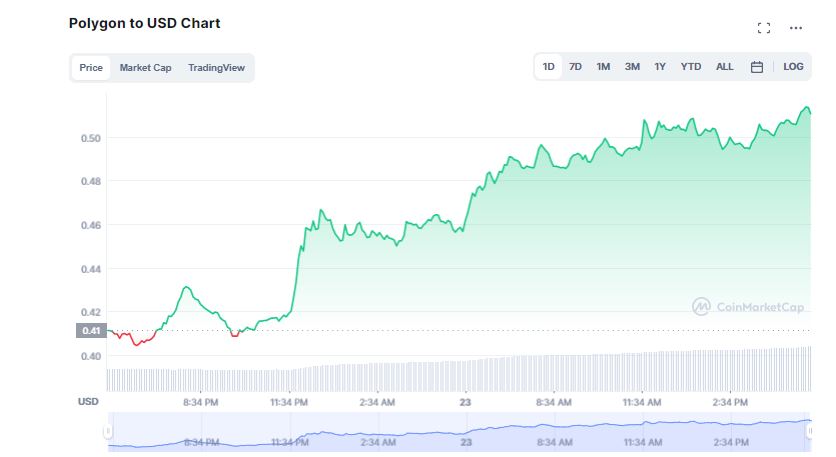 Sizeable Accumulation Thrusts MATIC Price
🦈🐳 $MATIC sharks and whales have been in a pretty big accumulation trend for about six weeks. The tiers of holders ranging from 10k to 10m coins held have collectively added 8.7% more to their bags in this timespan. 📈 https://t.co/oasCn72rxt pic.twitter.com/lm4au2fWkn

— Santiment (@santimentfeed) June 22, 2022
According to a recent tweet posted by Santiment, wallets holding between 10,000 and 10,000,000 MATIC coins have jointly bought more MATIC, which resulted in a collective rise of their balances by 8.7 per cent. They have been purchasing Polygon's crypto over the past six weeks, since early May, boosting MATIC's valuation.
Santiment suggested that since May 9, Polygon token holders have "collectively added more than 8 per cent more to their bags". Recently, crypto tracker, WhaleStats, tweeted that a MATIC whale called "BlueWhale0097" acquired 10,000,000 tokens worth a massive $4,226,890.
🐳 ETH whale "BlueWhale0097" just bought 10,000,000 $matic ($4,226,890 USD).

Ranked #154 on WhaleStats: https://t.co/gl7JF2mjbh

Transaction: https://t.co/C3aeYsv2d5#ethereum #whalestats #babywhale #BBW

— WhaleStats (tracking crypto whales) (@WhaleStats) June 22, 2022
It is rather interesting to note that on June 23, MATIC climbed to hover at $0.50 four days after plunging to its lowest level since April 2021. Polygon's meteoric rise of over 60 per cent in a matter of 4 days has surpassed the performances of Bitcoin (BTC) and Ethereum (ETH) in the same time frame.
Polygon Network Achieved Carbon Neutrality

Indian crypto exchange WazirX's Trade Desk, explained that Polygon's price rise can also be attributed to the recent news of MATIC network claiming that it has achieved carbon neutrality. The crypto exchange added,
"Polygon(MATIC), recently achieved carbon neutrality(a balance between emitting and absorbing carbon). This has led to a surge in MATIC price in the last few days, jumping up by 30%. The hourly trend for MATIC has broken out of the ascending triangle pattern. The next resistance is expected at $0.73 level."
Recently, Polygon announced that it had acquired $400,000 worth of carbon credits, which represent 104,794 tons of greenhouse gases. Sandeep Nailwal, co-fouder of Polygon, urged the blockchain space to go beyond mere promises to stop making the environmental crisis worse than now and actually do something to prevent it. In a stament, Polygon stated,
"Polygon reached carbon neutrality by partnering with KlimaDAO, a decentralized collective of environmentalists, developers, and entrepreneurs that is widely recognized as a pioneer in the nascent, on-chain carbon market."