A good way to decide which cryptocurrency to invest in is to compare two of them. Knowing their similarities and differences is perhaps the best alternative to know exactly which cryptocurrency best suits each investor. Two of the cryptos that have been most compared for their potential are Cardano vs Ethereum.
Both the digital assets are altcoin heavyweights that rank among the top 10 cryptocurrencies and provide users with a massive investment opportunity. Although they provide similar functionalities in relation with smart contracts and decentralized applications (dApp), there are some major differences that separate ADA and ETH miles apart.
Of late, the war between the two formidable opponents has intensified owing to the significant surge in decentralized finance (DeFi) projects. Furthermore, the comparison between the two has piqued interest, in part because Cardano founder Charles Hoskinson was also one of the original developers of Ethereum. The Ethereum network seems to be at a commanding position compared to the Cardano network due to its sheer size. It's the second-most popular cryptocurrency behind Bitcoin (BTC).
Ethereum is also the most popular network for non-fungible token (NFT) marketplaces, DeFi applications, and numerous metaverse projects. While Cardano also host these types of applications, Ethereum is the clear leader in this space.
However, since launch Cardano has adopted a more cautious path with a peer-reviewed research-driven approach aiming to incorporate academic rigour and math with blockchain technology. Its primary focus has been on creating a system that is cheaper to use and more efficient than Ethereum.
Although there are many similarities between Cardano and Ethereum, they have their differences depending on an individual investor or user's perspective. In this article, let us understand in details the key differences between the Ethereum (ETH) and Cardano (ADA).
Main Differences Between Ethereum (ETH) and Cardano (ADA)
Ethereum and Cardano seem similar on the surface, but they have significant operational and application differences. The key differences have been segregated under 4 main categories as follows:
Transaction Volume
Ethereum enjoys a wider fanbase handling approximately 1 million daily transactions. On the other hand Cardano processes less than 100,000 transactions on a daily basis. However, in regards to transaction speed, Cardano has eclipsed Ethereum in transactions per second (TPS). On Layer 1, Ethereum can process up to 30 TPS. That's in contrast to Cardano network's speed, which can process roughly 250 TPS.
Scalability
Both Cardano and Ethereum 2.0 are "Layer 1" blockchains, but their designs are different. Ethereum 2.0 uses a single-layer to manage on-chain smart contracts and apps, but Cardano has a dual-layer design that allows for more functionality and scalability. This means, Cardano is more scalable than Ethereum and can handle more transactions. It seems Cardano is capitalizing on things Ethereum is not, and vice versa.
Transaction Fees
Ethereum is infamous for its notoriously high gas fees compared to Cardano. The ETH transaction fees are very high with users have to pay 2$ to 6$ for just 1 transaction. In comparison, Cardano gas fees are consistently lower, averaging 0.16 ADA per transaction.
DeFi Ecosystem
The current boom in the DeFi projects has had a major impact on both Ethereum (ETH) and Cardano (ADA). The global decentralized finance market size was valued at $13.61 billion in 2022 and is expected to expand at a compound annual growth rate (CAGR) of a staggering 46.0% from 2023 to 2030. This exponential growth has put Ethereum as well as Cardano on the forefront with a number of upcoming upgrades on both the blockchains.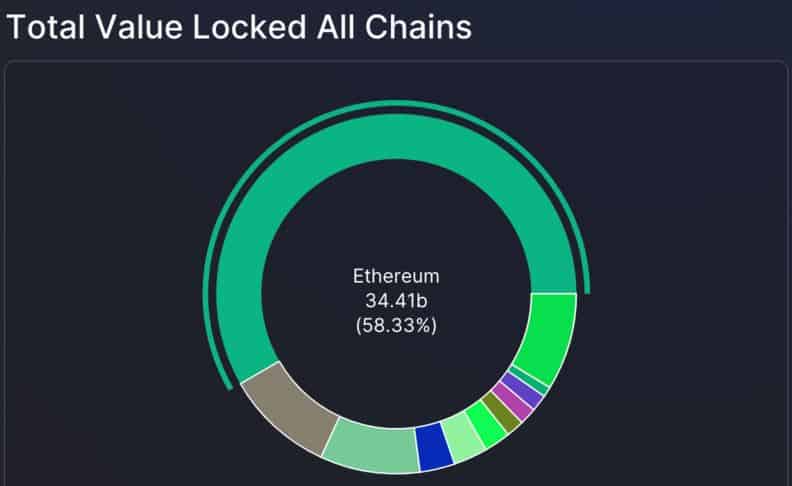 Since Ethereum was the first chain with smart contracts, it dwarfs Cardano's smart chain ecosystem. To put things into a perspective, Ethereum has more than 3000 dApps running on it, whereas Cardano has a little over 1,000. When looking at total value locked (TVL), Ethereum's DeFi ecosystem outshines Cardano by a long shot. Subsequently, Cardano comprises only a tiny fraction of Ethereum based on TVL being less than $100 million. In a nutshell, Ethereum has clinched the winning trophy in this category.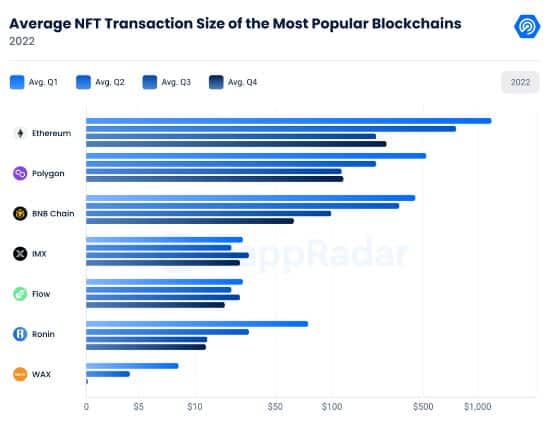 Meanwhile, even on the NFT front Ethereum (ETH) manages to put forward a sweeping victory with some of the most popular and lucrative NFT projects including CryptoPunks and Bored Ape Yatch Club (BAYC). On the other hand, the Cardano NFT ecosystem is also heating up with the three most popular Cardano NFT collections are Skyweaver, Etheremon, and Spells of Genesis.
Cardano's NFT project, Clay Nation, also revealed an integration with The Sandbox Game, a virtual world where players can build, own, and monetize their gaming experiences. Thus, these developments seem to be providing Cardano with a lot of credibility.
Enter The Sandbox 🪨

Clay Nation will become the first @Cardano project to be integrated in @TheSandboxGame – pushing interoperability even further in #Web3

The experience will be created in collaboration with @smoblerstudios.

Stay tuned for more. pic.twitter.com/kzdSsUyKpW

— Clay Nation (@claymates) February 25, 2023
How are Cardano and Ethereum similar?

As mentioned earlier, both Ethereum (ETH) and Cardano (ADA) have several similarities owing to the fact that they share a common heritage with Cardano's founder, Charles Hoskinson, being one of the original developers of Ethereum. Other similarities can be briefly categorized as both the digital assets are used for peer-to-peer transactions and as a mode of payment for services and processing power on their underlying blockchain networks.
In addition, both are also commonly used as investment products, with users buying them on exchanges and then holding or trading them in hopes of making a profit. Key similarities also include features such as smart contract functionality, developing dApps, sending financial transactions via the network's native token and the same Proof-of-Stake (PoS) consensus mechanisms for their blockchains
Ethereum started operating on the Proof-of-Work (PoW) consensus, the original mechanism inherited from Bitcoin (BTC). But it changed to a PoS model in September 2022 which is a more environmentally friendly consensus mechanism than the PoW. Meanwhile, Cardano was launched with a specially designed proof-of-stake (PoS) blockchain protocol for consensus called "Ouroboros".
In terms of smart contracts, both the blockchain networks continue to feature these contracts in their operations. It is likely that while both projects are still being actively developed, Ethereum is a tad further along in its rollout compared to Cardano.
Staking: Ethereum vs Cardano. Which is More Profitable?

Staking refers to a popular way to earn rewards, for helping to support network validation of blockchain transactions. The process helps the network to remain decentralized by spreading the consensus to thousands of validators that ensure the transactions.
Ethereum (ETH) takes the trophy for the most staked crypto asset following the successful Merge of the Beacon Chain consensus layer with the Ethereum execution layer in 2022. On-chain ETH staking yields are currently around 4% APY. To stake on Ethereum currently, users have to agree to lock away a minimum 32 ETH until after the network upgrades to Shanghai Hardfork.
Alternatively, Cardano has no lockup period, ADA holders can stake at will, while maintaining the freedom to use their tokens to make payments and transfers and even enter into Cardano's DeFi ecosystem. Currently, ADA staking returns a yield of about 3.5 to 5% APY.
Recap: Comparative Table Ethereum vs Cardano
| | | |
| --- | --- | --- |
| | Ethereum (ETH) | Cardano (ADA) |
| Launch Date | 30 July 2015 | 27 September 2017 |
| Max. Token Supply | Infinite | 45 Billion |
| Consensus Mechanism | Proof-of-Stake (PoS) | Proof-of-Stake (PoS) /Ouroboros |
| Transactions Fees | $2-$6 (depending on network traffic) | 0.16 ADA per transaction. |
| Transactions Per Second | 30 transactions | 250-270 transactions |
| Programming Language | Solidity | Haskell |
| Web | https://ethereum.org/en/ | https://cardano.org/ |
Conclusion
While all cryptocurrencies have their own pros and cons, Ethereum is generally considered the safer bet when comaperd with Cardano. It is significantly larger and more widely used than Cardano, which gives it an advantage. As a matter of fact Ethereum is also more established and likely to survive long term due to its larger developer community and ecosystem. Meanwhile Cardano is relatively new and still building out its fundamentals.
However, given the methodical approach Cardano could witness a sustainable growth over time, especially since it has a treasury, which runs as a separate entity from these organizations. On the contrary, when it comes to organizational structure, Ethereum is overseen by a single organization, the Ethereum Foundation.
In conclusion it can be said that both the networks have a fair potential to grow in the future, there isn't a clear winner as of now. Alternatively, there's a chance that in the future both Ethereum (ETH) and Cardano (ADA) will both be winners.
Crypto Economy reviews and comparisons are for informational purposes only and should not be taken as investment advice. If you want to invest in cryptocurrencies, do so at your own risk and do your own research beforehand.