As one of the most well-known meme currencies, Floki Inu has the potential to offer more profits to its owners in the next years, possibly reaching 1 cent. This coin has a lot of different forecasts and analyses. Each of them has a different justification for the coin's price in the next years.
What is Floki Inu?
In the crypto market, Floki Inu has become one of the most popular dog copycat coins. Elon Musk, the millionaire CEO of the electric car company Tesla, was the inspiration for it. The meme coin was designed by an unnamed group of developers who were passionate Shiba Inu fans and members. Both the Ethereum blockchain and the Binance Smart Chain (BSC) network are used in the project.
In honor of Floki (Musk's dog), who was named after a Viking character, the community calls themselves the "Floki Vikings." Floki Inu has been included multiple times in the top ten of LunarCrush's social engagement leaderboards, indicating that it takes its community activities seriously.
Floki Inu has also joined with CryptoCart, enabling its holders' access to over 1,700 merchants through the CryptoCart platform (CC). It's also working on a similar deal with Curate (XCUR), which would allow Floki tokens to be used as a payment option on Curate's physical products marketplace.
Floki provides a wide range of services to its community. FLOKI's play to earn NFT Metaverse game, VALHALLA, will have A-level gaming elements on the blockchain as well as upgradeable NFTs. FLOKIPLACES, FLOKI's NFT and goods store, will allow you to trade NFTs and merchandise for cryptocurrency. And, regardless of your level of cryptocurrency experience, FLOKI UNIVERSITY is FLOKI's crypto education platform that is personalized to your needs.

Three pillars support the coin and its community. The meme culture on FLOKI is thriving. The community adores and lives for memes, and they feel that utilizing the power of memes is the only way to actually bring cryptocurrencies public and secure widespread adoption. FLOKI's utility plan offers it incredibly strong fundamentals, despite its powerful meme culture. The third pillar is charity.
According to the official website:
"Blockchain tech and cryptocurrency is good, only if they make life easier for us and contribute to the world being a better place. This is why charitability is a very core part of what FLOKI is. FLOKI's core vision is to build a school in every continent first and in every underdeveloped nation of the world."
Where can I buy Floki Inu?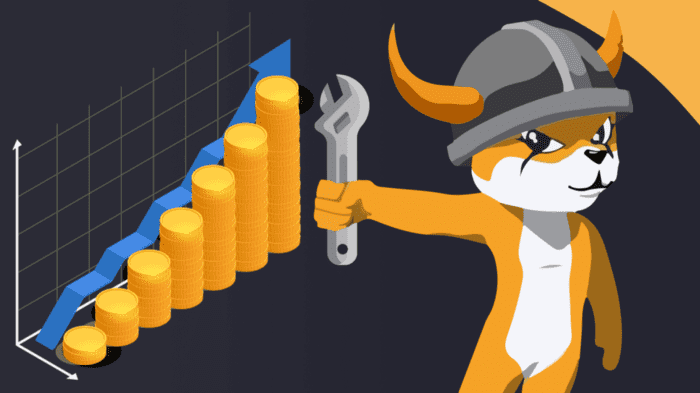 There are numerous platforms that support Floki Inu, and the list continues to grow as the coin grows in popularity and interest. Each site has its own set of features and alternatives for purchasing this coin using fiat currency, stablecoins, or other cryptocurrencies. The following are some of the most well-known centralized and decentralized exchanges that support Floki Inu:
eToro

Binance

CoinBase

Uniswap

PancakeSwap

Gate.io
Buying Floki Inu on centralized exchanges necessitates the creation of an account, which may be subject to KYC restrictions. On DEXs like Uniswap and PancakeSwap, you can simply swap your other money for Floki Inu. Working with these exchanges necessitates the use of a wallet such as MetaMask and the deposit of some coins – preferably stablecoins like as TUSD, BUSD, and others.
Floki Inu (FLOKI) Price Prediction and Forecast 2022, 2023, 2024, 2025
FLOKI was worth $0.00000361 on its first day of trading on the 10th of July, 2021, and did not see any fluctuation. It quickly fell following that, as a result of the crypto day crash on the 19th of May. In the months that followed, Floki made a comeback. On the 30th of July, it was valued at $0.00000594, a gain of slightly over 100 percent in just two days.
As previously said, several forecasts for the price of Floki Inu in the following years are available. The forecasts are optimistic as of 2022, but the price could alter later owing to a variety of factors.
Floki Inu (FLOKI) Price Prediction 2022
As of the end of 2022, Floki Inu's price forecasts are overwhelmingly favorable, with some analysts predicting a price of $0.000058 and WalletInvestor even predicting a price of $0.000245 by the end of the year. On the other hand, FLOKI is expected to touch $0.000847 by the end of 2022, according to Gov Capital.
Floki Inu (FLOKI) Price Prediction 2023
Some experts anticipate that the price of the Floki Inu will drop to $0.000013 by December in their 2023 Floki Inu price predictions. PricePrediction.net predicts a further fall in the price of Floki Inu in the future, predicting that it will reach $0.000009 by that time. WalletInvestor, on the other hand, continues to forecast Floki Inu price increase, estimating prices of around $0.000366 in 2023.
Floki Inu (FLOKI) Price Prediction 2024
Price projections for the Floki Inu in 2024 are still overwhelmingly favorable, with some analysts predicting prices in the $0.000078–$0.000497 range (PricePrediction.net), while others expect a price of $0.000014 in December 2024 (WalletInvestor).
Floki Inu (FLOKI) Price Prediction 2025
Few analysts are optimistic about the Floki Inu price estimate for 2025, with Floki Inu valued at $0.000051 by the end of the year. WalletInvestor concurs with the bullish projection and forecasts $0.000632 for the same time period. PricePrediction.net, on the other hand, is more pessimistic. Their maximum Floki Inu price forecast for December is $0.00001.
Conclusion
Floki Inu is unlikely to reach one cent in the near future, according to numerous analysts and price prediction websites. Even priceprediction.net's bullish projections indicate the coin will reach a maximum of 0.002 in 2031.
Keep in mind that analysts and algorithm-based forecasts can be inaccurate when it comes to Floki Inu's (FLOKI) price predictions. Their forecasts are based on a thorough examination of the cryptocurrency's past performance, both fundamental and technical. Past results are no guarantee of future outcomes.
It's critical to conduct your own research and keep in mind that your decision to trade is based on your risk tolerance, market expertise, investment portfolio spread, and comfort level with losing money. Never put money into an investment that you can't afford to lose. There are a variety of factors that influence cryptocurrency prices, and not all of them are predictable.
---
The Price Predictions published in this article are based on estimates made by industry professionals, they are not an investment recommendation and it should be understood that these predictions may not occur as described.
The content of this article should only be taken as a guide and you should always carry out your own analysis before making any investment.