MyEtherWallet [MEW] is undoubtedly one of the wallets for ETH best known by the crypto community, in this review we will see its features, how to create a wallet step by step, its operation and everything you need to get the most out of it.
What is MyEtherWallet [MEW]?
MyEtherWallet [MEW] is a free and open-source platform, compatible with ETH and its tokens, which allows you to interact directly with the Ethereum blockchain, create wallets, send and receive ETH and its tokens or interact with smart contracts (smart contracts) among other options.
The goal of the MEW team is that the users of its platform can interact with the Ethereum blockchain in an easy and fast way. Education about privacy and security is very important, that is why from MyEtherWallet they offer their users a section with guides, videos and frequently asked questions about the platform.
In addition, the platform is compatible with the hardware wallets Trezor, Ledger, Secalot, KeepKey, Digital Bitbox, and offers support to the Metamask wallet, which can be accessed through its interface.
Creating a wallet in MEW

To create a wallet in MyEtherWallet and be able to enjoy all its functionalities, the steps to follow are the following:
Access the official MyEtherWallet website [MEW]
Select the Create a new wallet option
After accepting several didactic messages, we will have 3 options to choose from, use the MEW Connect application, by Keystore File or by Mnemonic Phrase, we will explain the 3 ways
Through MEW Connect

The MEW Connect App is available for Android 8.0 or higher and iOs 10.0 or higher, to download it you can access it through the App Store, Google Play or click on the "Scan to Download" option that appears on the screen.
Once downloaded, when you access you will see 2 options, create new wallet and restore wallet.
When pressing new wallet will ask for a password, be sure to use a secure password and keep it in a safe place.
When typing the password, verification will be required to ensure that you have written it correctly. Your wallet will be installed and ready to be used from your mobile.
Through Keystore File
When pressing this option, MEW will ask you to insert a password, once it is entered it will give you some security tips, making reference to the file that you have to download: Do not lose it, do not share it, make a backup copy.
The next step is to download, save and make a backup as advised from the platform of the Keystore File, this file together with the password entered, will be necessary to access the wallet.
Through Mnemonic Phrase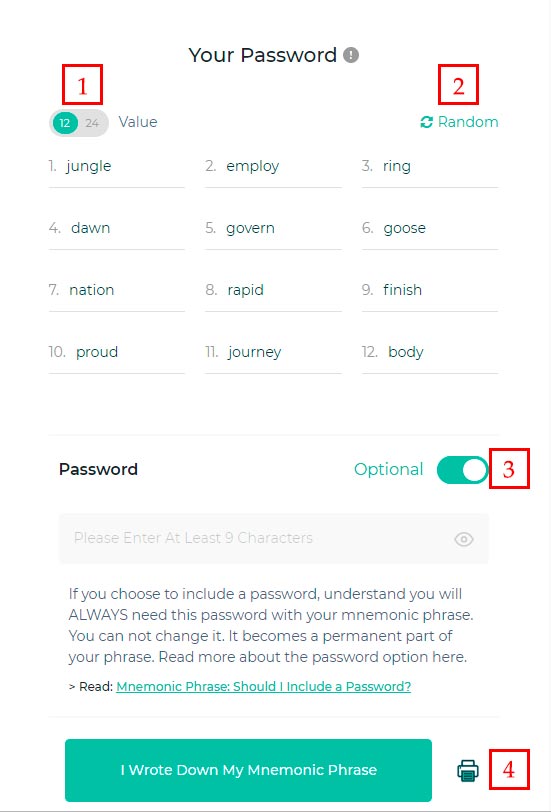 When selecting this option, you will see that a list of 12 words appears, you can choose that the number of words is 24 to increase security (1), you can also change the words that appear by default (2).
MEW Wallet gives the option to reinforce security by adding a Keyword of at least 9 characters (3). Adding an extra security password is totally recommended.
Once the number of words has been chosen and if we want to add the extra keyword, we will have to write down all these data in a paper or print them, since these data will be necessary at the time of accessing our wallet.
Make sure you have written down all the words correctly and press the "I Wrote Down My Mnemonic Phrase" button (4).
When you press this button, a check will be made to see if you have saved the words correctly. Once verified you can access your MEW.
Access to MyEtherWallet
Once you have created your wallet, depending on the creation method used, you must choose how you want to access it.
Through MEWconnect
Select the MEWConnect option (a QR code will appear on the screen)
Access your MEWConnect App from your mobile and press the "SCAN TO CONNECT" button
Read the bar code on the screen with your smartphone to access the wallet on your computer
Access through Software
If you have created your wallet using the Keystore file or Mnemonic Phrase option, you must press this option and follow the steps below:
Keystore file
Select the first option and press continue
Select the location of the Keystore file and open it
Then enter your password and press continue to access your wallet
Mnemonic Phrase
Select the second option and press continue
Enter the 12 or 24 words of your Mnemonic Phrase
Then enter your password (if you put it when creating the wallet) and press continue to access your wallet
Operation of MyEtherWallet [MEW]
Send ETH with MyEtherWallet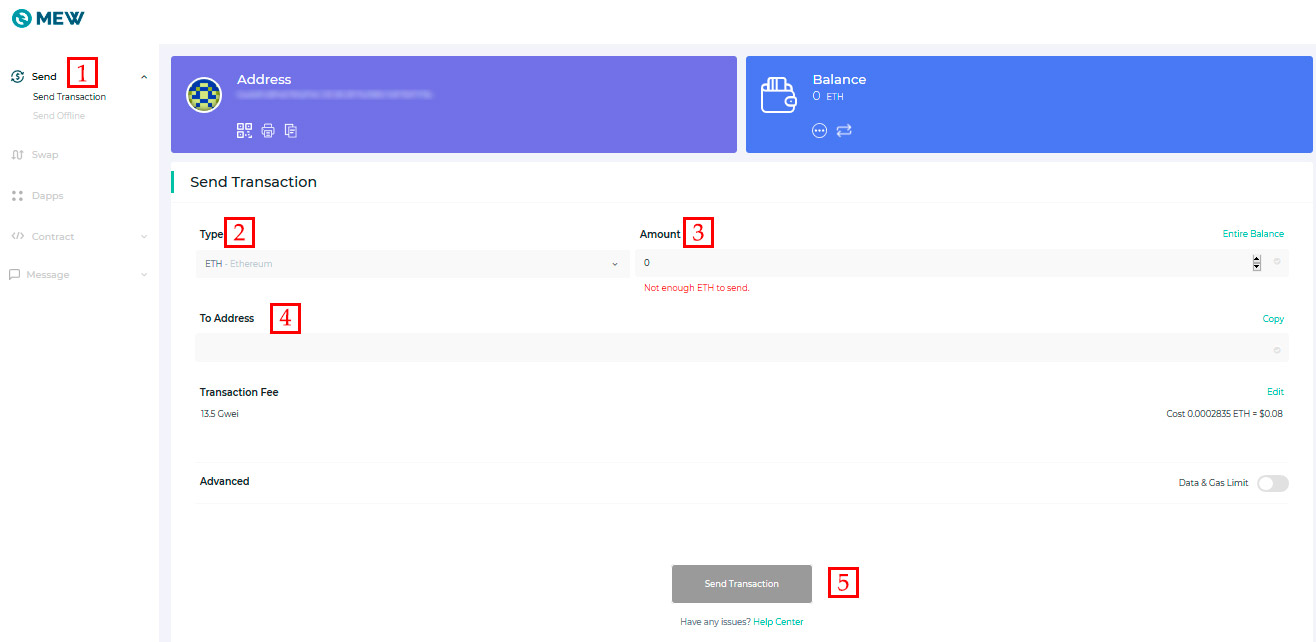 Sending ETH or other tokens through MEW is very simple and intuitive, just press the Send option (1), select the cryptocurrency you want to send (2), enter the amount to send (3) and set the destination address (4). It is very important to check if the destination address is correct before confirming the transaction, any error at this point could mean the loss of the amount sent.
Once these steps have been verified, click on the "Send Transaction" (5) button and when the transaction is confirmed, it will be completed.
Search for Balance of other Tokens in MEW
MyEtherWallet allows you to connect to the Network of other tokens, for example to the Tomochain (TOMO), if you have any of these tokens but they do not appear on your wallet, you should only change to the Network of that cryptocurrency and your balance will appear on the wallet.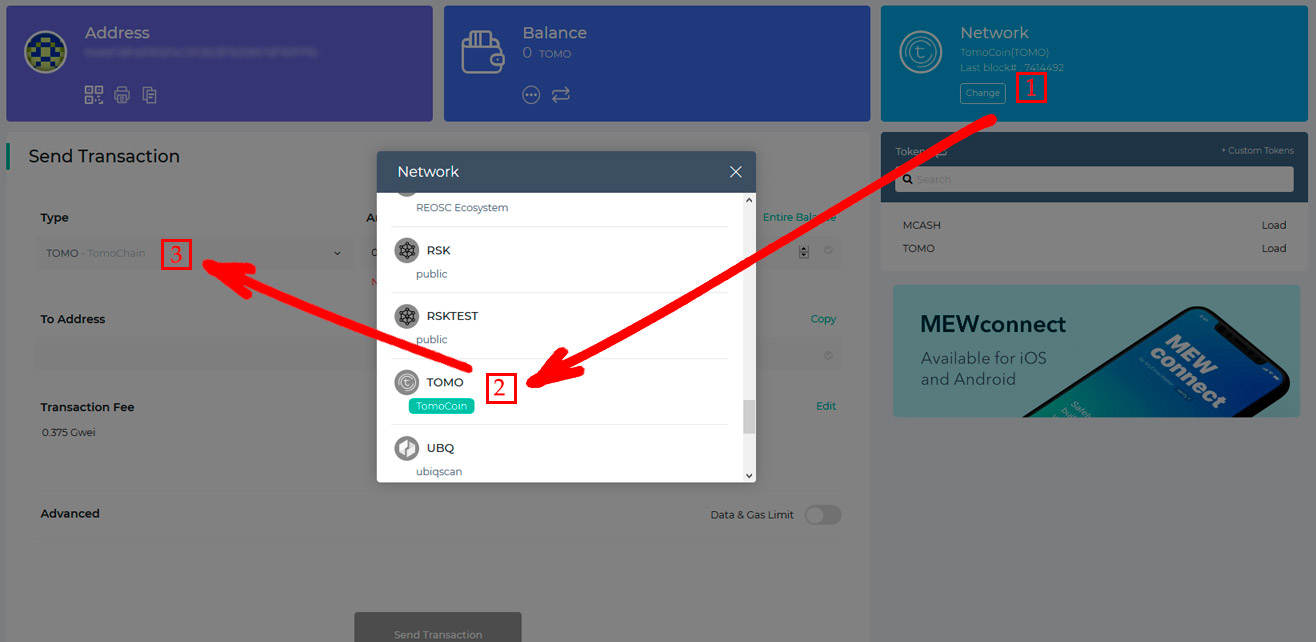 Conclusion
If you need an Ethereum wallet [ETH], MyEtherWallet [MEW] is undoubtedly an option to consider, its team works actively in the detection and elimination of websites and emails that impersonate your identity (phishing) and strive to improve and expand the services offered on the platform.
In general, the use of the platform in simple and intuitive, both expert users and newcomers in the world of cryptocurrencies will see their needs covered with this wallet.
Neither the funds nor user information are stored by MEW, the user has full control of their security and privacy.
The only negative point we can mention about this wallet is that it has not yet enabled the second authentication factor [2FA], an excellent complement to increase the security of our assets.
Links of interest
---
If you are interested in this project and want to be informed of everything that happens, visit our Ethereum News section