Ethereum prices are stable at spot rates. After solid gains early this week, the coin cooled off on July 5, but the candlestick arrangement in the daily chart still points to buyers, at least for now. Notably, ETH prices are within the July 4 bull bar and yesterday's trading volumes were lower than on Monday. Accordingly, this places ETH bulls ahead of the pack.
However, prices are technically bearish from a top-down analysis provided ETH trends below June 2022 highs at $1.25k. Risk-averse traders can hold on until there is a clear trend definition above the immediate reaction levels, either at $1.25k or $1k on the lower end.
Meta Testing Ethereum NFTs
Fundamentally, Ethereum supporters are upbeat. Although NFT trading volumes took a hit in the bear market, shrinking by over 60 percent and syncing with the general performance of Ethereum, endorsement from Meta is massive. Meta, formerly Facebook, said they had begun testing Ethereum and Polygon NFTs on profiles.
Using their NFTs as Facebook profile avatars, users effectively link their crypto wallets to the social media giant. This development would likely fast-track crypto adoption. The pilot program is first being experimented on U.S.-based creators before being rolled out for all users.
Overall, the success of Ethereum NFTs will directly impact network activity and, by extension, prices. According to stats, NFTs-related activities were a reason why Ethereum continues to burn more ETH after the activation of EIP-1559.
Ethereum Price Analysis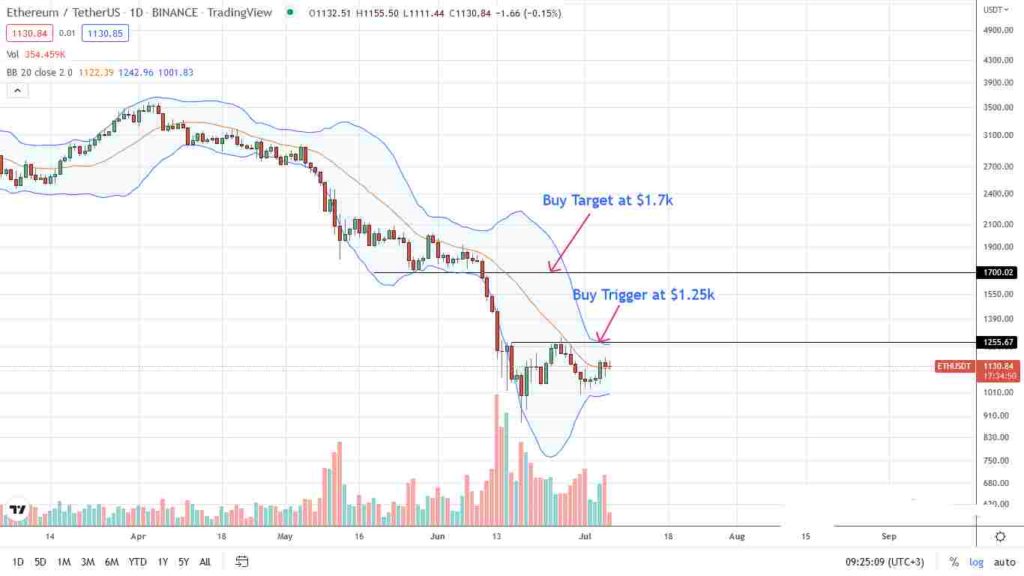 ETH prices are stable on the last trading day and week.
However, buyers are in a commanding position from the ETH candlestick arrangement in the daily chart. Since prices are within the July 4 bull bar, risk-off traders can load on dips as long as prices are above $1k. Their immediate target is $1.25k. If the breakout has relatively high trading volumes, traders can double down, targeting $1.7k and $2k.
Thus far, there are encouraging higher high relatives to the lower BB. Even though trading volumes are comparatively low, the rejection of lower prices, especially in the last week, supports optimistic bulls.
If prices drop from spot rates below $1k, the odds of ETH sliding towards $900 will be higher, dashing bulls' hopes.
Technical charts courtesy of Trading View
Disclaimer: Opinions expressed are not investment advice. Do your research.
---
If you found this article interesting, here you can find more Ethereum News.