Since the arrival of virtual currencies, cryptocurrency wallets have become an indispensable part of the crypto ecosystem, in this review, we are going to talk about Guarda, a cryptocurrency wallet that offers a wide variety of services for its users, as the purchase and exchange of cryptocurrencies, staking, the possibility of multiple signature or even the creation of your own token.
What is Guarda Wallet?
Guarda is a secure, easy to use and open source multi-cryptocurrency wallet. Its first version was released in 2017 and back then it only supported ETH. It currently supports more than 100 different cryptocurrencies and tokens.
The project received the FIU license (reg. FVR000109) for virtual currencies against fiat currency exchange, complying with all the laws and regulations of each jurisdiction in which Guarda operates.
Guarda doesn´t store any personal data of its users, this multi-currency wallet offers total control of your assets, since you will be the sole owner and administrator of your private keys, something essential if you want to keep your cryptocurrencies safe.
"Our priority is the decentralization of Guarda software according to the basic principles of blockchain. User privacy and anonymity are the main principles for us, that is why we do not store their private keys, backup files or any other data on Guarda's servers. All your private data is stored only by you. Our wallet is lightweight, has a convenient and intuitive interface." They say on its website.
Guarda Wallet Services
Staking of cryptocurrencies
Many assets offer the possibility of staking, thanks to Guarda you can get the maximum possible return on your investment and obtain passive income with them.
You can see the assets available for this service and calculate the benefits that will be reported by clicking here.

How to stake my cryptocurrencies?
Staking is a simple and fast process, most times it´s enough to have funds in the wallet of the choosed cryptocurrency, on other occasions it must be indicated the amount of our funds we wish to staking.
Once this step is done, we will only have to wait for the rewards to passively reach our wallet, sometimes the rewards must be claimed manually.
Cryptocurrency Buy
Guarda offers the possibility of buying cryptocurrencies with a credit card, the operation of this service is fast and simple.
You just have to go to the Buy tab

Indicate the amount and the cryptocurrency that you want and click Buy.

Enter the wallet of the cryptocurrency you are going to buy and press "Next".

Verify that everything is correct and "Confirm".
In the next window you must enter your credit card details and proceed to payment.
When the payment is verified and the transaction is validated, your cryptocurrencies will appear in the indicated wallet.
Cryptocurrency exchange
The exchange of cryptocurrencies in Guarda is also a quick and intuitive process, only a basic knowledge of the sector is needed to complete it easily.

The first thing you should have are funds in the wallet of the cryptocurrency you want to exchange, then choose the cryptocurrency you want to acquire and press the "Exchange" button.

Fill the address of the wallet where you want the exchanged cryptocurrencies to be transferred and press "Next".

Accept the terms, confirm the transaction and wait for complete the process. When the transaction is verified, the cryptocurrencies will have been successfully sent to your wallet.
This process may take a few minutes. (The approximate time of arrival is indicated during the exchange process).
Token Generator
If you are interested in launch your own cryptocurrency, Guarda offers a friendly interface and full technical support to allow you to create your own ERC20 token.
Choose the name of your asset, configure the supply and click on implement the contract. You can see everything you need by clicking here.
Deeplinks
Thanks to this Guarda service, you can put a button on your website to accept payments and cryptocurrency donations quickly and easily.
With Deeplinks, cryptocurrency payments will be made with a single click.
Blockchain Domains
The blockchain addresses of the different cryptocurrencies are a long chain of numbers and letters that are difficult to remember, thanks to Blockchain domains, you can share your easily identifiable and memorable address.
These Blockchain domains are similar to a twitter user or an email, making them more familiar and easier to broadcast.
Guarda wallet is fully compatible with these Blockchain domains. If you want to create your own blockchain domain, from the platform they provide you with a step-by-step guide to get it and use it with Guarda Wallet.
Wallets
A cryptocurrency wallet is the place where we store our assets, being able to access them from different devices is something to consider before choosing where we are going to store our cryptocurrencies.
With Guarda you can manage your cryptocurrencies from a web wallet, a desktop wallet, from your mobile, from an Armored wallet for Zcash or from an extension for Chrome.
All versions of Guarda are private, anonymous and totally secure.
How to download and install Guarda Wallet?
We are going to explain the download and installation process of Guarda step by step, in this example we will install the wallet version for Windows.
To install, go to the wallets section of the website and choose the version that you want to download, in our case we will choose the Desktop Wallet version.
Once the desired platform is clicked, the executable will begin downloading, double-click on this file to begin the installation.
This process is the same as the installation of any program, you just have to choose the place where you want it to be installed and click to continue.
Once installed, the most important part begins, the creation of the wallet.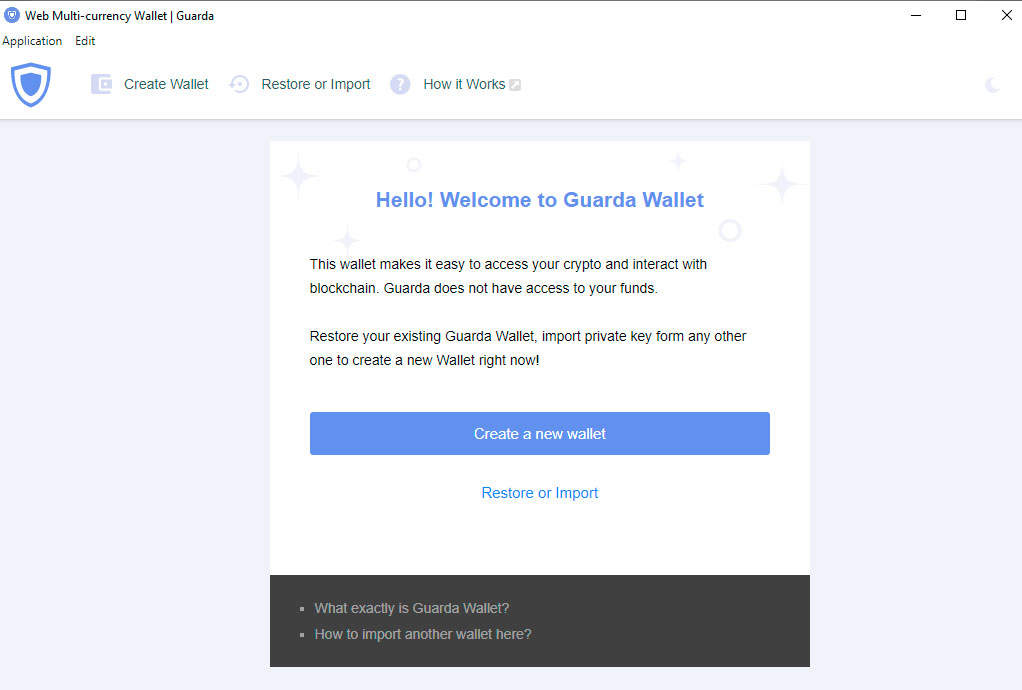 Press Create New Wallet and in the next window insert the access password, this password must be kept in a safe place, since losing it will mean the loss of all your funds.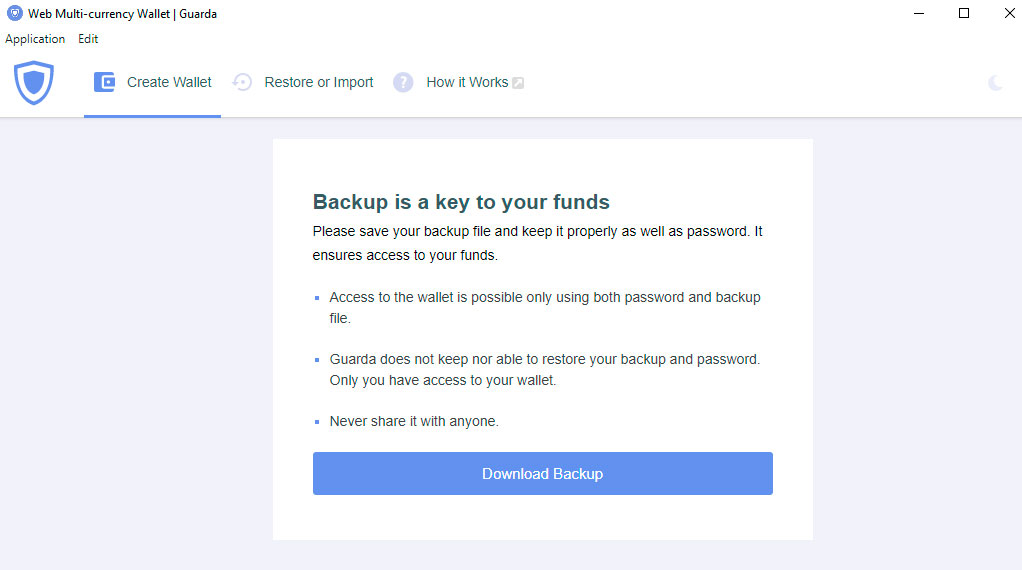 Download a Backup of your wallet. This Backup will help you restore your wallet if you need to format the computer or load it on another device.
This backup must be kept in a safe place together with the access password, if possible outside the computer and in duplicate, for example, on 2 pendrives.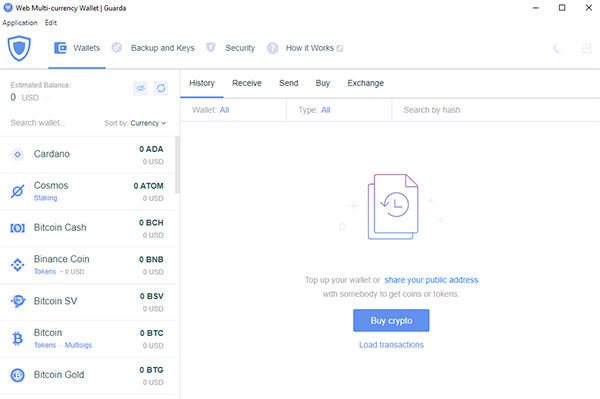 Once the backup is downloaded, your wallet will be fully functional.
Conclusion about Guarda Wallet
Launched in 2017 Guarda Wallet is a project built by a team of highly experienced blockchain-loving specialists.
Privacy, anonymity, security and decentralization are some of the pillars of the company, which makes it a project that follows the basic and most important principles of blockchain technology.
Adding up all these factors, we can say without a doubt that Guarda is a totally reliable cryptocurrency wallet to store our assets.
In addition, its ease of use and the wide variety of services it offers make it a wallet to consider.
Related Links