The Chiliz cryptocurrency (CHZ) has established itself as the world's leading cryptocurrency for sports and entertainment. Moreover, it is a first-of-its-kind product, which gives it an edge over its competitors when it comes to battling out for market share. We believe Chiliz (CHZ) is a project with great potential, and because of that, we would like to share with you our Chiliz (CHZ) price predictions for the years 2023, 2025, and 2030.
Nonetheless, there is no way to predict exactly what Chiliz's future price will be as it is influenced by a number of factors, such as the performance of the Chiliz network, global economic conditions, the stock market, and the prices of other cryptocurrencies.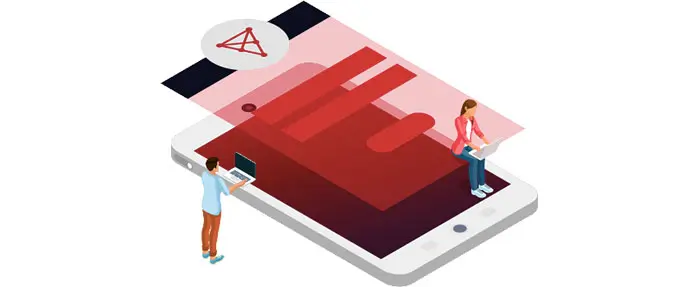 There is the possibility, however, that if Chiliz continues to grow as a platform at its current rate, it could result in the price of CHZ returning to its past prime and maybe even surpassing it if that were to happen.
There is a need to keep in mind that these are mainly speculations, although they have some support from facts as well as other factors that are somewhat reliable. 
Chiliz (CHZ) Price Predictions and Forecast from 2023-2025-2030
The Chiliz platform has established partnerships with huge sports clubs and a variety of fan-followed industries in order to make it the number one bridge between Fans and the sports and entertainment ecosystem. During the trend of metaverse and NFT projects, the CHZ token's value continues to grow as the token is flooded with a variety of utilities. 
There is a possibility that CHZ will rise from $0.099 to $0.21 USD within one month of the start of the year 2022 and that this could continue throughout the rest of the year.
Investors have taken notice of this project so far, and the majority of the true fans of a different sports team will not be considering the possibility of selling tokens in the future due to the long-term benefits.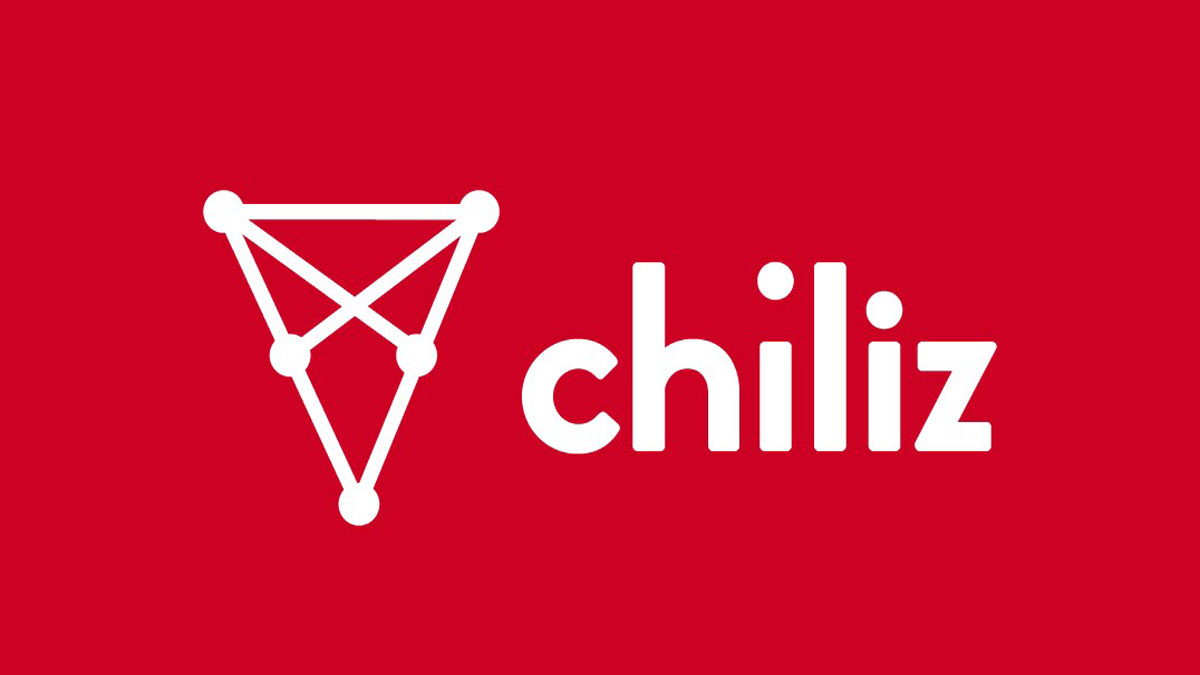 Chiliz (CHZ) Price Prediction 2023
The price of Chiliz has been predicted to rise in 2023 by many analysts, and there is a general consensus that the price of Chiliz will continue to rise in the coming years. Several factors contribute to the positive outlook for the global economy, including the growing use of the Chiliz blockchain, the popularity of cryptocurrencies, and the overall upward trend in the global economy.
Price Prediction Pages
DigitalCoinPrice predicts that CHZ is likely to surpass the level of $0.69 in the near future. We are expecting Chiliz to reach a minimum fee of $0.59 before the end of the year. Furthermore, there is no doubt that the CHZ price can reach a maximum level of $0.71 at some point in the future.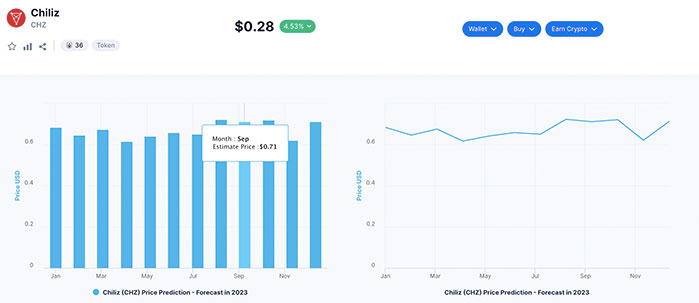 A report from TradingBeasts forecasts that Chiliz's price will reach $0.34 by the beginning of May 2023, based on a forecast from the company. There is an expectation of a maximum price of $0.42 and a minimum price of $0.29. As for the price prediction for the end of the month, the Chiliz price is predicted to be $0.34.

Prediction and Forecast on Youtube 
There is a video posted by Ryan Matta about what CHZ's price might be in 2023. There has been a lot of discussion on various websites about predictions published on them. As for Ryan's personal opinion, he believes Chiliz may go up to $0.52 by 2023, but some corrections may occur by that time as well.
Chiliz (CHZ) Price Forecasts 2025
The price of Chiliz is predicted to rise dramatically in the trading range between $0.52 and $0.55 in the coming months, according to many Chiliz enthusiasts and their price predictions. 
As you consider whether or not to buy CHZ this year, keep in mind that we could also see another bear market, in which case the price could fall by up to 80%, which would result in a price assessment of CHZ at around $0.09.
Nevertheless, it is more likely that a midpoint of these price levels is the most realistic expectation. There is a possibility that CHZ might become a reality in the near future as a cheap and convenient digital asset as a result of widespread adoption.
Price Prediction Pages
By the end of the current year, PricePrediction predicts that CHZ's price is expected to cross an average price level of $0.88. That is, by the end of the current year, Chiliz is expected to reach a minimum price of $0.85, and by 2025, CHZ price will reach a maximum price level of $1.00. Additionally, the CHZ price may be as high as $1.00 in the future.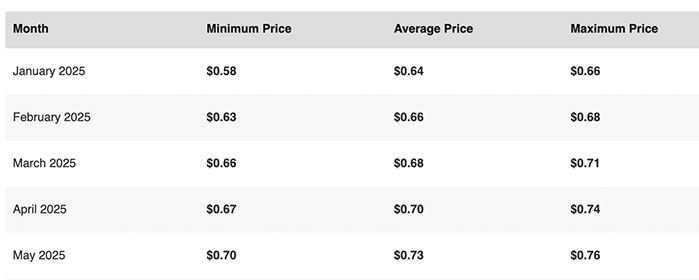 CoinCodex provides a CHZ price prediction based on Tech Growth analysis that takes into account multiple factors to determine the price growth for CHZ.
According to the Facebook growth metric used in this source, it is possible that Chiliz could reach a price of $1.50 in 2025 if this growth metric is used. It is estimated that the price in that year will not go higher than $0.29 based on the mobile growth metric.

Chiliz (CHZ) Price Prediction 2030
Due to the highly volatile nature of the cryptocurrency market, it is always difficult to predict the cryptocurrency price in advance. There is even more reason to be concerned when we are talking about the future eight years from now.
A number of experts have predicted that Chiliz's price could reach as high as $1.03 by 2030, according to one report. In spite of this, we need to keep in mind that Chiliz is growing, and as a result, the adoption rate, utility, and potential of Chiliz are all growing. For this reason, I believe that the conservative approach might be more accurate for the first half of the decade only.
Price Prediction Pages
PricePrediction projects that the CHZ price in 2030 will cross an average price level of $6.37 at the end of the current calendar year. The expected minimum price level for Chiliz by the end of this year should be $6.20 at the end of the current calendar year. The price level of CHZ can also reach a maximum of $7.01 if the price increases further.
The price of CHZ is predicted to cross the level of $3.88 per CHZ, according to DigitalCoinPrice. There is a high probability that Chiliz will reach a minimum fee of $3.83 by the end of this year. Further, it is important to note that the CHZ price has the potential to reach a maximum level of $3.92 in the future.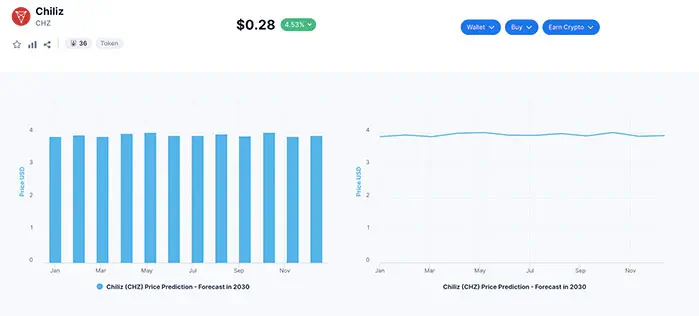 Is Chiliz a good investment?
It has occasionally been shown that Chiliz has been a decent investment from time to time. Besides the fact that it is a very promising blockchain initiative from a technical perspective, it is one of the most promising ones from an application perspective as well. A variety of real-world applications are being developed using the Blockchain, which makes it a more useful technology.
Taking into account all of the factors mentioned above, it would appear that CHZ would be an excellent investment to make. It is, therefore, fair to say that the price predictions for CHZ are extraordinarily positive, mainly because it is believed that the token has a lot of potential.

However, as with every investment, there is no guarantee that CHZ will reach the predicted price levels, and neither is there any guarantee that it will not. There is no doubt, however, that CHZ is definitely worth considering if you are thinking about investing in cryptocurrency.
Conclusion
In terms of innovation and underlying principles, Chiliz (CHZ) has been rated as one of the top coins and has attracted the attention of experienced investors because of its innovations and underlying principles.
There is no doubt that this project has all the ingredients to succeed in the future, as a result of the massive investment in the currency and the well-seasoned staff who are working on it.
---
The Price Predictions published in this article are based on estimates made by industry professionals, they are not investment recommendations, and it should be understood that these predictions may not occur as described.

The content of this article should only be taken as a guide, and you should always carry out your own analysis before making any investment.