In May 2021, Chainlink (LINK) was one of the leading crypto tokens to attract investors' attention when it reached $52. However, many crypto enthusiasts had already been keeping an eye on this token for much longer than that.
This is an innovative project designed to bring smart contracts to a universal level of connectivity while also providing them with the highest level of security, reliability, and efficiency. 
The Chainlink network – just as the name implies – is a network that links chains – it connects external data sources to different blockchains by means of a decentralized oracle network, just as it uses a decentralized oracle network.
Chainlink is more than a project with great real-world applications. It is also a project that is worth investing in because of its intriguing potential. In this article, we will make a prediction of the Chainlink price between 2022 and 2025 with reference to the current price.

Chainlink (LINK) Price Prediction 2022, 2023, 2024, 2025
It is interesting to note that Chainlink does not follow the usual altcoin price movements like most other cryptocurrencies. The coin did not start off explosively like many other smaller coins or tokens, and it managed to recover from the sell-off that followed its first morning, which was a sign that it had something to offer investors.
Since almost two years ago, the price level of $5 has not been overcome by LINK, and it had actually spent most of that time below the $1 mark, which had been its lowest valuation for almost two years. It was only in August of 2020 that Chainlink managed to hit a high of $19, which was the first big break for the cryptocurrency. A brief period of correction followed in which LINK's price went down, and at the beginning of 2021, the price started rising again. 
During 2021, Chainlink's price followed the crypto market, rising in the middle of spring, reaching its peak at the beginning of May, and then starting to decline slowly to its pre-moon levels as the month progressed. However, LINK has been able to recover despite the difficulties it faced, unlike a number of other coins and tokens.

In the following paragraphs, you can read LINK's price prediction from 2022 to 2025, and we'll see if, in the future, we're able to reach $1000 with this coin.
Chainlink Price Forecast for 2022
According to the forecast, the LINK is expected to reach $35 by the first half of 2022, taking into account the ongoing developments within the LINK ecosystem. There is a tendency to think it is not possible to predict when Chainlink will break from its peak, and therefore it is not easy to decide when, according to Chainlink's price prediction for 2022, it can be a good time to invest.
Price Prediction WebSites
Based on the data collected by DigitalCoinPrice, the price of LINK is expected to have crossed $7.97 within the short term. There are expectations that Chainlink will reach a minimum fee of $6.10 by the end of this year. Moreover, it is possible for the LINK price to get as high as $8.72 in the future.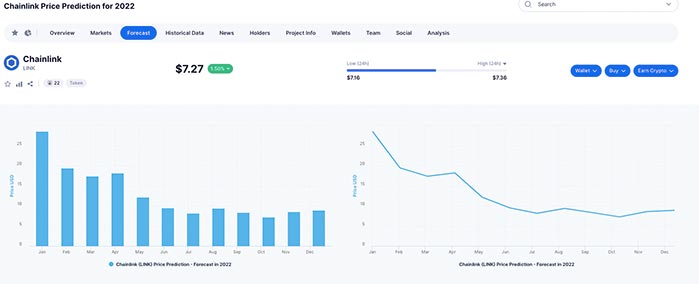 According to CoinPriceForecast, Chainlink's price was $19.99 at the beginning of 2022. There is a forecast that the price of Chainlink will be $7.75 at the end of 2022 – which is 61% higher than the 2021 price.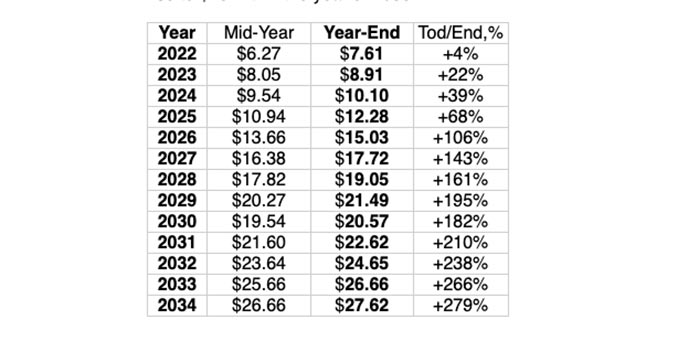 Prediction Price Youtube Channels
LINK's price is expected to rise to $23.26 by 2022, according to a video from Vancity Crypto, which explains the reason behind the rise. In spite of this, the predictor believes that the price of LINK in 2022 is unlikely to exceed $20, at least not in the short term, due to the fact that there will not be exponential growth.
LINK, according to a video published by Crypto Trends, may have as many as four possible targets in 2022, which they discuss in the video. It was concluded by the predictor that Chainlink isn't the best investment for investors looking to make money short term, but this investment can have significant growth in the future.
LINK Coin Price Prediction for 2023
In order to suggest that price forecasts will go well even in the longer run, we can look at price predictions for 2023. As I mentioned earlier, one of the major advantages of Chainlink is that it has no direct competition at the moment. It has a well-thought-out functionality that demonstrates a well-trained network backed by masterminds.
Price Prediction WebSites
PricePrediction has predicted that the LINK price in 2023 will cross a price level of $11.54 on average; the expected minimum price value of Chainlink on the market by the end of the year is $11.22. In addition, there is a possibility that LINK may be priced as high as $13.82.

LINK's price is expected not to go higher than $6.26 in the year 2023 based on the predictions of LongForecast. There is a possibility that this price may be reached in February of the following year. According to the sources cited above, the minimum predicted price for Chainlink in 2023 is $2.27.

Twitter Influencer Analysts
It is expected that Chainlink's price will reach $280 in 2023, according to Henrietta Holtz. The account predicts that Bitcoin to hit the $120K target in that year.
Timeframe I am looking at for the next market cycle:

Bitcoin Bottom Q1 2022
Price 19,000$ – 23,000$
Chainlink 4-9$

Bitcoin Top Q2 2023
Price 120,000$
Chainlink 280$

Let's see how this pans out. #Bitcoin #chainlink #cryptocurrency

— Henrietta Holtz 🇸🇻🇸🇻🇸🇻 (@henriettaholtz) January 26, 2022
block.cube believes that LINK is going to be more bullish in 2023, with an estimated price of $872.57 being predicted from this account for that year, which is more bullish than most other predictions.
$LINK Price On Halloween 🎃📦

2017: $0.19
2018: $0.55
2019: $2.84
2020: $54.79
2021: $465.34
2022: $574.18
2023: $872.57
2024: $7,777.77
2025: $9,422.53
2026: $13,689.24

Chainlink will be the best performing asset in history. 🚀

🦆🦆🦆🦆🦆🦆🦆 https://t.co/fnQO3S9iYd

— block.cube 🧊 🔺 🦸🏻‍♂️ (@blocksurfing) November 1, 2019
Chainlink Price Prediction for 2024
A Chainlink price prediction indicates that such an astonishing possibility doesn't exist, and if this trend continues, the bull run will ride the crypto market for a long time to come; it is expected that the LINK will once again rule the crypto kingdom with a performance of Chainlink price pegged at $79 sooner or later.
Price Prediction WebSites
A CoinPriceForecast report said Chainlink was expected to go from $9.07 to $19.42-an increase of 114% over the last 24 hours. During the first half of the year in 2024, Chainlink will reach $9.07 per coin, then rise to $9.71 per share in the second half, and end the year at $10.28 per share.
The Longforecast believes that LINK will not be able to change the trend in 2024, and we don't think that any major pumps or dumps are likely to occur for this coin in that year. This website predicts that the maximum price for Chainlink will be $5.049 and the minimum price will be $2.92.

Prediction Price Youtube Channels
According to Crypto Dose, Chainlink is expected to rise by a significant amount by 2024. His belief is that the coin will continue to accumulate over time but that it will explode in 2024 and reach new all-time highs. There is no doubt that LINK fans would benefit from investing long-term in the company.
LINK Coin Price Forecast for 2025
Chainlink is being viewed by many analysts as a potential counterparty to Bitcoin and Ethereum due to the fact that it is, anyway, an ERC-20 token. According to the depreciation or appreciation of the currency, there may be fluctuations in the market. However, this could not be taken into consideration for a longer period of Chainlink price prediction and will have a lasting effect on its price. 
Price Prediction WebSites
The price prediction website priceprediction.net estimates that by the end of 2025, the price of Chainlink will cross a value of $26.33 on average; this implies that Chainlink will have a minimum price value of $25.64 by the end of the year. It is also worth mentioning that the price level of LINK is capable of going as high as $29.27.

In addition, according to DigitalCoinPrice, the price of Chainlink will reach the level of $29.74 at some point in 2025. There is a possibility that Chainlink will achieve a minimum fee of $27.04 by the end of the year. The price of LINK is also capable of reaching a maximum level of $31.31 if it is allowed to reach that level.

Prediction Price Youtube Channels
There has been some speculation that if the LINK continues its upward trend in the coming years, we can expect the coin to reach its all-time high by 2025. Even the $800 target isn't impossible for this coin. 
Can Chainlink (LINK) Reach $1000?
In the fundamental sense, Chainlink's investment strategy is based on getting integrated into other projects as well as being able to build partnerships with various companies in order to make it possible for the blockchain to be linked with real-world data.
A market capitalization of $440 billion would have to be reached by Chainlink in order for it to reach $1000. This would be possible only if the total market cap of all cryptocurrencies reached $30 trillion in order to make it possible.

This might happen somewhere in 2027 – 2035, given a 35% Bitcoin dominance.
Conclusion
In today's tough markets, LINK is a digital cryptocurrency that is ready to take on the tough competition. By elevating its own status, LINK has established itself as a digital asset without being constrained by logistical constraints or the borders of countries. A cryptocurrency like this one is not afraid to succumb to the demands of central governments or to be tied down to defective and regulated monetary controls.
In the opinion of experts, this is a great opportunity for Chainlink, and by expanding its network via partnerships, Chainlink's potential will be multiplied to a much greater extent, which will make it more successful.
There is no doubt that these partnerships and developments are playing a major role in moving this ChainLink price or LINK price from the bottom of the world's map to the top. It is evident that investors can go ahead and buy LINK to be able to have a profitable investment due to the future price prediction, market cap, and circulating supply of the coin.
---
The Price Predictions published in this article are based on estimates made by industry professionals, they are not investment recommendations, and it should be understood that these predictions may not occur as described.

The content of this article should only be taken as a guide, and you should always carry out your own analysis before making any investment.