Litecoin is currently stable, but the uptrend is solid, reading from the performance in the daily chart. Yesterday, bulls failed to build on gains posted on July 9.
Even so, since prices are trending within the conspicuous bull bar of July 9 and trading volumes are still relatively low, traders can load on every retracement towards the primary support at around $50.
What's visible in the daily chart is that buyers are still in charge, bottoming up from critical support levels registered last week. As such, there are high odds of prices inching higher, springing from 2022 lows posted in mid-June 2022.
More Users Prefer Litecoin on BitPay
Several factors may aid in fueling the next leg up. For instance, even amid the sell-off, Litecoin wasn't severely impacted like other altcoins.
This could be pinned to continuous network development and confidence among proponents that Litecoin would find utility as "Bitcoin's silver". Thus far, more users processing payments through BitPay prefer Litecoin because of the network's relatively low trading fees and faster block generation times.
Litecoin MimbleWimble
On the development front, Litecoin has the MimbleWimble privacy protocol that will serve to protect network users. Users can now move transactions into extension blocks for better privacy.
Litecoin bulls view this as a necessary upgrade that will drive utility and, thus, prices in the medium to long term.
In their preview, after the current depression, prices will rapidly recover as users flow to utilize Litecoin's low transaction fees, and privacy features not found in Bitcoin or Ethereum.
Litecoin Price Analysis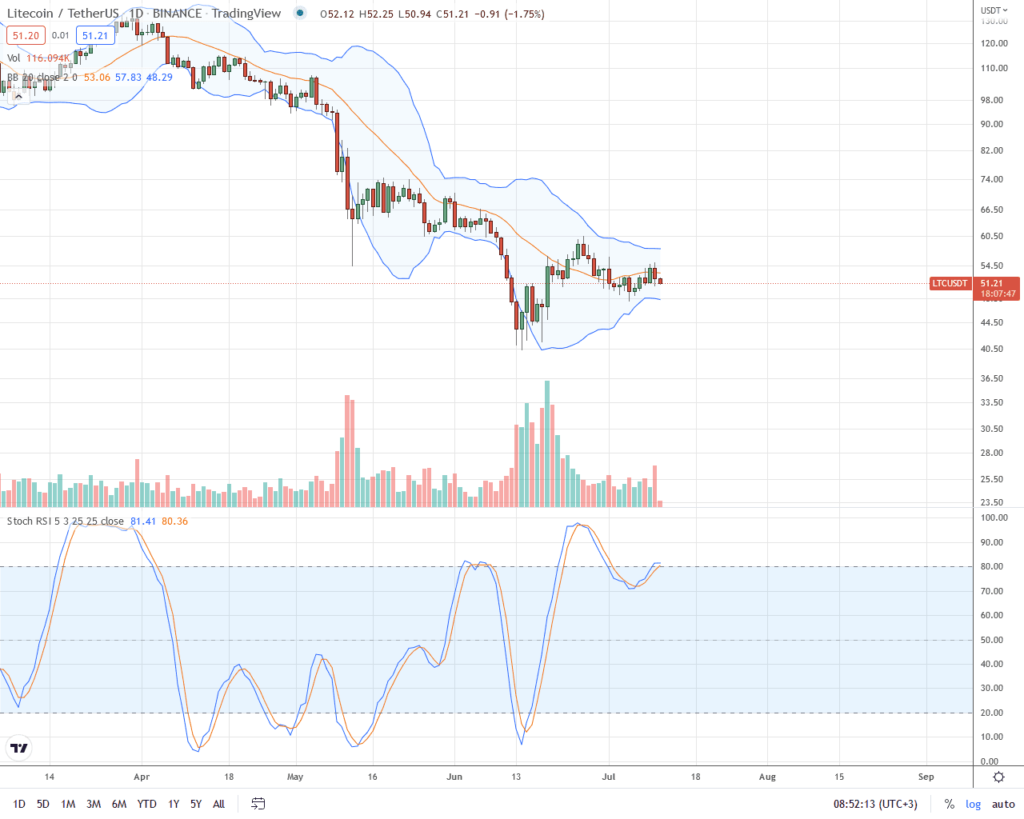 There are hints of lower lows and possible over-extension in lower time frames that may slow down ambitious bulls in the immediate term. Of note, a bear divergence formation in the 4HR chart may diffuse demand.
However, since LTC prices are boxed within the July 9 bull bar and the uptrend is valid at spot rates, traders can buy the dips above the middle BB and $50 in the daily chart. Meanwhile, a close above $55 may trigger may demand, lifting off LTC towards $60, a critical reaction level in mid-June, and later $65 marking June 2022 highs.
Conversely, it may prove more slippery for bears should Litecoin drop below $50, reversing July 9 gains. Any fallout may see LTC sell-off towards $41, retesting 2022 lows.
Technical charts courtesy of Trading View.
Disclaimer: Opinions expressed are not investment advice. Do your research.
---
If you found this article interesting, here you can find more Litecoin news.