ICO's seasons continue in the blockchain ecosystem, with very varied business proposals that encourage many to believe and invest with a good base. This is the recent case of Primalbase, whose business model seeks to merge the benefits of real estate business and blockchain technology.
The Primalbase ICO campaign was successfully completed. The shared office block chain sold its chips for 3,100 BTCs in just over 24 hours. They were able to sell 1,000 chips – mostly at the rate of Day 1 bonus of 3 BTC per chip – to investors who recognized the strength of the business model.
Building on the well-established business model of shared workspaces, the Primalbase project transforms traditional office leasing into a next-generation community ecosystem where high-quality office space can be shared, sold or rented using Ethereum digital tokens and Waves.
Let's talk a little more about Primalbase.
The Primalbase concept consists of a system of dividing the available infrastructure into coworking spaces invariably reserved for members of the Primalbase community and profitable office spaces open to the public. It is a kind of mixture between crypto-economic relations and real estate business relationships.
Tokenization of shared work spaces provides a unique opportunity to establish a group of committed members of the community, tenants, landowners and opinion leaders, creating a sense of belonging that will be a fundamental pillar of the project.
The underlying gain of Primalbase will be realized by renting office space to companies, project teams, startups, branches, etc. This will cover the operating costs of the property management company, and will generate a profit that will be reinvested for new Primalbase locations.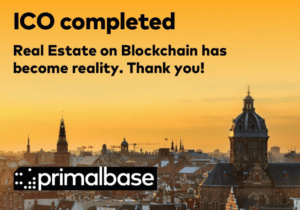 Real estate is one of the most conservative areas of the economy, while Blockchain is an innovative technology. The combination of these seemingly incompatible concepts can be not only innovative but also highly profitable.
The Cryptocurrency Primalbase (PBT) key is based on the WAVES platform and is compatible and interoperable with Ethereum protocols with the use of a gate in Ethereum Blockchain. The advantages of using the WAVES platform include, but are not limited to, the creation of custom tokens, low transaction costs, built-in decentralized exchange and integrated work with fiduciary currencies.
Another important aspect of the project is that the investment is based on tangible, non-virtual products only. Primalbase files not only serve a practical function, but also have a real inherent value based on a real physical product that supports it: this is what makes Primalbase stand out from other projects that use cryptographic tokens.
About the Waves platform
Waves Platform ) is a decentralized platform created to launch crowdfunding campaigns and issue digital assets. It is the largest blockchain project with origin in Russia. The Waves encryption platform is designed primarily to support the issuance, trading and sharing of digital assets / tokens using blockchain technology. The project is characterized by its emphasis on usability and widespread application.
We invite you to follow the day by day about the cryptocurrencies, blockchain and bitcoin world at Crypto-economy.