Bitcoin's [BTC] price skyrocketing to new highs was, in fact, accompanied by wild predictions. But, currently, the crypto-asset's price remained stagnant and signs of a potential breakthrough did not appear. However, a popular analyst believes that Bitcoin is destined for more gains.
Extreme predictions are not new in the world of cryptocurrency. Previously deemed outlandish market trends were broken by the cryptocurrency. Thanks to massive institutional push, a lot of these predictions had come true for Bitcoin. Despite the fact that the price of the cryptocurrency came to a standstill, proponents remained unfazed in terms of its macro picture.
Bitcoin On The Verge Of A Major Shift
For instance, Bloomberg Intelligence commodity strategist Mike McGlone is super bullish on Bitcoin According to him, the crypto-asset is potentially headed for a parabolic upward ride in the coming days, that could surpass even the most bullish price targets of 2021.
In his recent tweet, McGlone opined that Bitcoin is set to become a "global digital reserve asset" for market participants that are looking to steer clear from inflation. He noted that it is the rising institutional interest that is a "maturation leap" that could trigger the exponential price curve.
McGlone posted a graph showing BTC/USD annual average price, which could climb higher than $400,000 by 2021, and the Bitcoin Liquid Index if it follows the footsteps of the 2013 and 2017 bull run cycles.
Along with it, the analyst's tweet read,
"Bitcoin in Transition to Risk-Off Reserve Asset: BI Commodity — Well on its way to becoming a global digital reserve asset, a maturation leap in 2021 may be transitioning Bitcoin toward a risk-off asset, in our view."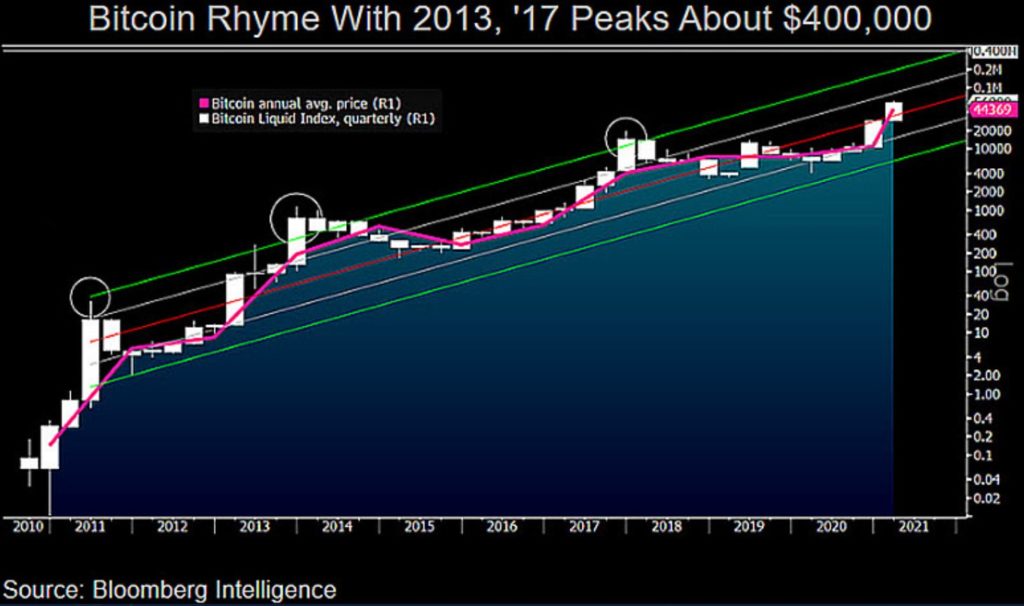 This is by far the most bullish projection for this year. McGlone's has left all the other predictions far behind, be it popular analyst PlanB's prediction of Bitcoin reaching $288K by the end of 2024 or Pantera Capital's Dan Morehead's analysis of $115K by August 2021.
Besides, Bitcoin has been trading only for a decade but saw real maturity in 2020. Needless to say that 2021 saw an extension of the mainstream embrace, with MicroStrategy and Tesla. It all started in the previous year, from Square's $50 million investment in Bitcoin to PayPal allowing its customer base to purchase and sell the crypto-asset.
Bitcoin ETFs To The Rescue?
In recent months, many investment companies have started to pressurize the US Securities and Exchange Commission [SEC]  to consider their respective Bitcoin exchange-traded funds [ETF] proposals.
Many in the community are of the opinion that BTC ETF in the country has the potential to massive potential to bring down Bitcoin's volatility while simultaneously providing the cryptocurrency industry with a major push in terms of its valuation as well.
---
If you found this article interesting, here you can find more Bitcoin news