It has been quite a ride for Bitcoin.
But it has lost quite a bit of steam this month. Despite a breakthrough performance and ultimately hitting a euphoric top, the world's flagship cryptocurrency took a breather and plunged all the way to $53K. While it did recover a few hundred dollars at the time of writing, the latest price action has not impressed the bulls.
So the question remains, is Bitcoin's bull run over?
Maybe not.
The nervousness around the market is quite apparent. The retail-investor interest has met with a setback and the options market prompted volatility.
Bitcoin has lost nearly 10% over the past week. The second-largest cryptocurrency in the world, Ethereum [ETH] was also down by a similar margin around the same time frame. But the upward journey is not over.
At least that is what popular crypto analyst and Stock-to-flow creator PlanB has to say. At a time when FUD has started to overwhelm the market sentiment, PlanB opined that the crypto-asset is still at a very early stage of the bulls run and that it is destined to climb higher in the days to come.
"IMO we are only ~4 months into the bull market and nowhere near the end of it .. #bitcoin is just getting started"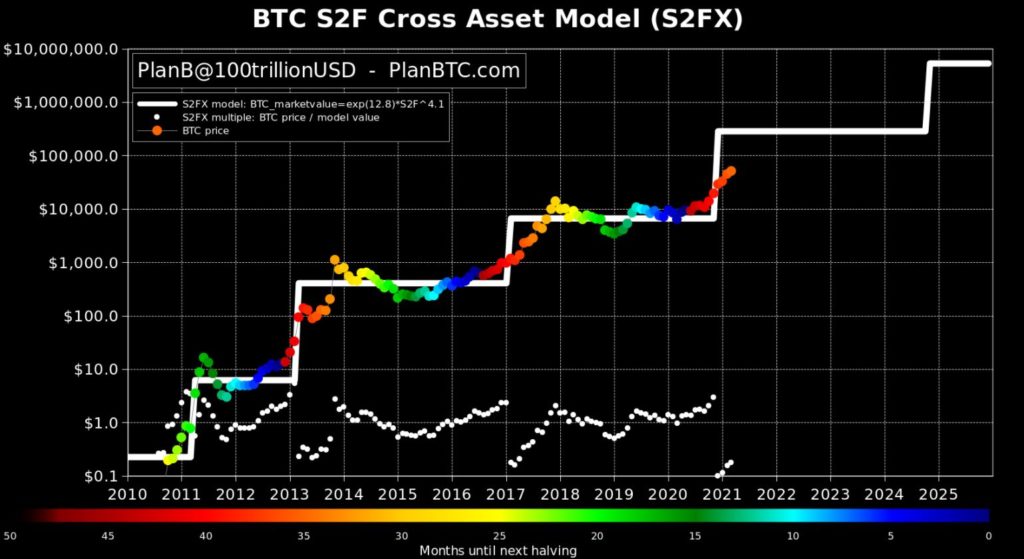 Bitcoin was still up roughly 670% over the past year. To keep things in perspective, let's look at the market cap of cryptocurrencies in the last bull season. The aggregate value figures of the market were below $1 trillion. Contrastingly, the collective market cap was found to be at around $1.8 trillion.
Buying Pressure Still Up
The crypto analyst further backed his argument and revealed that Bitcoin's monthly RSI was not even close to 95-level, i.e an intense region of overbought sentiment. In the 2011, 2013, and 2017 bull markets the cryptocurrency was found to be hovering at least 3 months above this level.
Meaning, Bitcoin still has a long way to go before it exhausts the current buying pressure and flips negative followed by a u-turn in its price action.
Hence, Plan B said that it was still early and Bitcoin's bull run is far from over.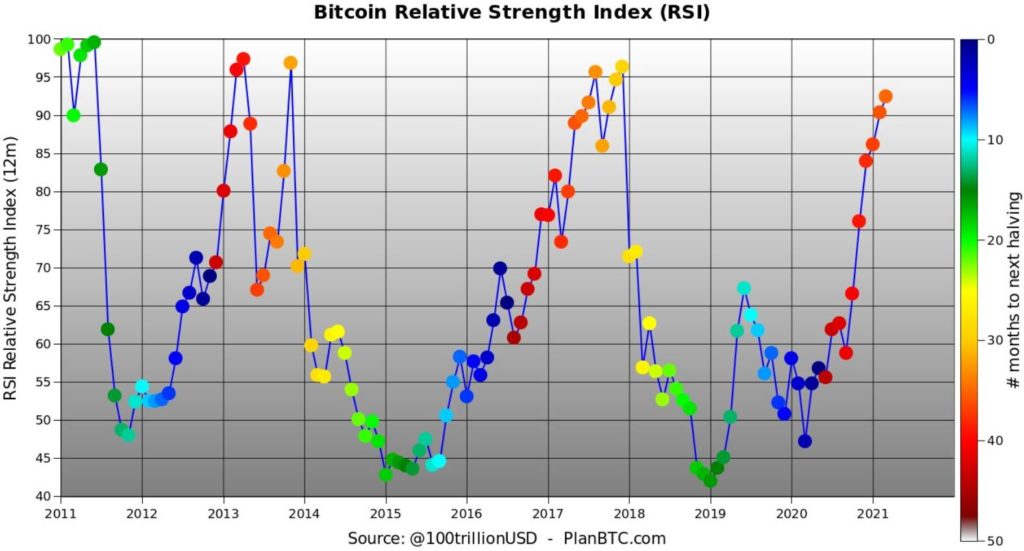 Here's what Bitcoin bull and the CEO of MicroStrategy, Michael Saylor had to say about the world's largest cryptocurrency,
"Bitcoin grew to a trillion dollar network faster than anything humanity has yet to devise because it is the most elegant & efficient technology for converting energy into prosperity."

---
If you found this article interesting, here you can find more Bitcoin news