A looming hazard of a 'crypto winter' hangs as Bitcoin (BTC) tumbled below $26K. Ethereum along with major cryptocurrencies traded in a sea of deep red.
The crypto market started the week on a topsy-turvy tone. Cryptocurrencies have tanked to a new low this year with the global market cap declining to $1.03 trillion from $1.10 trillion in a trice. It seems investors are steering away from riskier assets as rising inflation continue to spook traders. The global crypto market cap declined 5.27 per cent over the past 24 hours with major tokens falling worth half or even less than their all-time highs.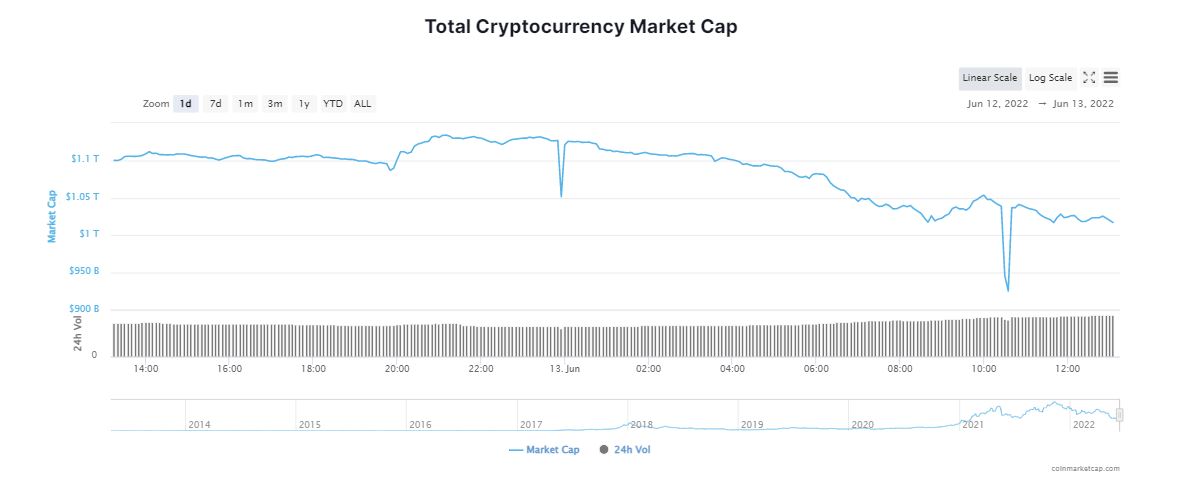 Bitcoin Plummets to 18 Months Low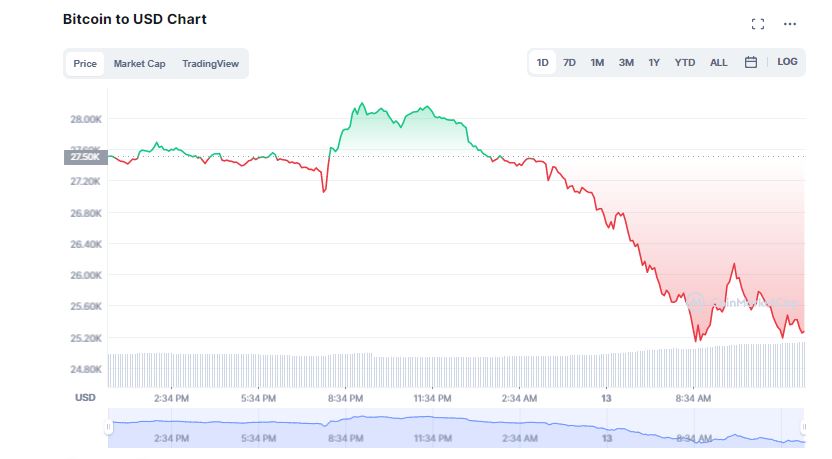 According to CoinMarketCap, the world's largest cryptocurrency, Bitcoin (BTC), spiralled down over 7.85 per cent in the last 24 hours to currently hover at around $25,183. BTC continued its sell-off after a sharp rise in US inflation triggered risk-off sentiment. The flagship token pared as amid a broder retreat by the cryptocurrency complex in the wake of US inflation hitting a freash 40 year high. In the crypto market, Bitcoin's dominace decreased 0.53 per cent over the day to 47.17 per cent.
Bitcoin (BTC) is down more than 43 per cent so far this year (YTD), and is trading far below its record high of $69,000 it had hit in November last year. Since 9th May, BTC trend was sideways as the digital token was trying to take support at its support zone between $30,125-$28,650. However, last week Bitcoin price managed to breakout below its support zone.
Experts believe that the next major support is near the $25,000 level. A downside break below the $25K support could send the price further lower. In the stated case, the price could drop towards the $23,500 support zone in the near term. The major resistance level for Bitcoin (BTC) is at $26,200, $27,200, followed by $28,500.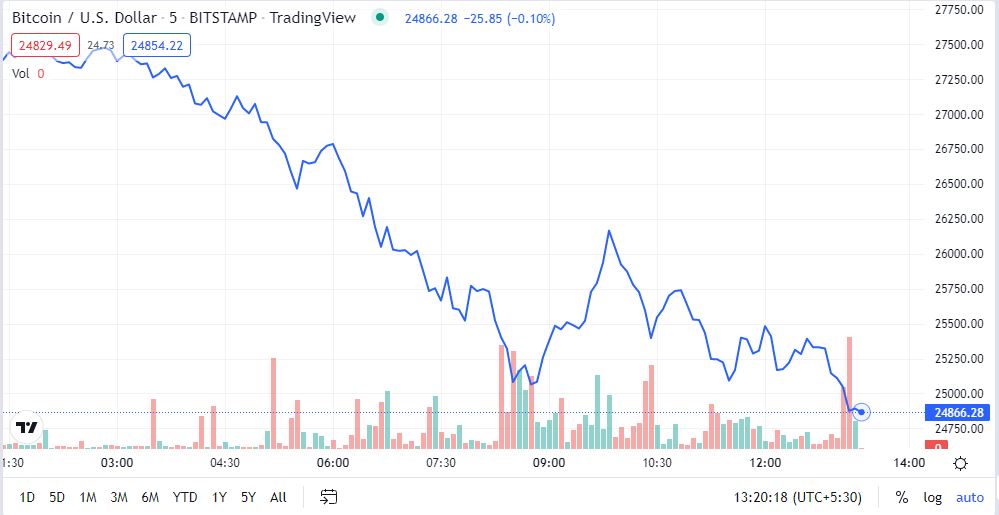 How Is The Scenario For Ethereum?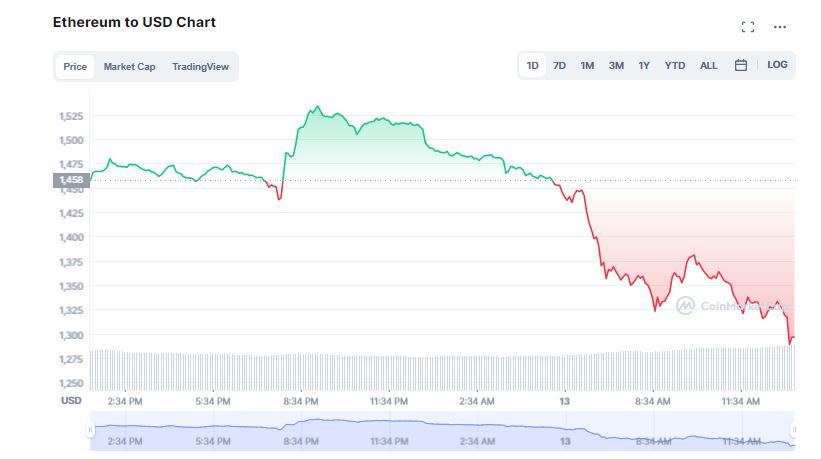 Going further, Ethereum (ETH) along with other top digital tokens also bled profusely. Ether, the world's second largest cryptocurrency shed nearly 8.20 per cent in the past 24 hours to $1,320. ETH has fallen to its lowest level in more than 14 months.
Edul Patel, CEO at crypto investment platform Mudrex stated that the crypto market has been under pressure from the Federal Reserve, hiking the interest rates to combat inflation over the past few months. He said,
"As investors seem to have panicked, the number of crypto liquidations has been high since Friday. Bitcoin and Ethereum plummeted as much as 7% each and are currently trading at their lowest at US$25,000 and US$1,300. The bearish trend may likely continue in the next coming days."
Altoins Swimming In A Sea Of Red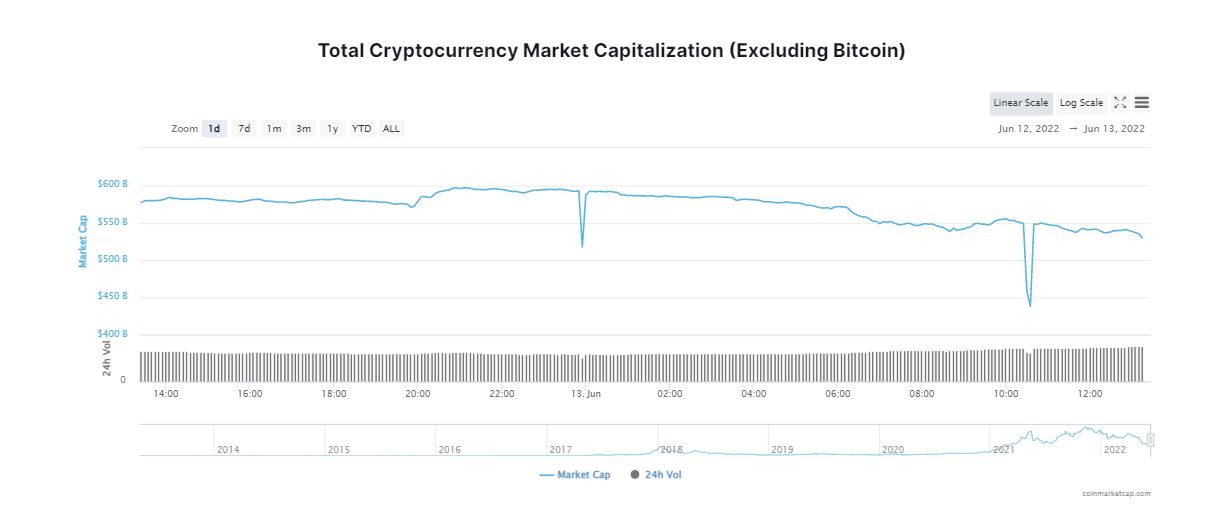 Meanwhile Solana (SOL) and Avalanche (AVAX) lost to a tune of 13 per cent and 10 per cent respectively over the past 24 hours. Withing the same time period, Cardano (ADA), shrunk 8.58 per cent to stand at $0.4629. XRP and Polkadot (DOT) descended over 5 and 9 per cent each to $0.325 and $6.92, corelatively. Popular memcoins, Dogecoin (DOGE) and Shiba Inu (SHIB) dropped over 9 per cent and 2 per cent each to each, in the last 24 hours.
Shivam Thakral, CEO at Indian crypto exchange BuyUcoin, asserted that the rising food, gas, and energy prices have put tremendous pressure on the crypto market as Bitcoin (BTC) and Ether (ETH) have witnessed double-digit losses in the past 24 hours. He added,
"The market is expected to remain choppy in the coming weeks and countries around the globe continue to report high inflation numbers. The current dip in the crypto prices allows investors to buy crypto at 2021 prices and we expect the seasoned investors to take advantage of the dip."