The latest installment of the weekly report on digital asset fund flows reveals a continued momentum in investment. During the past week, capital inflows totaling $176 million were recorded, marking the eighth consecutive week of positive flows and bringing the cumulative inflows for the year to $1.32 billion.
Despite this positive trend, it is noteworthy that capital inflows have not yet reached the levels recorded in 2021 and 2020, which reached $10.7 billion and $6.6 billion, respectively.
Nevertheless, the report highlights a significant increase in trading volumes of exchange-traded products (ETPs), now averaging 11% of the total cryptocurrency volume. This figure contrasts with the long-term historical average of 3.4% and surpasses the averages observed during the 2020/21 bull market.
Bitcoin remains the dominant force in this landscape, attracting $155 million in capital inflows during the last week. These flows represent 3.4% of assets under management over the past 8 weeks.
The positive influence on investment in Bitcoin-based products is linked to the anticipation of the imminent approval of a Bitcoin exchange-traded fund (ETF) based on real assets in the United States.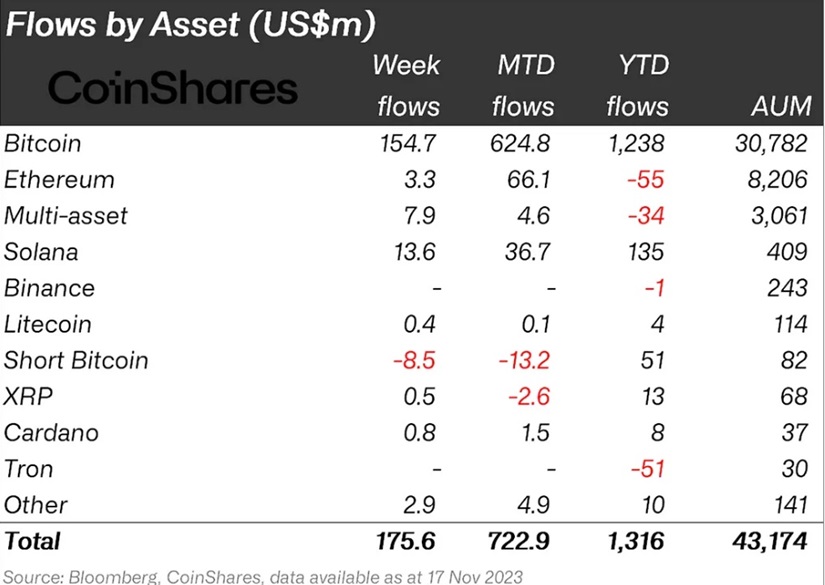 Regional inflows Performance
Regionally, Canada, Germany, and Switzerland continue to be destinations for substantial investments, recording capital inflows of $98 million, $63 million, and $35 million, respectively. However, in the United States, there were capital outflows totaling $19 million, mainly from futures-based products.
Regarding altcoins, several received capital inflows, with Solana, Ethereum, and Avalanche being the most notable with amounts of $13.6 million, $3.3 million, and $1.8 million, respectively. In contrast, Uniswap and Polygon experienced more modest capital outflows, with amounts of $0.55 million and $0.86 million, respectively.
The report reflects the persistent attraction of investors to digital assets, especially Bitcoin, despite inflows not yet reaching the levels of previous years.
The positive dynamics in trading volumes and the expectation of new developments, such as the approval of the Bitcoin ETF in the U.S., contribute to maintaining interest, primarily based on the potential performance of Bitcoin in the future if the ETF is approved, leading to a theoretical influx of institutional capital.