Ethereum market performance over the last few days has been steady. At the back of this were reports that Visa, after mentioning Ethereum several times on their patent application that appeared on the US Patent & Trademark Office, could use the network—or at least one of its competitors, as a platform for issuing out digital currencies.
Visa may issue digital currencies on Ethereum
Overly, Visa is keen on generating digital currencies and leveraging the blockchain which is known for its high reliability and unparralled security.
Although the patent was first filed by the Visa International Service Association back in 2019, an extract from the patent says the issuer of the digital currency will be a central computer entity.
"…digital fiat currency may be implemented using Ethereum as illustrated in FIGS. 9A-9D. In FIG. 9A, account information 900 is established for the entities in the system. Ethereum accounts are established for the transaction processing network, the central entity, and for users such as Alice and Bob. Each entity's Ethereum account is defined by a public address…"
Ethereum is the home of Stablecoins
As a distributed platform that is already the home to billions of dollars' worth of stable coins, it won't be a surprise if Visa, at the end of the day, settles on Ethereum for this.
Already, the network is working towards ETH 2.0. Even if there was a damper from Vitalik Buterin when he said the network may not launch the Beacon Chain mainnet in July, at least the progress towards Serenity is on following the activation of the Schlesi TestNet.
Schlesi doesn't require stakeholders to stake real ETH as the objective is to ensure client compatibility.
ETH/USD Price Analysis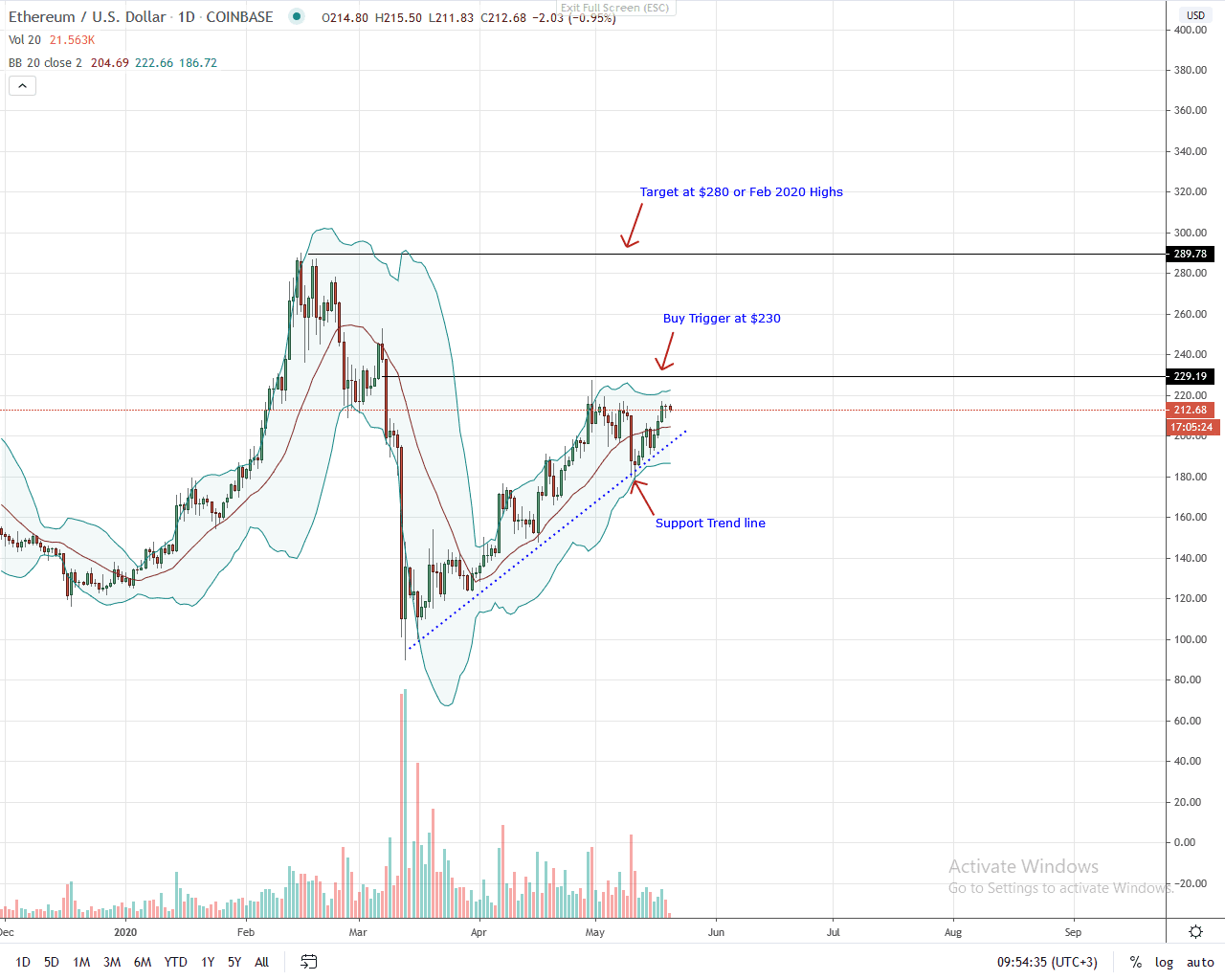 Streams from coin trackers reveal that ETH price is up against the green back in the last trading week. The coin is up 11 percent and is solid above $200.
In the daily chart, the bull trend is firm though it is ideal for several resistance levels to be cleared for a solid confirmation. These levels are $220—and this will confirm a break above recent consolidation, and $230—the main resistance level.
ETH/USD price action is also capped within May 10 high low—a bearish candlestick. From an effort versus results perspective, there are a chance that bears may flow back because of the inability of buyers to unshackle from bear pressure.
The 20-day moving average and March 12 highs of around $200 are immediate support levels. If these levels are broken and prices clear the March-May support trend line, ETH could slide to $175 and even $150.
On the flip side, a breakout above $230 may thrust ETH towards $280 or June 2019 highs.
Disclaimer: This is not investment advice. Opinions expressed here are those of the author and not the view of the publication.