The Ethereum (ETH) price is up roughly 20% when writing and trading at around H2 2023 highs, looking at the performance in the daily chart.
Even so, prices are down nearly 1% in the past 24 hours but up 4% in the last week of trading.
Nonetheless, the uptrend remains, and every low, judging from the rapidity of the uptrend from mid-June, could shape the medium term.
Still, for buyers to conclusively take charge, there must be a breakout above the $2,000 psychological level and the $2,100 line marking April highs.
On the lower end, upbeat traders should watch out for how prices react at $1,800, the immediate support level marking the lows of the June 30 anchor bar. Buyers must ensure prices float above this line for the uptrend to hold.
The Network's State of Affairs
With Ethereum traders bullish, fundamental factors continue to fuel demand.
For instance, with Ethereum's on-chain activity rising, billions of ETH have been burned from transaction fees. This means the coin is gradually becoming deflationary, a development that can also support prices.
The increasing demand for Ethereum's block space, reading from the contraction in on-chain activity in the last bear cycle in competing networks like Solana, Algorand, and Cardano, could accelerate this rally.
The United States Securities and Exchange Commission (SEC) already alleges that ADA, SOL, and ALGO are unregistered securities.
The failure of the regulator to mention ETH has supported Ethereum's activities.
Still, in a recent Twitter thread, Anatoly Yakovenko, the co-founder of Solana Labs, argues that Ethereum can be Solana's layer-2.
Would it be possible for ethereum to be a @solana L2? Probably more likely than you might think at first glance. L2s are bridge protocols that provide one way security. In this setup, holders of solana assets on ethereum would have finality guarantees that they can exit back… https://t.co/XE5ETsxGIW

— toly 🇺🇸 (@aeyakovenko) July 2, 2023
Ethereum (ETH) Price Analysis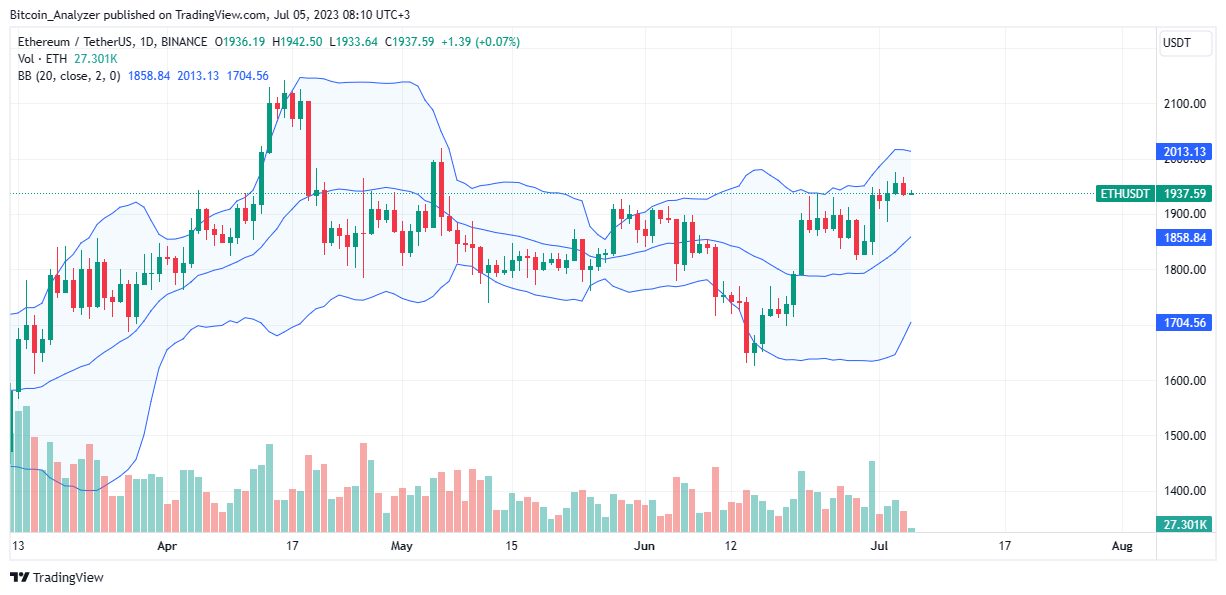 Ethereum prices are up roughly 20% and bullish at spot rates.
The contraction has seen ETH drop below $1,950. Even so, the immediate buy trigger is $2,000, a psychological resistance level.
At spot rates, aggressive traders can look to load the dips, provided prices are above the $1,820 support level. This optimistic preview holds provided ETH is above $1,820, and the contraction is with light trading volumes below the average registered from June 30 to July 3.
Any drop below $1,820 will cancel this preview, possibly forcing ETH towards $1,700, an opportunity for sellers to ride the emerging trend.
Conversely, if there is a sharp breakout above $2,000 with increasing volumes mirroring those of June 21 and 30, ETH buyers may find entries to target $2,100 and $2,500 in upcoming sessions.
Technical charts courtesy of Trading View.
Disclaimer: The opinions expressed do not constitute investment advice. If you wish to make a purchase or investment we recommend that you always conduct your research.
---
If you found this article interesting, here you can find more Ethereum news.