The Ethereum (ETH) prices are higher when writing but stable and consolidating in the past few trading days.
Even though bulls are optimistic, the failure of prices to break above the $2,000 resistance level is concerning.
Nonetheless, conservative traders should watch out for how prices pan out in subsequent sessions. The immediate resistance line is now at $1,930, marking last week's highs. Conversely, immediate support is at $1,830.
Overly, the path of least resistance is northwards, and traders should search for entries on dips above the support level.
In this preview, they will be aligning with buyers of June 21 from an effort-versus-result perspective.
Bulls Have Support
The daily chart shows Ethereum prices are up 16% from June 2023 lows and could reap higher.
Behind this optimism is confidence in the future of the pioneer smart contracting platform. As it enjoys a first-mover advantage, Ethereum could see more activity launch on its rail.
Already, over $26 billion of assets are locked by various decentralized finance (DeFi) protocols, according to DeFiLlama data.
At the same time, nonfungible statistics reveal that most high-value non-fungible tokens (NFTs) like CryptoPunks and the rest are deployed on Ethereum, highlighting the chain's popularity.
With this in mind and billions of ETH being staked by over 600,000 validators distributed across the globe, the network is resilient and robust.
This, in turn, instills confidence, especially as regulations around crypto and clarity from the United States Securities and Exchange Commission (SEC) is sought for the second world's most valuable cryptocurrency.
Ethereum Price Analysis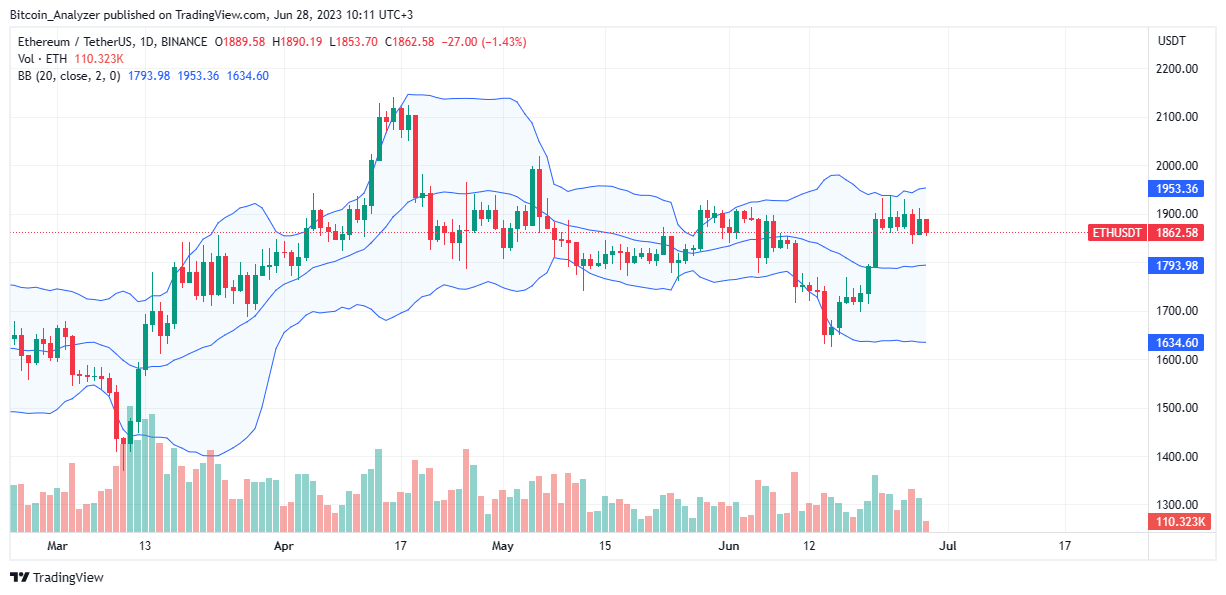 ETH is bullish when writing, adding 14% in the past few trading days and rewinding losses from May.
The consolidation within a bullish pattern swings price action in favor of sellers. Therefore, aggressive traders can trade with the primary trend by loading on dips above $1,830. In the meantime, their immediate target will be $1,930 and later $2,000, depending on the breakout volume.
If the surge higher is with expanding volumes, it will confirm the buying pressure of June 21, paving the way for even more demand toward $2,000 in a buy trend continuation formation.
On the flipside, a high-volume rapid sell-off below $1,830 could trigger a sell-off forcing ETH towards $1,800 and June 21 lows. This will likely call into question the strength of the uptrend and if buyers can sustain the bull run towards $2,000 and April 2023 highs.
Technical charts courtesy of Trading View.
Disclaimer: The opinions expressed do not constitute investment advice. If you wish to make a purchase or investment we recommend that you always conduct your research.
---
If you found this article interesting, here you can find more Ethereum news.