There are many forms of centralization. Miner centralization is the most rampant. Here, in a Proof-of-Work consensus system, mining gear is concentrated in zones with low power rates to keep costs down and maximize profits. This is prevalent in ASIC-supported systems like Bitcoin.
Because of low costs and proximity to gear from Bitmain and Canaan, for instance, most Bitcoin mining farms are found in Northern China.
It's a brilliant idea but this is an anti-thesis of blockchain which advocates for decentralization whose distribution guarantees the lack of control by a single entity.
Developer Centralization
Ethereum can't escape this. Even though it is a Proof-of-Work system, ETH is mined by GPUs systems. The network is satisfactorily decentralized but there is a creeping concern of developer centralization.
And understandably so.
Ethereum is the most actively developed protocol, more active than Bitcoin which is the most valuable. It is because of this that some quarters argue that developers can, if they work together, that they can maliciously cripple the network.
Buterin Says smartphone mining is a Fool's Game
Therefore, it defeats sense, raising eye brows when Vitalik Buterin aimed a dig at HTC, a smartphone manufacturer, when they partnered with Midas Labs.
Together, they will release a miner in Q2 2020 called DeMiner through which the smartphone will mine low amounts of Monero (XMR).
Responding to an article, the co-founder said it was a fool's game for manufacturers to even conceive such an idea.
Even though there are some that agree with his opinion, if this is successful, Monero, whose creators treasure decentralization, will be the most decentralized, better than Ethereum.
ETH/USD Price Analysis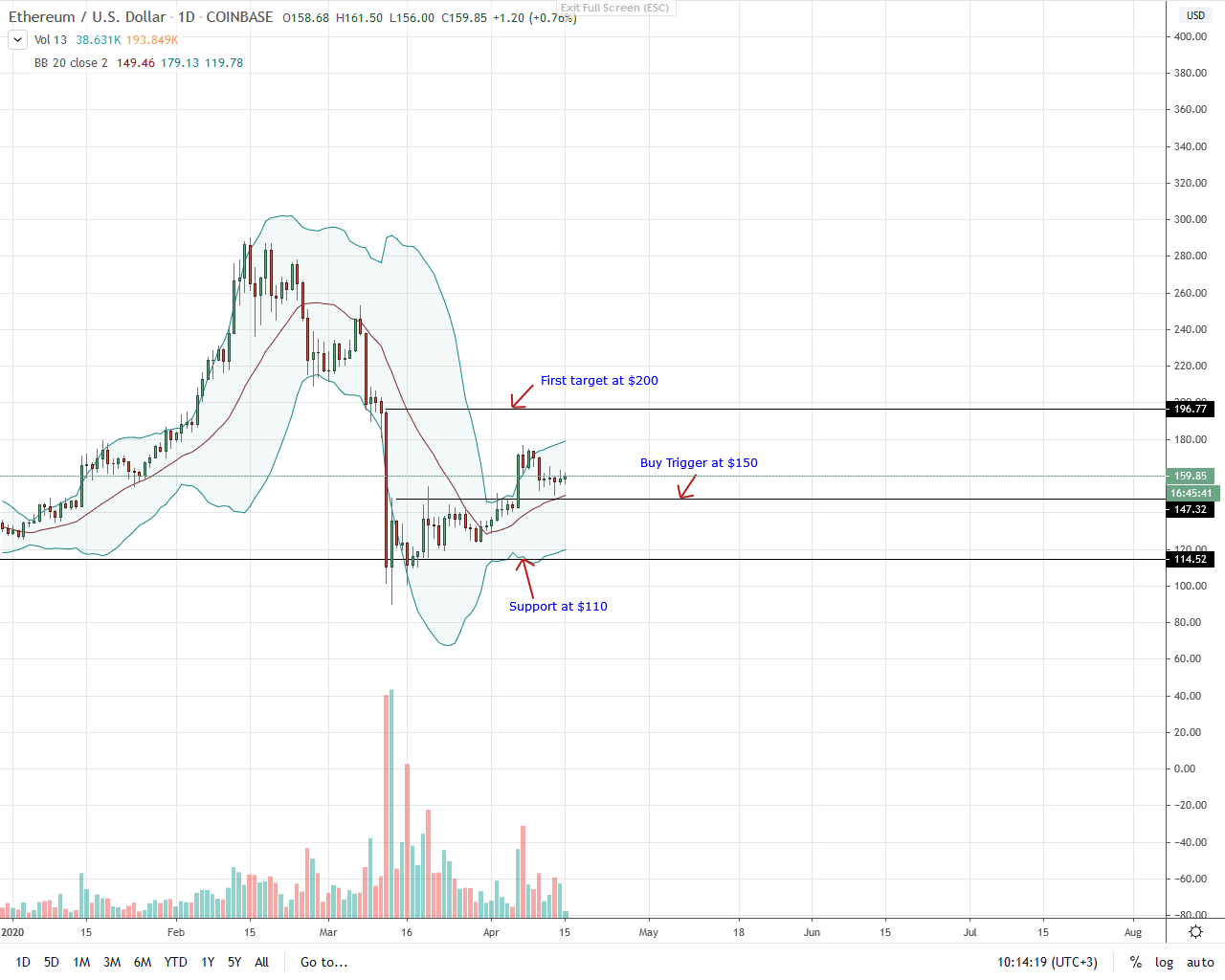 Price wise, ETH is stable in the last trading day. Nonetheless, against the USD, the coin is down six percent in the last trading week.
Even though bears have a tight grip and prices are consolidating within Mar 12 bear candlestick, yesterday's bull bar and a series of higher highs in the last week of trading strongly builds a bullish case. There is a three-bar bullish reversal pattern.
Besides, the failure of prices to drop below $150 means, as laid out in previous ETH/USD price analysis, aggressive traders can continue buying the dips with modest targets at Mar 12 highs of $200.
To reiterate previous observations, any drop below $150 or the lows of April 6's bull bar invalidates this bullish outlook. It may spur a selloff that will see ETH crumbled to 2020's low of $110.
Disclaimer: This is not investment advice. Opinions expressed here are those of the author and not the view of the publication.
---
If you found this article interesting, here you can find more Ethereum News