There has been a slight recovery in the crypto scene and Ethereum hasn't been left behind. While Vitalik Buterin has also been active on Twitter, focusing his efforts on anti-aging research and actually contributing towards it, positive development and belief in Ethereum 2.0 could be the fuel that will pump ETH towards new high and above the psychological $200 level.
Week-to-date, ETH has added 29 percent against the greenback and as aforementioned, the main trigger has been the positive sentiment around ETH 2.0 and Serenity which once actualized will not only resolve Ethereum's long standing scalability concerns but cement its position as a leading smart contracting platform that is not only secured by the masses, is robust, but most importantly has an active community of developers contributing towards its research and code improvement.
Talking to CoinDesk, the CEO of OpenZeppelin—a leading security audit firm, Demian Brener, said:
"From a developer standpoint, Ethereum is the most popular blockchain where most of the smart contract and dapp activity occurs. People are realizing that Ethereum's network effects especially around community and composability (ETH smart contracts interacting with each other) are stronger than they thought, which might lead to increased trust in the platform and thus higher prices."
ETH/USD Price Analysis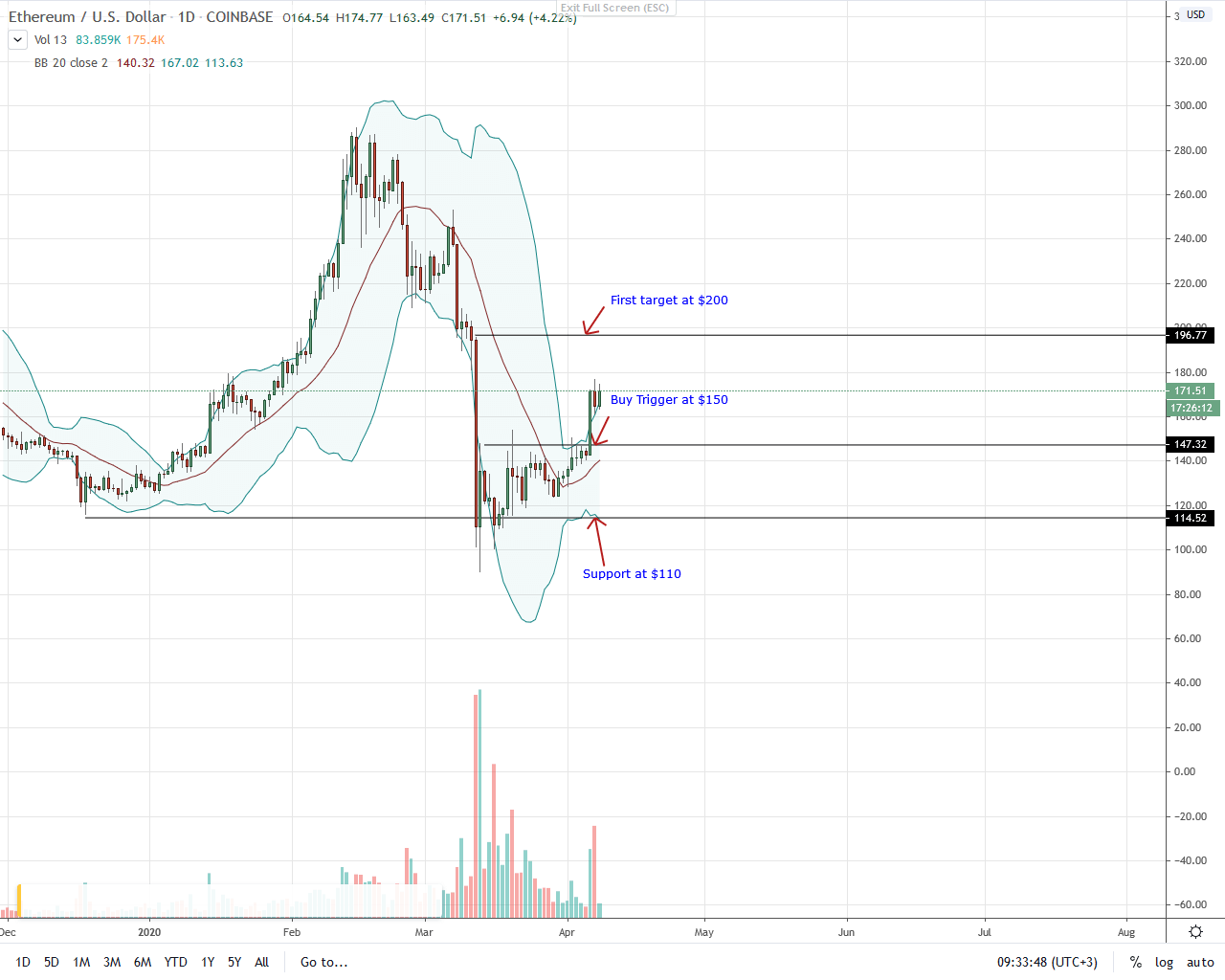 ETH price is trading above $150, an important trigger line and previous resistance.
From previous ETH/USD price analysis, the level was a buy trigger and thanks to increasing trading volumes despite yesterday's bear candlestick, there is an opportunity for traders to load their longs from every pullback with first target at $200 or Mar 12 high.
It is imperative that this high be cleared and the possibility of another bear trend continuation extinguished as the Effort versus Result analysis dictates.
If not, and prices retest $200 but fails to build momentum towards $230 or above, odds are ETH will reverse these gains and trend back to March 2020 lows.
In the meantime, bull momentum is strong and the lower and upper bands of the BB are diverging as candlesticks band along the upper BB.
Disclaimer: This is not investment advice. Opinions expressed here are those of the author and not the view of the publication.