Despite the speed with which blockchain technology is being adopted in many areas, there is still a legal system in every country in the world that still desperately needs an update to allow for this adoption.
Although the adoption of blockchain technology is still controversial, the combination of AI algorithm technology coupled with a distributed chain-locked book to replace antiquated criminal justice systems around the world could have great compassionate effect on human suffering and help Alleviate the abominable injustices that exist in prisons the world.
Futuristic justice systems based on artificial intelligence have been criticized by Hollywood and have been portrayed negatively in science fiction films such as Elysium and The Fifth Element. They are represented as inhuman, incompetent, and devoid of basic human compassion.
 In reality, however, it is the human justice system that can be terribly inhuman, eliminating the freedom of individuals and subjecting them to tortured conditions as detained or accused, not yet tried as convicted offenders or criminals. This is due to the inefficiency of the courts to provide a speedy trial.
A lively reminder of this horrible reality can be seen in episode 4 of the Netflix documentary series, "Inside The World's Toughest Prisons."
This kind of acute inefficiency resulting in situations of extreme cruelty and inhumanity should not take place in a civilized society. Applied to these awful systems of justice, AI and blockchain synthesis could directly alleviate the suffering and injustice caused by inefficient paper systems that result in life being ruined.
Greater use of automation could improve the speed and quality of performing tasks such as case auditing and, in the future, could even help address such issues as subjective bias in judicial decision-making. Unique opportunity to increase accuracy and transparency through audited and secure distributed records.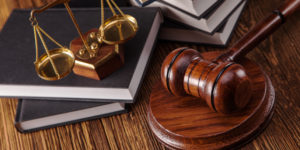 Artificial intelligence algorithms are already being used by some judges to determine the likelihood of a repeat offender. Compas, a risk assessment tool, is used in the United States by the Wisconsin Department of Corrections to determine if an offender is a high or low risk to society.
Many studies have concluded that objective statistical evaluations are, in fact, superior to human judgment (Grove, Zald, Lebow, Snitz and Nelson, 2000, Swets, Dawes and Monahan). In overburdened and crowded criminal justice systems, brevity, efficiency, ease of administration, and clear organization of key risk and need data are critical.
CrowdJury.org is an interesting example of a completely new and radical judicial system built with blockchain technology. From the judicial process using Ethereum's intelligent contracts to structure the system, and even rewards and encourages participants with bitcoin Although Crowdju Ry does not use AI, he shows us the power of the block chain to thoroughly manage the records of an entire judicial system . Distributed encryption books will reduce costs, save time, and increase transparency, speed, and accuracy by processing justice system data for entire populations of prisoners at different locations.
Combining an efficient AI algorithm To judge statistical-based cases, along with the speed and efficiency of the block chain to record data, could automate the justice system in a way that would bring more humanity and compassion to people who They suffer from an overloaded, brutal and ruthless human system.
If the automated system makes a mistake, cases can be appealed to a higher court run by human judges, lawyers and juries to review these digital decisions.
In criminal justice systems in Third World countries, as well as in First World countries, the block chain and AI skills to automate courts and transform them into more efficient justice machines could bring a new dawn of Humanity and compassion.
We invite you to follow the day by day about the cryptocurrencies, blockchain and bitcoin world at Crypto-economy.