The Ethereum price is stable, moving within tight ranges but encouragingly up after sinking to as low as $2.1k.
Even in the face of unprecedented bear pressure, the trading community remains upbeat, expecting ETH prices to bounce from spot rates and chart higher above $3k to over $4.2k in a buy trend continuation.
Their confidence stems from on-chain development, scaling and Gas-fee reduction plans, and increasing adoption of Ethereum and crypto in the days ahead.
Ethereum for deploying CBDCs
For instance, the rise of CBDCs and the possibility of central banks issuing currencies on Ethereum.
Although it may be improbable, a former leader of the Digital Yuan drive said this could be possible.
Yao, the director of the Science and Technology Supervision Bureau of China's Securities Regulatory Commission, mentions Ethereum's smart contracts. He cites some of its properties, including existence from a transparent layer and the ability to be monitored.
However, the chief also said smart contracts could be vulnerable to third-party attacks causing immeasurable losses.
In the age of digitization and CBDCs, central banks who chose to deploy blockchains and leverage their features may be at an advantage.
Arbitrum is Live on the Ethereum Mainnet
Meanwhile, Arbitrum by Offchain Labs is now live. The Layer-2 option without tokens would contribute heavily in slashing Gas fees and infinitely scaling the Ethereum base layer that's currently struggling with high Gas fees.
Due to this limitation, heavy dApps cannot launch on the platform, instead opting to launch on competing networks like the Binance Smart Chain (BSC).
Ethereum Technical Analysis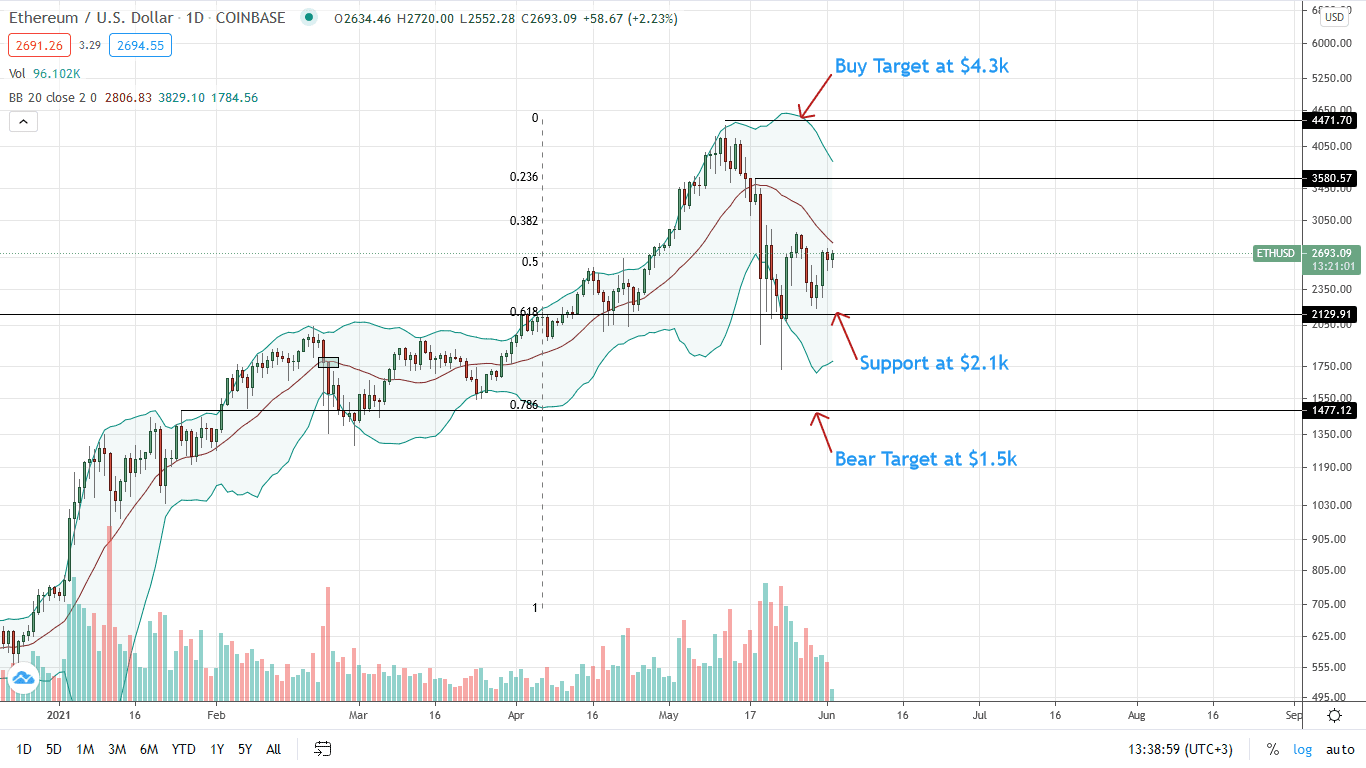 The ETH/USD price is grinding higher, albeit with lighter trading volumes.
As of writing, ETH prices have posted marginal gains against both BTC. Meanwhile, trading volumes have shrunk 12 percent to around $34 billion.
From the daily chart, ETH/USD prices are steady but below the middle BB.
As visible, ETH prices found support from the 78.6 percent Fibonacci retracement level, bouncing with a double-bar bullish reversal pattern. However, ETH prices are still within the May 19 bear bar—bearish from a Volumes Analysis perspective.
Nonetheless, as long as prices are trading above $2.1k, every low may be a loading opportunity with targets at May 19 highs of $3.3k and May 2021 highs of $4.3k.
On the flip side, a high-volume dip below $2.1k cancels the uptrend and confirms bears of mid-May 2021. In that case, ETH prices may sink to as low as $1.5k.
Chart Courtesy of Trading View
Disclosure: Opinions Expressed Are Not Investment Advice. Do Your Research.
---
If you found this article interesting, here you can find more Ethereum News