Scalability. It's a headache for public blockchain developers. And yes, Ethereum is one of them. Resolving, or creating a solution that immediately rolls out permanent solution is top priority for creators and network founders.
Vitalik Buterin, following the CryptoKitties trouble of early 2018, penned an article stating that Ethereum must fund innovators researching on new ways or working on methods that will eventually alleviate this nagging problem.
Serenity and Scalability Options
As Ethereum prepares for ETH 2.0 and Serenity, an immediate concern is whether Sharding, an option that will see the base layer broken down into 64 shards—or units, or Optimistic Rollups or ZK Rollups take off.
Sharding is what will be activated in Phase 1 of a three-stage transition that first begins with the mainnet launch of ETH 2.0 called Beacon Chain.
It is due at a tentative time in H2 2020 and will see the implementation of Proof-of-Stake, the core of Serenity since Ethereum will by then shift to a Proof-of-Stake consensus algorithm from an energy-intensive Proof-of-Work system.
But, whether it will be successful or not depends on the will of developers and how serious they are to find lasting solutions.
ETH 2.0 and DeFi
The journey has started and the community is optimistic. Should Beacon Chain activation be seamless and smooth, odds of ETH printing new highs will be high.
Serenity will undoubtedly cement Ethereum's position as a leading smart contracting platform especially for the highly disruptive DeFi dApps. At the moment, the amount of ETH locked by trustless financial app nears $1 billion, a hint of ETH demand.
ETH/USD Price Analysis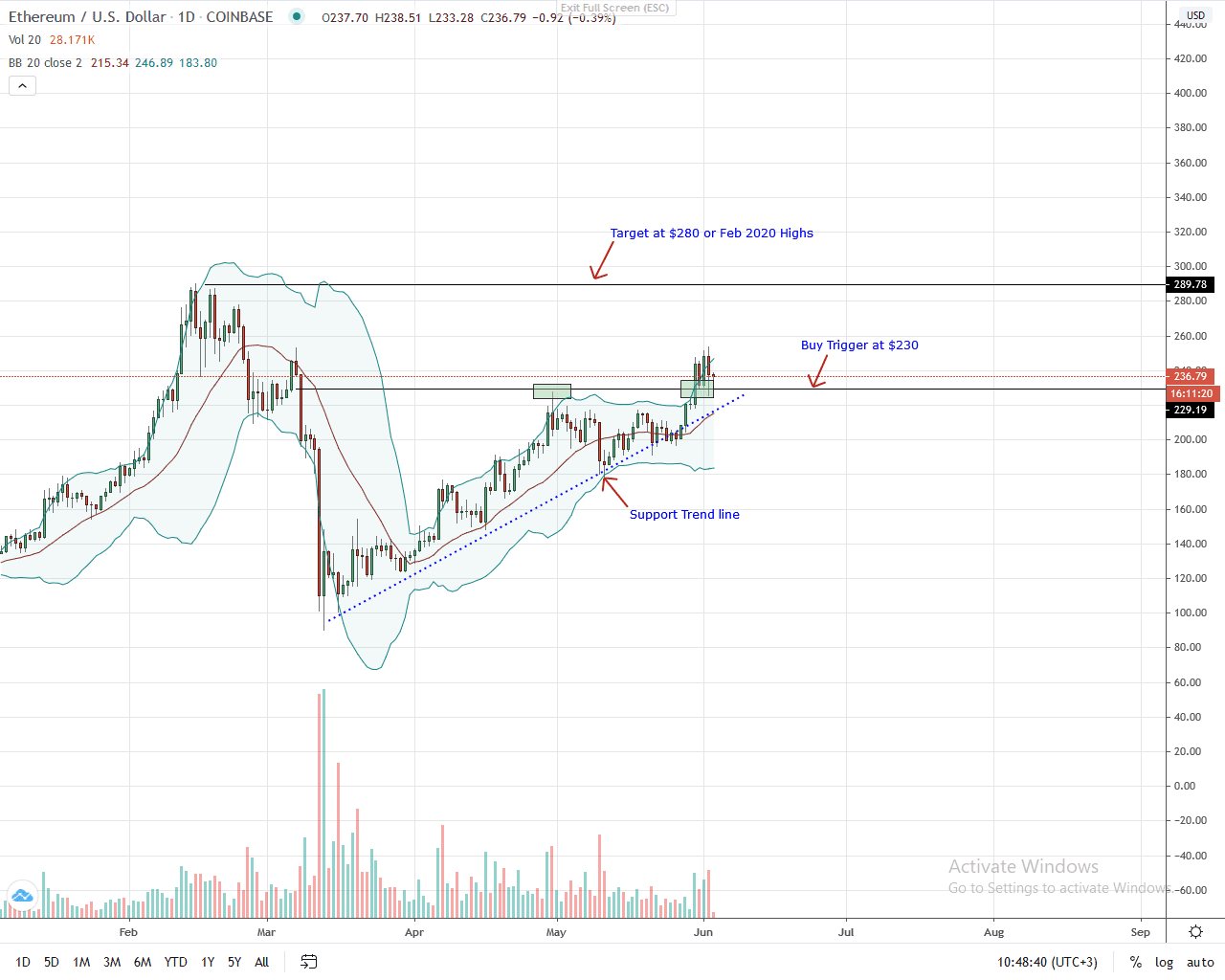 At the time of press, ETH is changing hands at over $230 a pop against the USD. It has considerably gained against the greenback in recent times, adding 19 percent in the last week of trading.
In the daily chart, ETH has broken and closed above an important resistance line, now support, at $230. As mentioned in previous ETH/USD analysis, a close above this mark at the back of high trading volumes signals a shift of trend and a continuation of the previous buy pattern.
As such, every dip is technically a buying opportunity for traders aiming at $280. Any further correction towards the $220-$230 zone will be perfect for traders to ramp up their position.
On the flip side, a close below the two-month support trend line, $200, and the middle BB may invalidate buyers. Already, bulls' momentum is evidently strong as candlesticks band along the upper BB.
Disclaimer: This is not investment advice. Opinions expressed here are those of the author and not the view of the publication.
---
If you found this article interesting, here you can find more Ethereum News