All in all, the correction of ETH has been deep and as long as prices remain as it is, it's likely that ETH shall steady in coming days. According to Joseph Lubin, demand and mass adoption is important. Price takes second priority.
Latest Ethereum News
That the Ethereum market is literally weathering a storm is an understatement. Technically, ETH, the oil that lubes the Ethereum ecosystem has been battered. ETH is so defeated that theories are beginning to emerge that it is just a matter of time before it drops to zero draining with billions in investment. Oddly, in an economic abstraction argument between Jeremy Lubin the CTO at Stellar and Vitalik Buterin the founder of Ethereum, Vitalik seem to agree.
But, it seems the tide is changing for good. In a recent interview with the CNBC, Joseph Lubin the co-founder of Ethereum and head of Consensys said the turbulence and the down turns experienced is nothing new. Citing boom and busts in early days of Bitcoin, he said a better metric to measure the overall performance and stability of the blockchain ecosystem including that of Ethereum is level of adoption and the number of projects running on the blockchain plus the level of developer participation working towards creating foundational infrastructure.
This, in his opinion is a better pointer to the growth of the market with price taking a secondary spot. On matters regulation, he is advocating for self-regulation and to him, blockchains like Ethereum need not to experience the heavy handedness of regulators because ETH is a utility that operate inside its own enclave and not moving value like Bitcoin and similar coins.
Ethereum – Price Analysis ETH/USD

Weekly Chart – ETH/USD Price prediction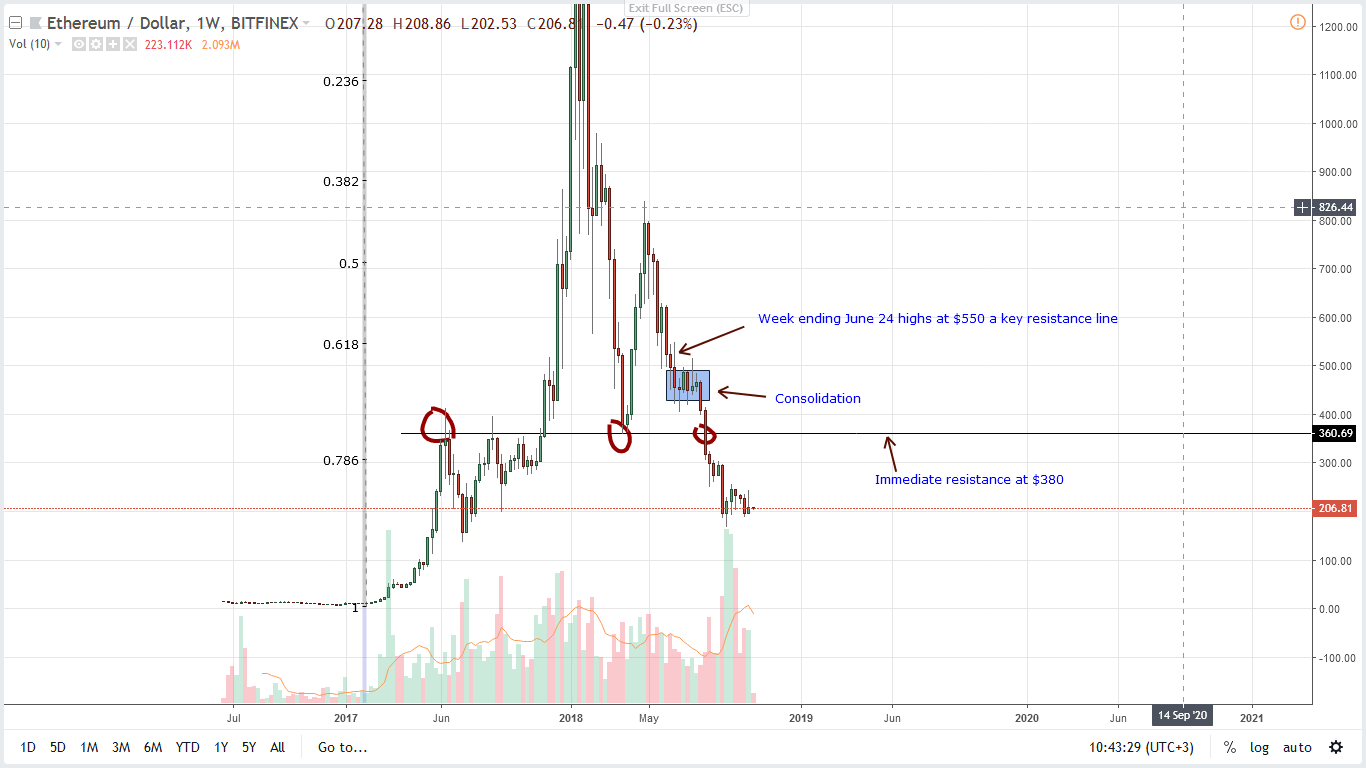 The stagnation of price in this time frame means our previous Ethereum price analysis is valid. Notice that prices are still oscillating inside week ending Sep 9 high low and despite last week's bullish attempts, we are yet to experience sharp degradation below $160 or the psychological $200 on the downside or rallies above the $250-$300 resistance zone triggering bulls on the upside.
There are two possibilities that could explain this. First, this could be an accumulation around the $200 mark printing in reaction to the deep correction from 2017 highs. Alternatively, this could be a distribution as prices react to FUD in line with week ending Sep 9 bears. Whatever the case, we recommend caution and even as we enter the nth week of taking a neutral stand, it will be worthwhile rather than finding ourselves in the wrong side of the trade.
Daily Chart – ETH/USD Price prediction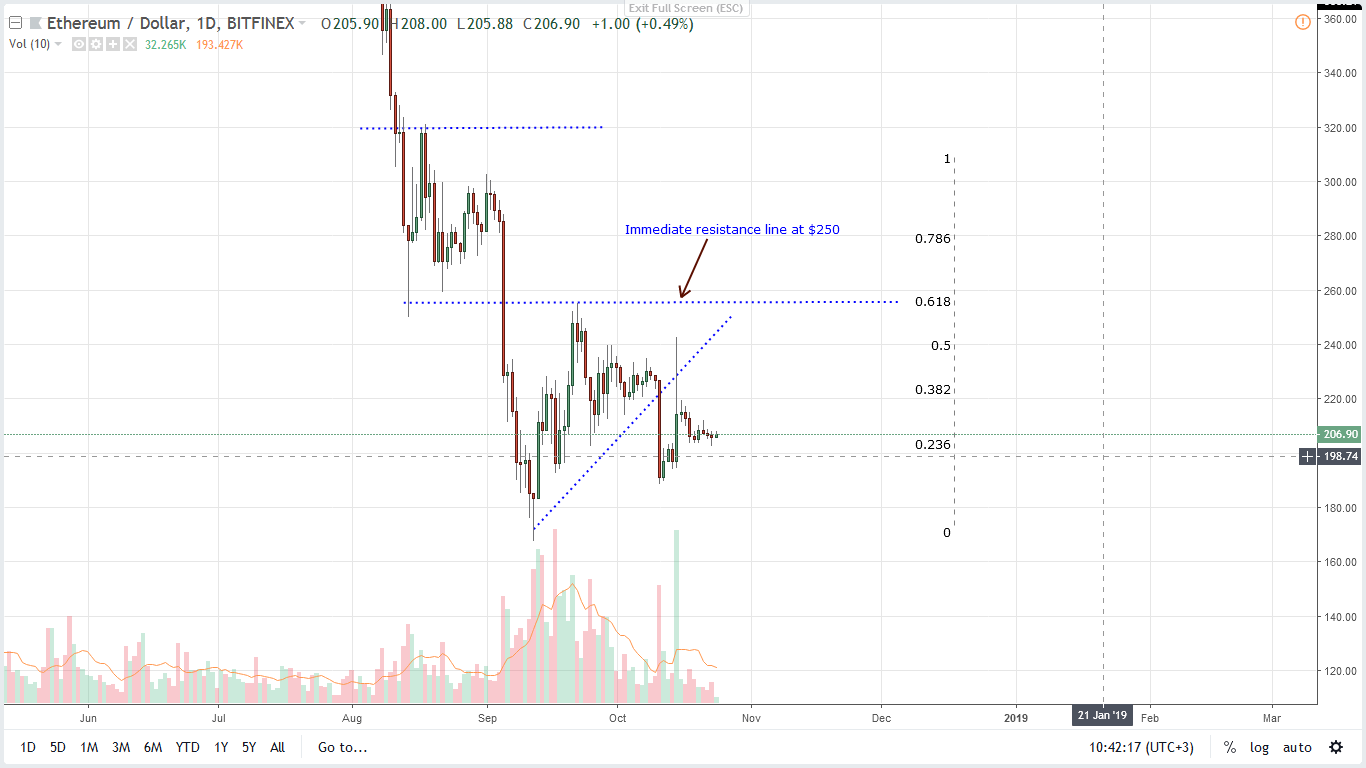 A level deeper and the recalibration and consequent re-price following Oct 15 surges is clear. As expected, the pull back was necessary but the fact that it didn't close below $200 is important for traders.
Now, as before, risk off aggressive traders can buy on dips with stops at Oct 15 lows at around $190. First targets remain at $250 and later $300 but if stops are hit then we could see reinvigorated bears aiming at $150 or lower.
Disclaimer: Views and opinions expressed are those of the author and aren't investment advice. Trading of any form involves risk and so do your due diligence before making a trading decision.