From Fidelity Investment entry into cryptocurrencies and their intentions to involve institutional investors to BitHumb opening their own ETH dominated DEX, ETH fundamentals are positive. Even if prices are still down six percent in the last week and relatively stable in the last day, we suggest risk-off traders to load on dips with stops at $190.
Latest Ethereum News
Following the path of BitFinex and Binance, Bithumb, the South Korea cryptocurrency exchange has opened up their own decentralized exchange. This is but a natural response to the simple fact that blockchain and decentralization will take center stage in the next few years.
As DEX platforms evolve becoming hack proof, Bithumb wants to definitely realign themselves for the future. And the good thing about this is that ETH is the current base currency since the new DEX incorporates MetaMask.
This way we expect ETH to tap in the extra liquidity as tradings pick up. The exchange plans to airdrop around 500 ETHs or around $100,000 but for users to benefit from the air drop they must have a trading volume of atleast 1ETH.
In other news, it is likely that the much anticipated Constantinople software upgrade won't execute this year. Constantinople is one of the key upgrades the Ethereum network must deliberate and agree on as they trudge towards Serenity. With this upgrade, miner rewards would be slashed from 4 ETH to 3 ETH while increasing the overall user experience.
Commentators have opined that this reward slashing will increase ETH inflation. In response, it's most likely that prices will first dump before mooning in subsequent days in similar fashion when BTC rewards were halved.
Ethereum Price Analysis – ETH/USD
Weekly Chart – Price prediction ETH/USD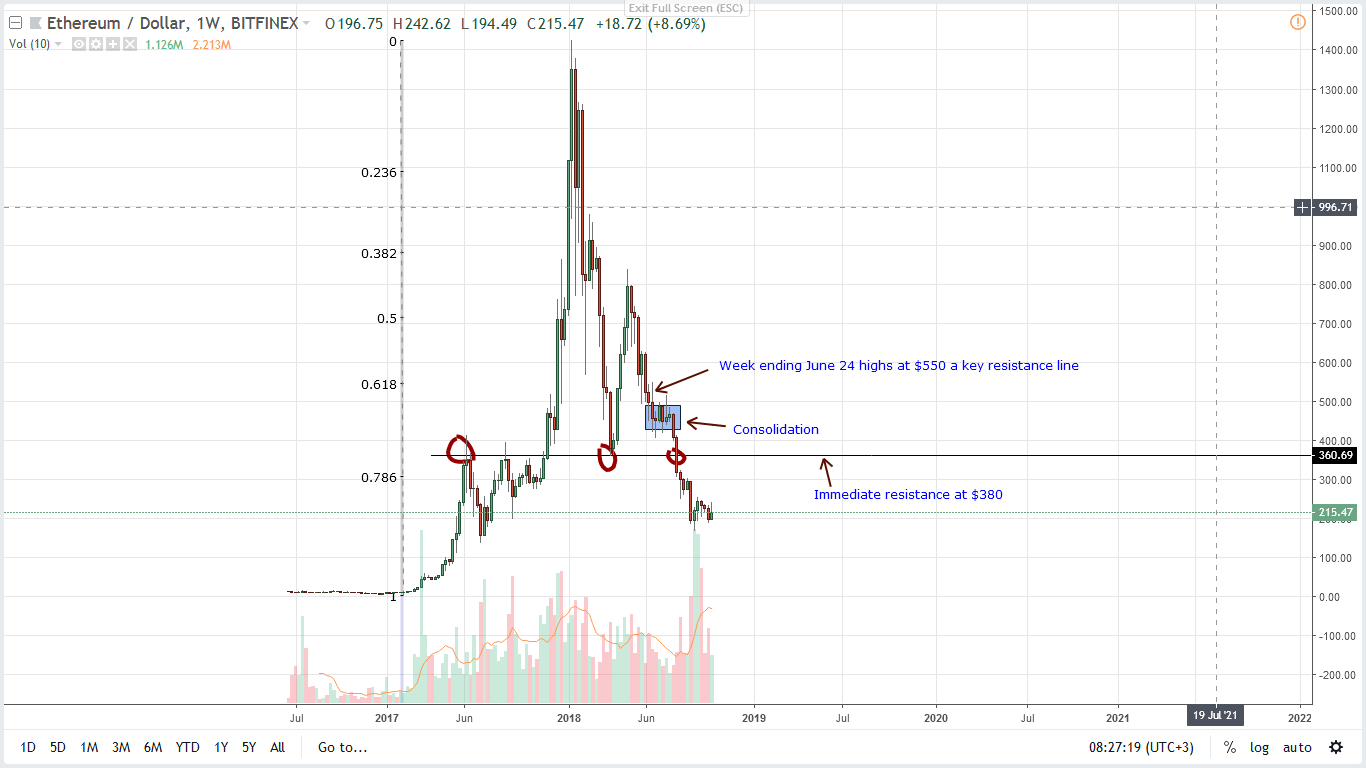 Price wise, ETH is still in bear territory losing seven percent in the last week. Although we remain positive thanks to the reinvigoration of price following Monday's resuscitations, our last ETH/USD price analysis is valid.
Considering the way candlesticks are arranged and the fact that prices are still finding strong resistance at $250-$300 and support at around $160-$200 levels, patience is key.
Further backing this stand are prices that have been in consolidation mode and the failure of buyers to reverse week ending Sep 23 losses in the last one month. Moving on, despite the upbeat sentiments, bears are technically in charge but since we had taken a neutral stand, we shall maintain the same forecast as we wait for favorable break outs in either direction.
Of course, given the bear run of the last month, it's likely that prices would recover but a mix of fundamental and technical events would determine the speed of a recovery or further meltdowns.
Daily Chart – Price prediction ETH/USD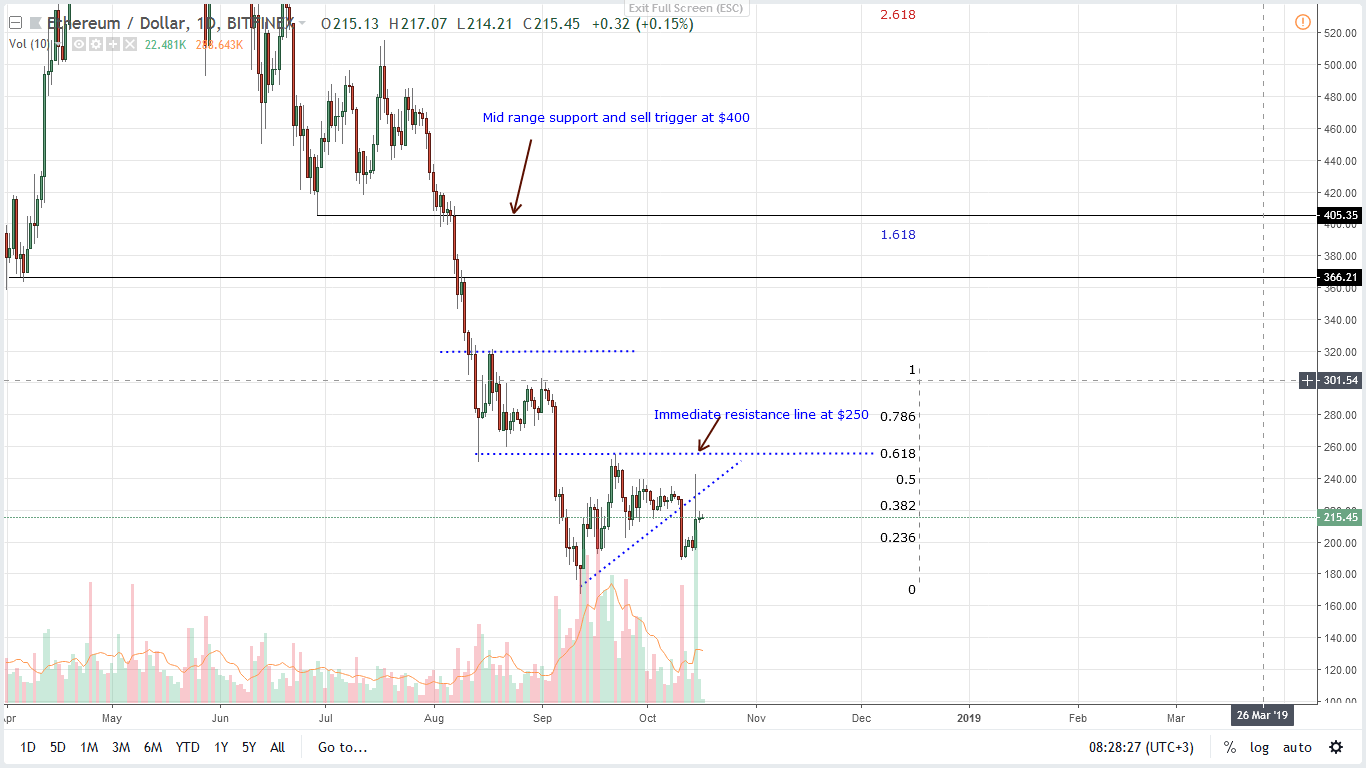 Back to the daily chart it is seen that ETH is technically unchanged. And this was expected. Not only did we expect prices to steady as ETH readjusts, balancing out bulls and sell pressure but the retracement in prices is a perfect chance for aggressive traders to buy at spot prices with first targets at $250 and higher.
That will be our recommendation today and since we are fading the main trend which is bearish, traders should open small sizes of ETH with safe stops at $190—or Oct 14 lows. Any drop that will see stops hit invalidates this projection and opens doors for sellers aiming at $150 and later $75 in line with our last iterations.
Disclaimer: Views and opinions expressed are those of the author and aren't investment advice. Trading of any form involves risk and so do your due diligence before making a trading decision.