Approaching Ethereum requires a multi-faceted approach. There is the inevitable price aspect, true, but what's truly important for true believers is what developers have in mind. The course they chart in the course of building is vital. And this is applies not for Ethereum but even for leading projects like Bitcoin.
Blockchain-based projects like Ethereum are anchored on community participation. Without active developers, all the progress made can be easily unwound. Luckily, Ethereum is the most active. Perhaps this is because of its unique programming language Solidity. Or because of the awe inspiring smart contracting and its abilities.
From smart contracting, businesses like Chainlink have flourished and now worth millions of dollars. Through their oracle service linking real-world, third-party data, Link, the ERC-20 token is now in the top-20 by market capitalization.
Even at this level, observers say the token is undervalued since the oracle business is at its infancy. There is so much more and founding its future, that is, the quality of data advising smart contracts and executing immutable deals depends on its robustness.
Chainlink's success means the success of Ethereum but Ethereum has to solve its weakness: Scalability. As it is, work is in progress and soon, Phase 0 TestNet, the first of its six stages, will be activated following the validation of the genesis block of the Prysmatic Lab-led Topaz TestNet.
The aim at this stage is complete node decentralization. And if anything, this has been a success because the number of validators now exceed 21,000 and continue to rise. Besides, there are other ancillary developments like the launch of ETH 2.0 staking rewards calculator.
This way, those seeking to bulwark the network by staking their coins know exactly how much they will earn annually.
ETH/USD Price Analysis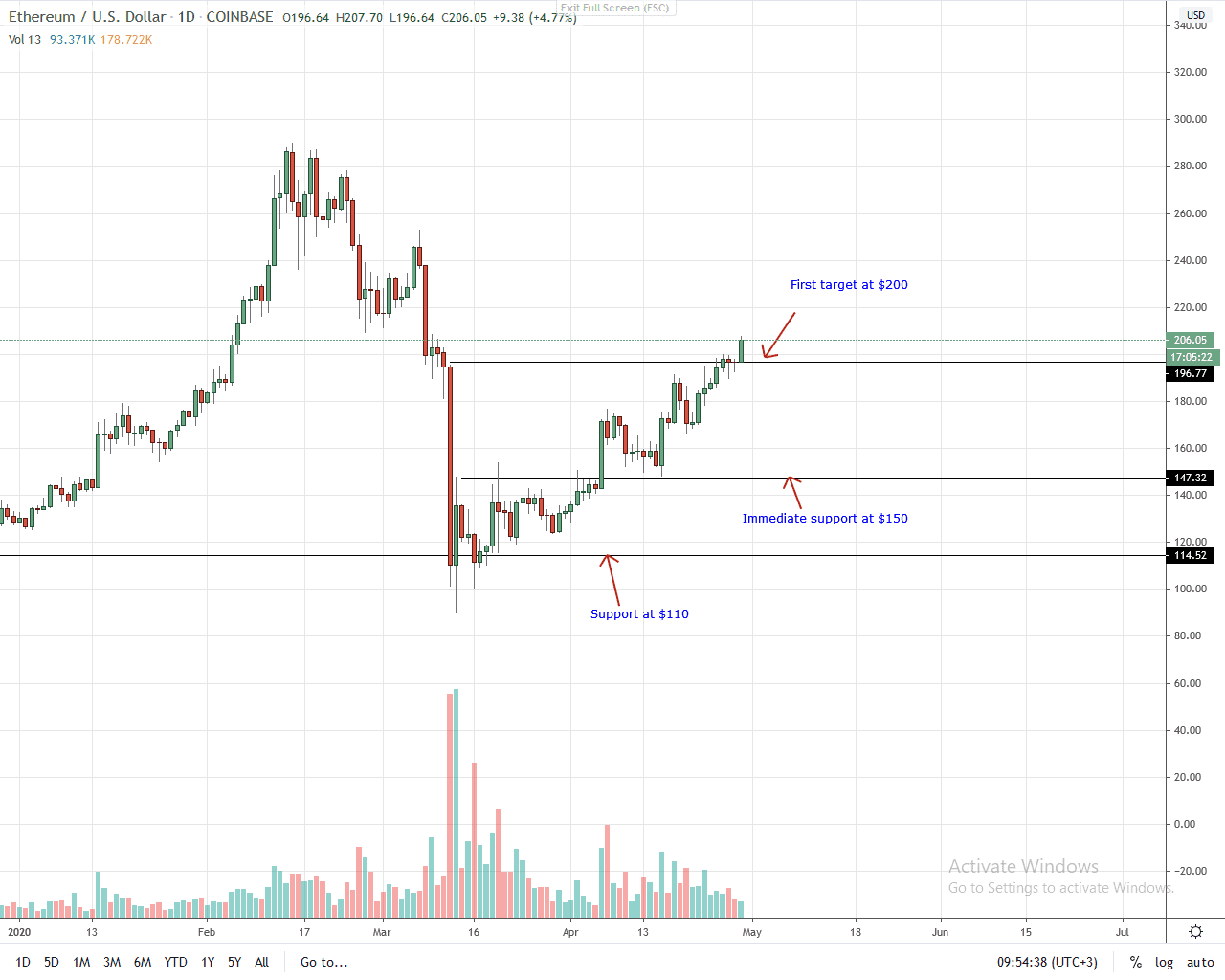 At the time of press, ETH bulls had reversed all losses of Mar 12. Notably, not only did yesterday's bar close with a long lower wick hinting of buy pressure but price is now solidly back above the $200 mark, the first target.
All indications reveal that this is a V-shaped reversal and should bids continue to exceed supply, it is likely that ETH will slowly rally to $280 and build the case for even higher highs in days ahead.
For a risk-averse trader, the best course of action is to tap any pullback towards the $200 level and ride the rally more so if there is high trading volumes. Every low will advise a buy and a possible path towards $250 and later $280 or Feb 2020 high.
On the reverse side, any slide below $180 could spur a reversal back to $160 and even $150 invalidating this bullish projection.
Disclaimer: This is not investment advice. Opinions expressed here are those of the author and not the view of the publication.