The next three years will shape Ethereum. That the protocol triggered some sort of a revolution, the fourth industrial revolution, is also true. Behind the standard's prowess is its ability to roll out smart contracting capability and that has since been enhanced.
The Race for Speed and Scalability
The technology's capabilities opened up tons of possibilities like tokenization and alternative forms of funding —whose popularity is now dwindling because of regulators' intervention.
At the moment, competition is anchored on speed and scalability.
Ethereum may be the pioneer, attracting developers and what's not but it has been eclipsed by the likes of EOS, Tron, and the so-called "Ethereum killers" in metrics as scalability.
However, going forward, Ethereum plans to transit to a Proof-of-Stake protocol that rids miners, instead introducing validators and the concept of shards. In total, there will be 64 shards.
These are nothing more than blockchains that work in parallel and synced in such a way that the network won't be split, causing a fork.
Split into six phases, Phase zero is the Beacon Chain and is mostly about the activation of Proof-of-Stake, a feat that is quickly taking shape as over 20,000 validators are now subscribed.
Path to Serenity expected to be Wavy
Despite promising speed, flexibility, and scalability, there are doubts on whether Ethereum developers will pull through this technological masterpiece on time.
If past performance and development roadmaps are anything to go by, critics opines that the path towards a fully functional Ethereum 2.0 won't be smooth and hitches will most likely be experienced because of the complexity of the transition and what's at stake.
Through a tweet, an observer quotes:
"Ethereum 2.0 is exceptionally complicated. With so many committees, shards and voting types it seems reasonably likely that something will go wrong and there will be significant further delays. However, despite all these potential issues, ETH 2.0 is still probably worth a try."
ETH/USD Price Analysis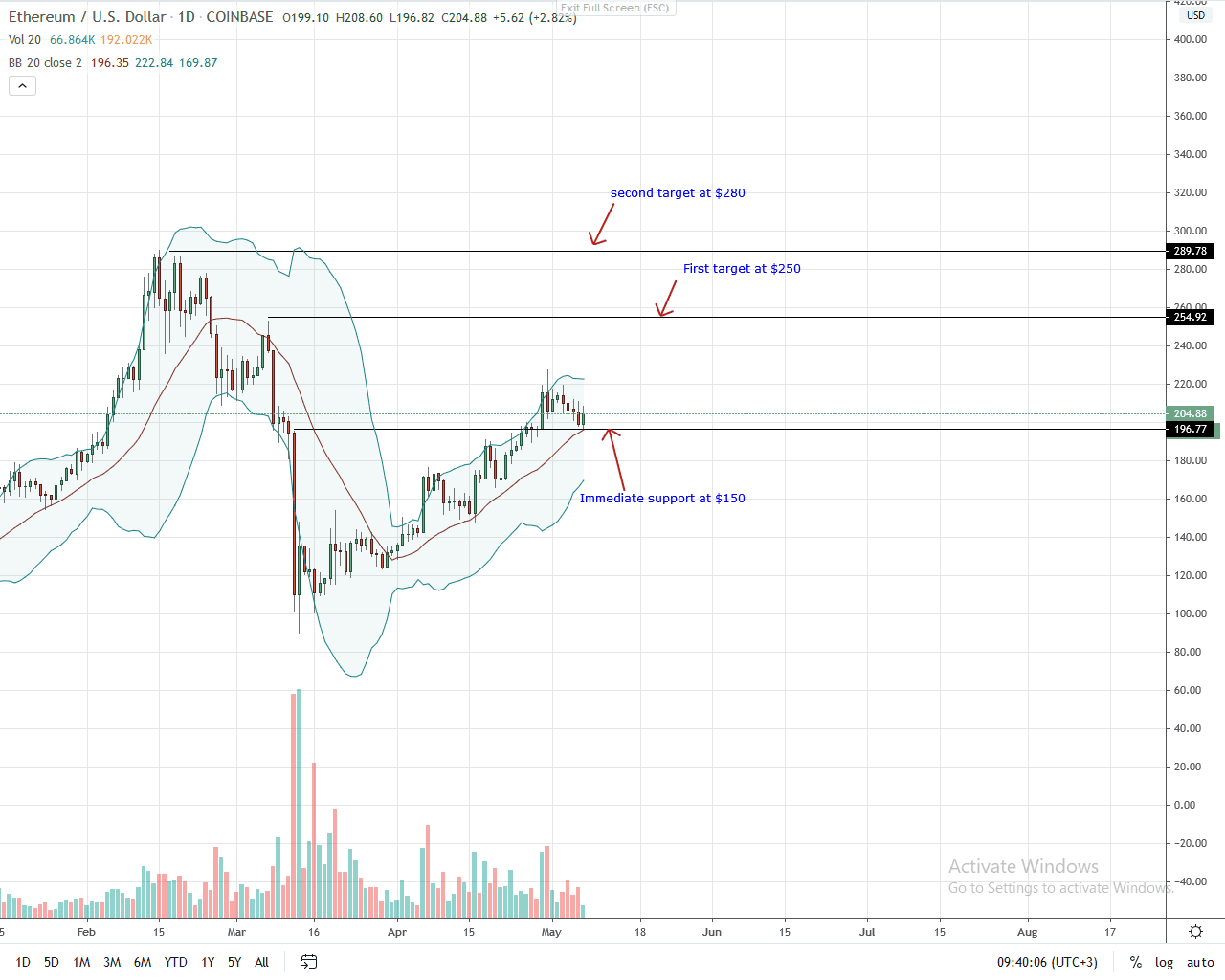 Week-to-date, ETH price is down roughly five percent but continues to tread above $200. Technically bullish, the path of least resistance has been set and buyers are in a pole position.
Even though there is a real possibility of prices closing below the psychological support of $200, every low should be a buying opportunity for aggressive traders. Advising this is the failure of bears to reverse gains of April 29 a week after bulls failed to confirm the breakout above $200.
Any drop below $200 and the 20-day moving average could spur a sell-off towards $170.
On the flip side, gains above $230 coupled with high trading volumes could jolt risk-averse traders into action as they aim for $250 and Feb 2020 highs of $280.
Disclaimer: This is not investment advice. Opinions expressed here are those of the author and not the view of the publication.