Fact: Ethereum is the most active smart contracting platform and a certified Launchpad for most DeFi dApps.
Truth is, if an open finance protocol wishes to gain any form of traction, the best way to turbocharge participation and draw maximum capital is by launching straight from Ethereum.
There is apparently no two ways around this.
The Tooling, Infrastructure and Activity in Ethereum is Unparalleled
Aiding Ethereum is the well-developed ecosystem and robust infrastructure complete with superior tooling, and well, yes, developers. This is imperative considering Ethereum is an open network meaning its code is maintained by the community.
Compared even with the most valuable network, Bitcoin, Ethereum's developer activity is denser. It is even now more emphatic ahead of the planned Eth2 migration where the Beacon Chain mainnet will allow coin holders to stake their coins.
Smart Contracting Spikes
To gauge just how active Ethereum is, one has to look at the number of deployed smart contracts.
As trackers indicate, over 300 smart contracts are launched each and every other day in the pioneer network. This has consequently pushed Ethereum's smart contracting activity to an all-time high, pointing to heightened functionality, an ecstatic development and perhaps traders positioning themselves for a moonshot more so if the Beacon mainnet comes at a tentative time in November as speculated.
Scaling Ethereum
It appears as if participants are unfazed by the high average transaction fees.
As a growing concern, this is because of Vitalik's and the rest of the co-founders priority to secure and decentralize the network over scalability.
The high fee problem, as reiterated, will only be resolved either through shifting to a new scalable network or migrating network-intensive activities to Layer-2 solutions like ZK-Rollups; or by temporarily scaling Ethereum through other scalable networks like Matic.
Ethereum Price Analysis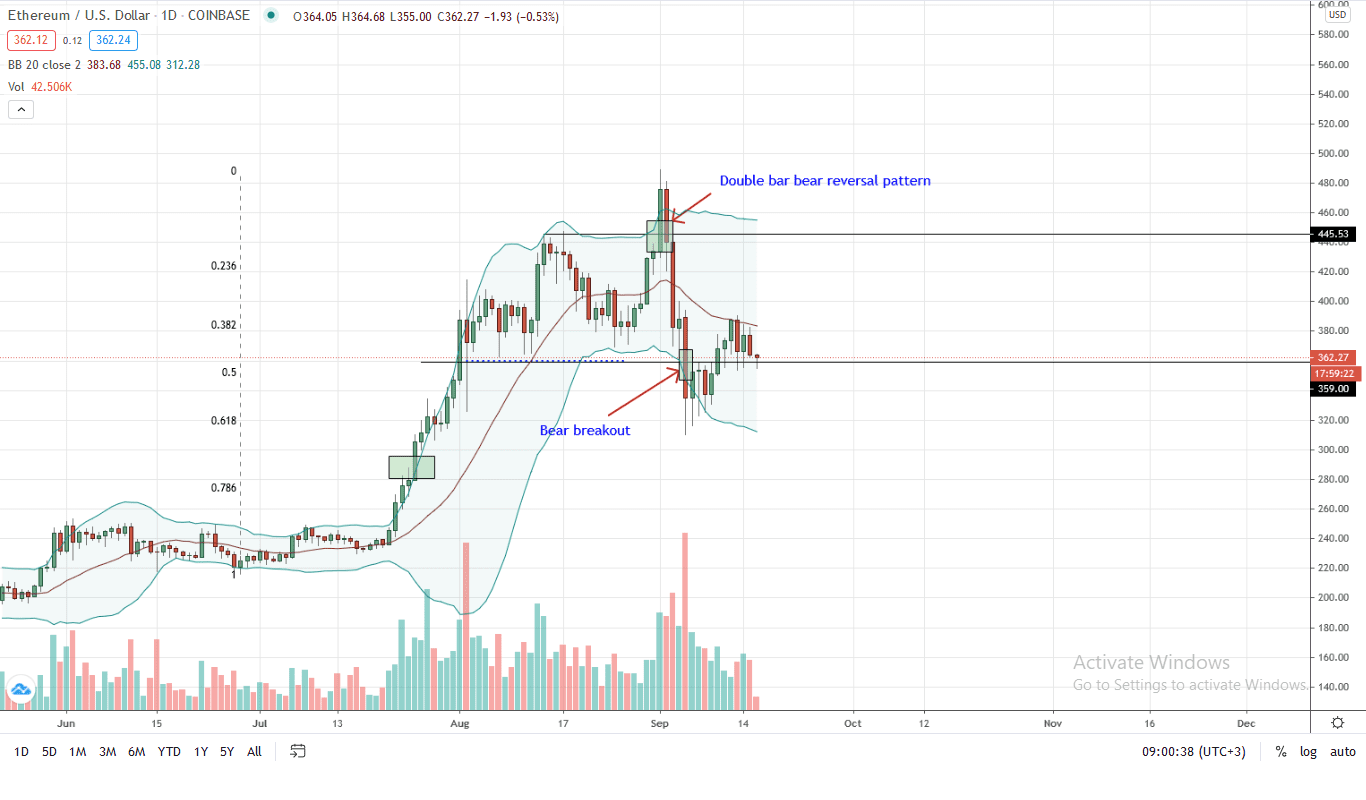 The Ethereum price is all over. While traders are optimistic expecting a moonshot because of fundamental factors, bears are currently in charge, clipping proceeds of the last few days.
In the past 24 hours, the Ethereum price is down three percent against both the greenback and BTC. However, from a top-down approach, ETH bulls are still in charge, adding five percent in the last week of trading versus the USD.
From the daily chart, the ETH price is still consolidating below the middle BB but trending above $360. These are bullish flickers.
Still, what's needed for a buy trend continuation and a snapback to trend considering the encouraging reaction from the 61.8 percent Fibonacci retracement level of June to Sep 2020 rally is a complete reversal of Sep 5 losses.
From an Effort-versus-Result perspective, bears are in charge unless there is a high volume close above the middle BB and $400. This will open doors for $480.
If prices slide below $360 and $300, odds of a steeper correction will only increase.
Chart courtesy of Trading View
Disclaimer: Views and opinions expressed are those of the author. This is not investment advice. Do your research.
---
If you found this article interesting, here you can find more Ethereum News