The shift from physical to digital business continue to have its ramification. Block-and-Mortar stores are starved, and only but handful survive.
These offer special experiences for those who desire to take a walk, stroll down to the stores and enjoy the breeze.
However, a majority prefer to do business online. In the midst of this evolution, blockchain adds efficiency and cost savings. The lack of middlemen in blockchain based apps is its edge.
Most of these apps are based in Ethereum. The platform is satisfactorily decentralized and the most active in terms of development.
Developers are attracted to its first mover advantage and the attraction of learning a new skills. Solidity is the language, and competing platforms, surprisingly can't price skilled developers despite incentives.
Ethereum is more than an Altcoin
Thanks to a growing community, Ethereum continues to blossom and the network effects mean its native currency is the second most valuable. Unlike TRX and ADA, coins that runs into billions in total supply, ETH is maintained just below 110 million, and network creators are keen on adopting a deflationary model.
Over time, ETH supply will shrink, an attractive proposition for holders who watch on-chain metrics for guidance.
However, it is because of Ethereum's success and network effects that ETH is more than an altcoin, but a coin that can be compared to Bitcoin because of its strong community and building. Ethereum's status will be further entrenched once Serenity is activated.
ETH/USD Price Analysis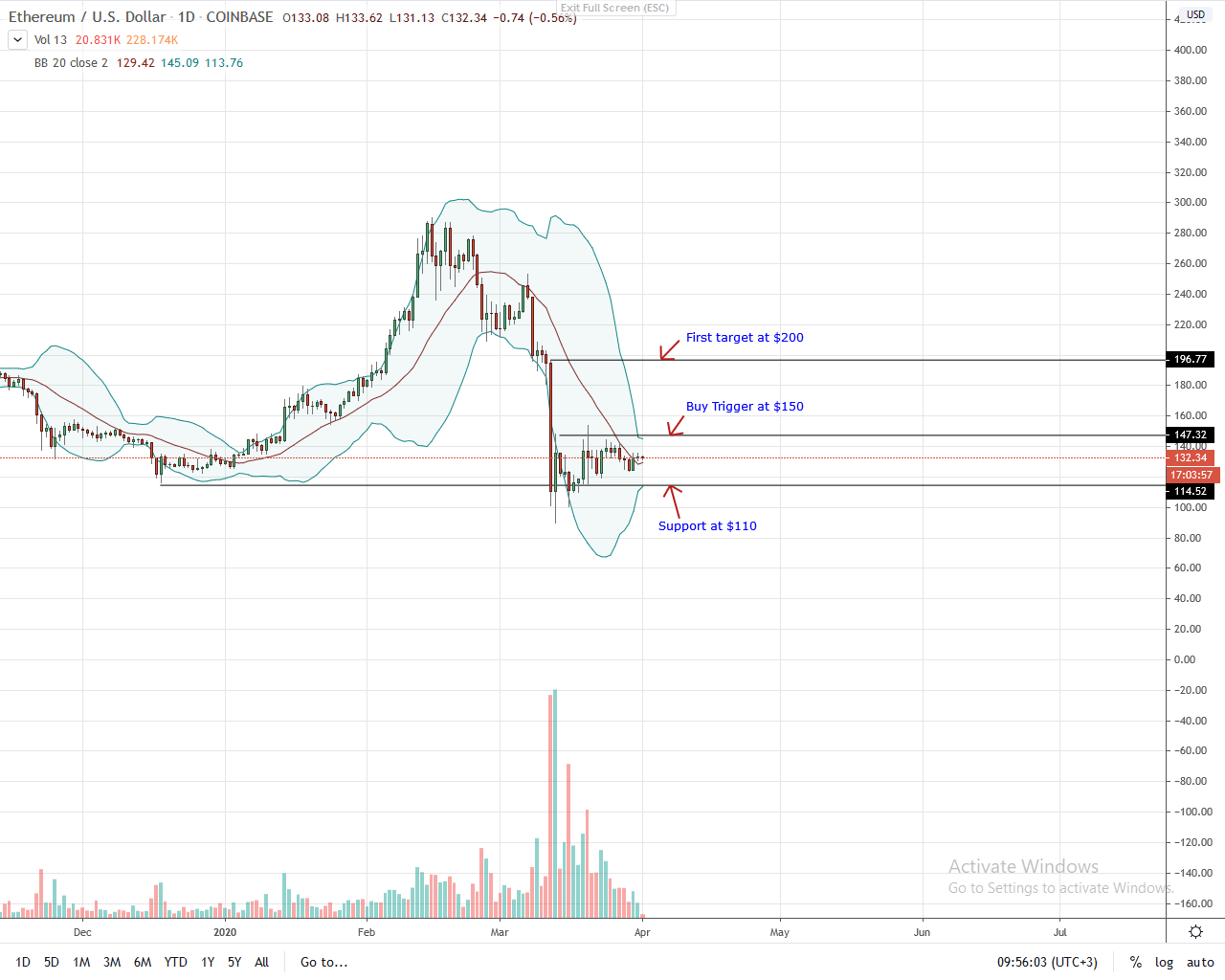 Week-to-date, ETH price is stable. Down roughly 3%, bears are in the upper hand. However, tables could turn if prices edge past key resistance levels and most importantly above Mar 12 highs. Mar 12's bear candlestick anchors this analysis.
Despite higher highs in the last few days, bulls, as aforementioned, will be in control if bulls force prices above $150. Break above this level of resistance will fuel the first wave of buy pressure as ETH bulls aim at $200 or March 12 highs.
Already, there is a double bar bull reversal pattern which wasn't confirmed yesterday. If prices close above $140 today, odds are ETH may rally above $150 building the case for a possible wave of bulls aiming at $200.
Conversely, losses below $110 could see ETH drop to $75 or worse.
Disclaimer: This is not investment advice. Opinions expressed here are those of the author and not the view of the publication.