There are a number of significant statistics in the latest report by Coingecko regarding the market for Q2 2022 that show a lot about what has happened and what can happen in the near future. It is believed that Q2 2022 will continue to witness pain as there were many unfortunate events that occurred in the crypto space during Q2 2022.
Over half of the top 30 cryptocurrencies have lost market cap since the previous quarter, with the total market cap currently sitting at approximately 900 billion USD at the end of June. Although prices have dropped by a good amount, spot trading volumes have stayed fairly steady at about $100 billion USD per day.
The Red Quarter
There was a significant decline in the market cap for the Top 15 stablecoins, which is equivalent to -$33.9B in absolute terms. As the third-largest stablecoin in terms of market cap, USTC overtook BUSD before its ultimate downfall, which wiped out an amount of 18 billion dollars.
There was no change in the market share of Tether, even though it dropped by almost 20% over the past few months. With a growth rate of almost 7% in Q2, USDC led the pack when it came to growth in the quarter. However, the market cap of FRAX and DAI was lower than that of the other two indices by 48% and 32%, respectively, perhaps because of a negative association between these indices and algorithmic stables. 
There has been a slight decline (excluding USTC) in stablecoin market share over the past quarter, which indicates that a certain amount of capital has completely exited the crypto ecosystem, which is contrary to what happened last quarter when investors likely de-risked their investments into stablecoins due to uncertain market conditions.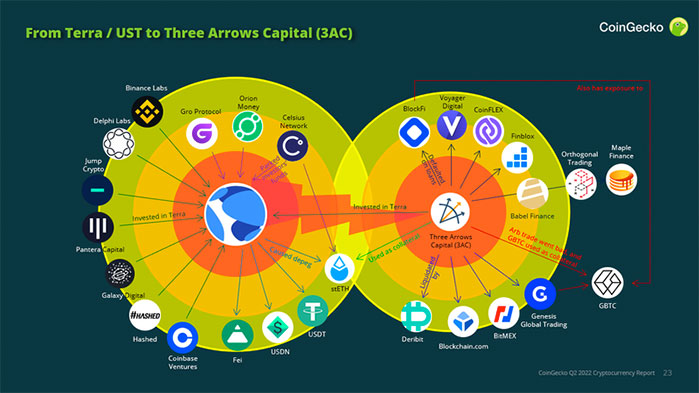 As a result of another incident, Three Arrows Capital had further domino effects on its business, and the company is now facing liquidation due to financial problems. It was unfortunate that a large group of various investors also lost money due to Terra's demise, as many investors had invested in Three Arrows Capital.
This investment has been made from centralized entities, such as BlockFi and Voyager, which have suffered heavy losses due to their investment decisions. Voyager disclosed on June 22 that it held 650 million dollars of exposure to 3AC, according to Reuters. Most of these loans are unsecured and makeup 58% of the company's loan book. 
In the report, it was reported that for Q2 2022, the monthly trading volume was on average below $100B on a monthly basis. According to the top 10 DEXs in Q2 2022, there was $274.0 billion dollars worth of spot trading volume, giving an average monthly volume of $92 billion dollars. In contrast, it is estimated that in Q1 2022, there were be a total of $446B and an average monthly amount of $149B. Uniswap continues to be the most dominant DEX, with a share of the market of 60% across all chains combined.