The crash of Terra alarmed the entire crypto industry. The global investing community panicked and raised concerns over the future of crypto. Moreover, the fall of the stablecoin, Terra USD was an unexpected event. The whole Terra ecosystem was in shambles, and it seemed that there is no coming back for the network. However, Terra came up with its 2.0 version as a redemption.
Recently, Terra is showing signs of momentum and growth, and this is giving some hope to the investing community. Experts believe that the bull run was heavily influenced by the FOMO created in the market amid the sudden rise of USTC. Investors are eyeing it as an opportunity to make up for their previous losses. But there are still many speculations about the performance of the blockchain protocol.
Terra USTC Comes Back in the List of Top 100 Cryptocurrencies
Over the course of last week, USTC has jumped by over 800%. The instant surge in valuation has turned many heads in the crypto industry. Moreover, the token is experiencing a solid increase in the trading volume as well. As of now, the coin is priced at around $0.0840 in the market. Due to this massive increase, USTC has made its way back into the list of top 100 cryptocurrencies by market capitalization. With a market cap of around $850 million, it has reached the number 51 among top cryptos.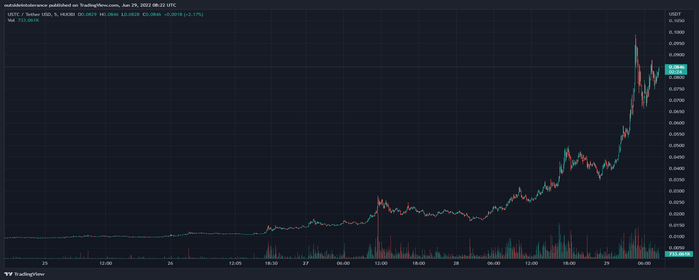 In a matter of days, USTC has gained incredible strength in the market. The stablecoin is still a long way from the desired $1 mark. However, the recent growth carries immense importance and relevance for the Terra community. Many traders and investors are putting their weight behind the coin to post further commendable results in the coming days.
On the other hand, the positive momentum of USTC has also helped its sister token to perform well. Terra's LUNC is also making a stride forward, as it has posted double percentage gains over the last few days as well. At the time of writing, it is valued around $0.00014.
It is highly unlikely that the coin will regain its previous stature in the market. But it is still something for the investors who have their fingers crossed over the recent market performance of Terra tokens. In addition to this, Terra is facing backlash from all over the globe. Recently, Anonymous released a video and vowed to expose the crimes of the Terra network and its owner, Do Kwon.