Cardano (ADA) has shown bullish signs in recent days, and the cryptocurrency may be resuming its upward trend after crossing the critical $1 price mark. The price of ADA is present $1.16.
The 50-day EMA is one of the most crucial indicators of likely bullish development for Cardano. ADA is currently trading above its 50-day Exponential Moving Average (EMA). It's one of the most used indicators for analyzing the price movement of cryptocurrencies. But like most of them can't be used solely for predicting the future stats.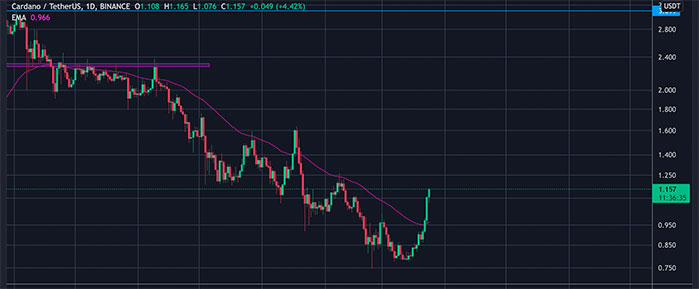 Following the recent price changes in ADA, various market professionals weighed in, highlighting significant aspects influencing the digital asset's price as well as critical technical levels to observe.
What Drives ADA?
IDX Digital Assets' CIO, Ben McMillan, highlighted a few key factors that have coincided with ADA's recent uptick.
"After a long time in the making, Cardano has finally seen a massive uptick in projects being developed on its blockchain. It's also worth noting that Cardano has the highest allocation in Grayscale's new 'Smart Contract Platform Ex-Ethereum Fund."
Grayscale announced the launch of a new fund, the Smart Contract Platform Ex-Ethereum Fund, on March 23, 2022. The fund is one of the first to invest purely in native tokens on smart contract platforms and derive value from their pricing. In Grayscale's new fund, Cardano receives the biggest allocation.
Solana and Cardano made up over half of the new Grayscale fund, with lesser stakes in Avalanche, Polkadot, and Polygon tokens. Avalanche was down 4% on Wednesday, while Polkadot was up 1.5 percent, and Polygon was moving flat.
The recent Cardano network upgrade on Plutus was another major development that fostered a bullish narrative among investors. Cardano network enhancements have typically had a beneficial impact on the altcoin's price, boosting demand across exchanges.
In the cryptocurrency market, the Cardano community is one of the most active. There are a number of projects underway to improve the network and make it the preferred platform for dApp developers. However, the price did not provide much hope for investors, and many of them have been disappointed in recent months.
In any case, there are some hints that 2022 could be a good year for Cardano and ADA since the coin's demand is increasing and institutional investors are buying it as well. After all, it appears that everything is predicated on the movement of Bitcoin, which serves as a proxy for the crypto market.