The Bitcoin price is correcting after a spectacular first three weeks of November. Even at spot rates, bulls have been squarely in charge. The price of Bitcoin has more than doubled in the last six months.
Analysts' Confidence in BTC Prices
Despite the contraction, traders are optimistic of further gains in 2021 and through to 2024 before the network halves its mining rewards. It is the algorithms and the reliance on mathematics that set Bitcoin apart from fiat and centralized systems.
For these reasons, analysts are confident. As Zero Hedge reports, JP Morgan predicts the Bitcoin price to rally from spot levels to over $114k in the next few months.
Their analysts' sentiment is in synchrony with those of Anthony Pompliano. He's convinced the Bitcoin price will shot to $100k in the next year.
Nouriel Roubini: Bitcoin has No Place in an Investor's Portfolio
Amid the confidence in price, yesterday's contraction is accompanied by more criticism from Nouriel Roubini. He's a Bitcoin doubter and a Professor at the New York University.
For a long time, he has been holding the controversial view that the coin has no intrinsic value and is far from being digital gold as the crypto community asset.
In a tweet on Nov 26, the Professor shot back as the Bitcoin price cratered from $19,500 this time saying Bitcoin had no role as an influencing asset in investor portfolios:
"Bitcoin has no role in institutional or retail investors' portfolios. It is not a currency: not a unit of account, not a scalable means of payment & is a highly volatile store of value. It is heavily manipulated: look at the investigation of Bitfinex by US law enforcement."
Bitcoin Price Analysis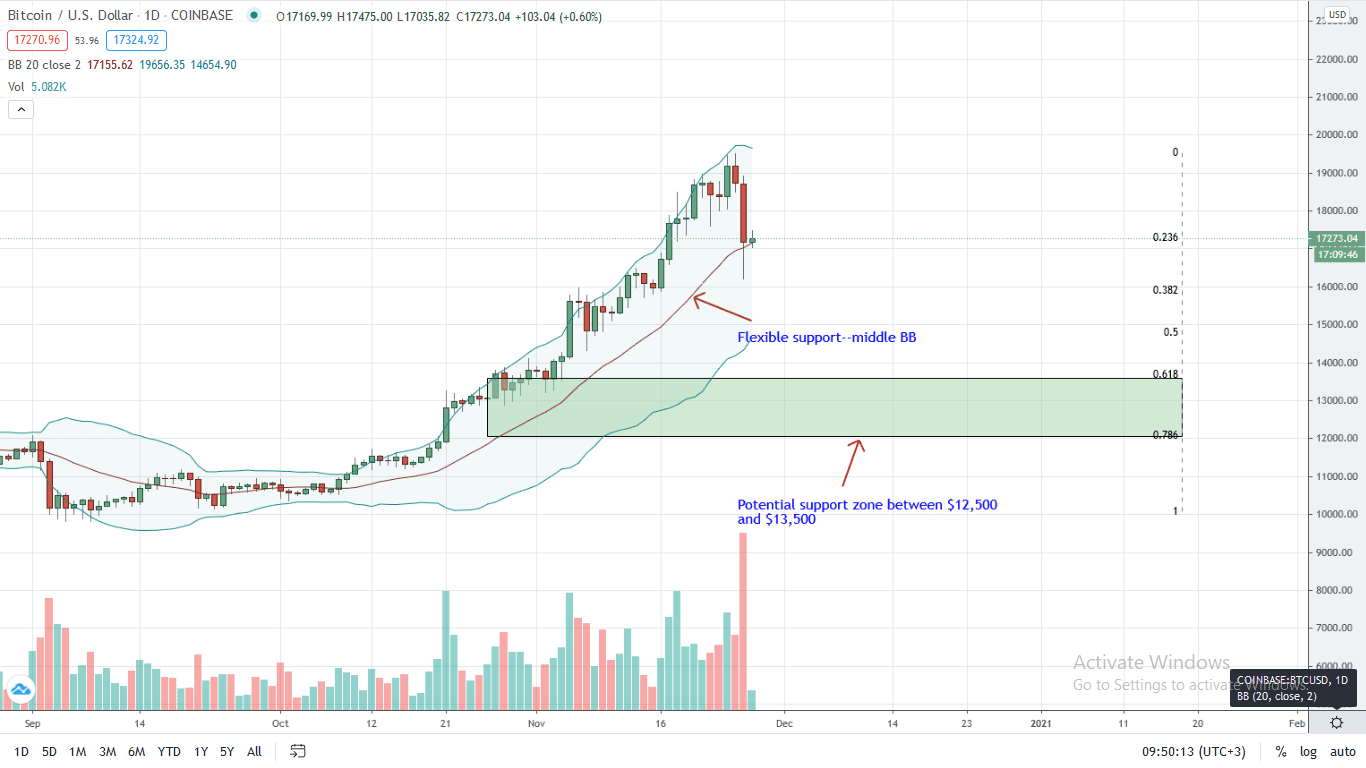 At the time of writing, the Bitcoin price was trading at $17,300, dumping $2,000 in two short days as bulls were torn apart and bears took over proceedings.
From the daily chart, Nov 24 and 25 gains marked a top. That prices are now sliding at the back of increasing trading volumes, breaking several intraday support levels and the middle BB suggests the rally is over and a correction is underway.
Pasting a Fibonacci Retracement Tool between September and November trade range shows a potential correction back to the $12,500 to $13,500 support zone. Bounding this possible reaction zone are the 61.8 and the 78.6 percent Fibonacci retracement levels.
These levels are significant because they mark the June 2019 and Feb 2020 peaks; key support (previous resistance) levels. As BTC prices rallied to $19,400, breakouts above $12,500 and $13,500 were significant as they were accompanied by a surge in trading volumes.
Therefore, considering the rapidity of yesterday's dip, the Bitcoin price can sink to $13,500 before steady and correcting back to Nov 2020 highs at a later date.
Chart courtesy of Trading View
Disclaimer: Views expressed are those of the author and are not investment advice. Do your research.
---
If you found this article interesting, here you can find more Bitcoin news