Coinsource, a Texas-based Bitcoin ATM operator with close to 200 Bitcoin ATM (BTMs) across the United States has just secured the Bitlicense, a virtual currency license from New York State's Department of Financial Services (DFS). In New York alone, Coinsource was operating 40 BTMs although under provisional license from the DFS.
The announcement was made on Thursday November 1st through a press release by the DFS. The press release details that Coinsource now has express permission to run its business across New York under strict conformity to the Bitlicense regulations.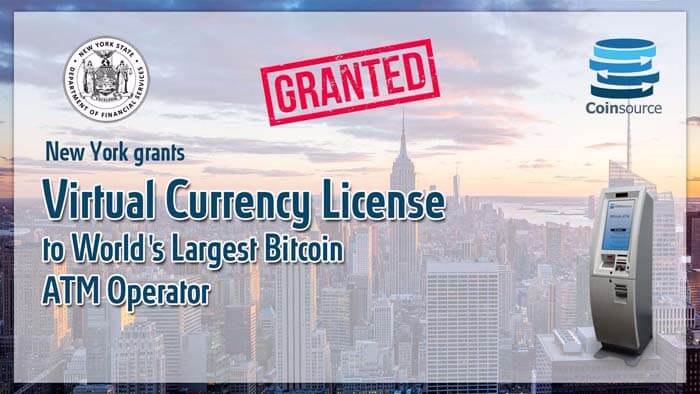 Speaking on behalf of the DFS yesterday, was Superintendent Maria T. Vullo, who said:
"Today's approval is a further step in implementing strong regulatory safeguards and effective risk-based controls while encouraging the responsible growth of financial innovation. New York's financial services marketplace is thriving with companies committed to complying with DFS's regulations that ensure the security of transactions, safeguard the industry and protect consumers."
This announcement makes Coinsource the first fully licensed Bitcoin ATM operator in New York and by extension the larger US jurisdiction. Genesis Coin, another Bitcoin ATM operator with BTMs across New York, is also awaiting the approval of its application. So far it is also operating through a provisional Bitlicense.
The announcement was particularly received positively by Sheffield Clark, the CEO of Coinsource. This is what he had to say about the announcement:
"Coinsource is the first and only company that operates BTMs [Bitcoin ATMs] to receive a New York virtual currency license. All New Yorkers — from the people that are unbanked to the people who own the banks — can use our kiosks in their neighborhood retail locations to buy bitcoin instantly in a convenient and familiar way. Now that Coinsource is a license holder, our customers can buy and sell with confidence that Coinsource meets and exceeds the high standards set by the New York Department of Financial Services. New York represents not just a center of global innovation but also one of our largest target markets. We are extremely proud to be the only BTM operator holding a New York virtual currency license."
The Bitlicense is hard to procure and so far only 12 companies operating in the New York region have one. All of these companies are large and have been in operation for a long time. They include Circle, Ripple, bitFlyer, Coinbase, Genesis Global Trading, BitPay, Square, and now Coinsource.