Play-to-earn game Axie Infinity [AXS] has exploded in the past couple of months. It has drawn a tremendous trading volume since its inception a little over three years ago. Its native token AXS, as a result, saw a significant price surge as well.
AXS was still hovering close to its recently established peak level. Over the past week, the token was up by 11.80% and was found exchanging hands at $141.94. The minor pullback can actually prove lucrative for the investors.
Axie Infinity [AXS] Anticipates Another Leg-up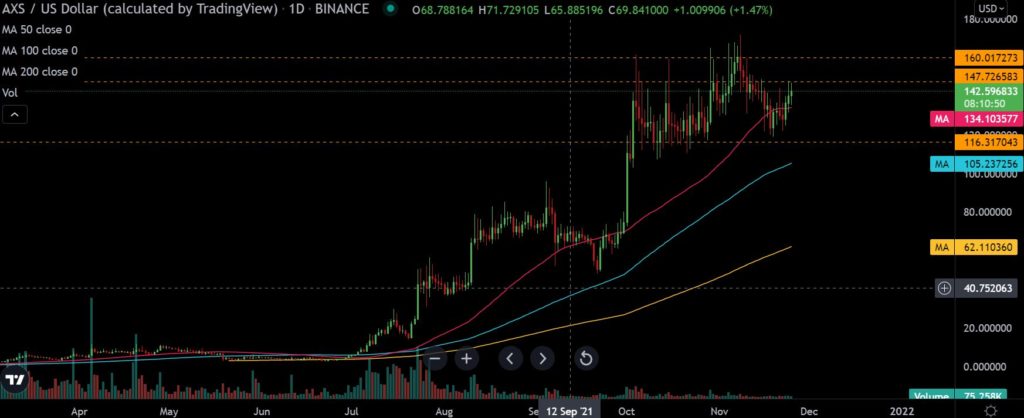 AXS price candles managed to move over the rapidly surging 50 DMA [Pink] after hitting a slump last week. The third consecutive green candlestick helped the asset to climb above a crucial resistance level of $137. A mild uptick in volatility may cushion the latest uptrend despite a low volume.
The closing green candles of Awesome Oscillator [AO] depicted a weak but much-needed switch to bullish momentum. The MACD also echoed a similar sentiment as it geared up for a bullish crossover. The daily Relative Strength Index [RSI] climbed above the half-line as buying pressure intensified after a short-lived downswing.
AXS has successfully dodged a retracement to $134 support area which could have propelled more losses. The recovery was significant for the asset to target immediate resistance levels. If AXS manages to maintain the necessary momentum, the $147 level would be the first prominent hurdle that will play a crucial role in validating the ongoing bullish thesis. A breach of this would bring into play yet another resistance level of $160.
So far, the price of Axie Infinity continues to outperform the broader crypto-asset market. If the buyers are willing to push the price further, AXS may witness a new rally soon.
The Axie Boom

As metaverse and NFT space gained prominence this year, Axie Infinity saw an increase in daily active users and marketplace volume. Owing to this, early adopters raked in high profits. Even as long-term viability concerns of the platform remain, Axie continues to be one of the most popular venues for gamers across the world. To top that, the recent Facebook rebranding announcement further triggered Axie to note impressive growth.
Since it has been driven by the significantly high entry cost, more experienced players have now resorted to providing programs also known as "scholarships" to the newbies. In such a scenario, the experienced players would essentially lend the required Axies needed to play the game in return for a percentage of any SLP earned.