Fantom is still breaking records and showing potential for more growth after a %545 pump in the past month and surpassing $193. FTM is now among the most popular altcoins in the market, and some reports suggest that more people are considering holding the token for longer.
There is some good news around the blockchain that shows its potential for supporting more useful platforms. It also results in more attraction for Fantom that can drive the FTM token even higher. 
Another Attractive Smart Contract Platform
There are many blockchains in the market that focus on supporting smart contracts and offer opportunities to provide dApps, DeFi services, and similar products. Fantom is among those that focus on speed, security, and scalability to show its advantage over Ethereum and others.
The blockchain has been successful in attracting some famous services that resulted in more users and definitely, more hype for it. The native token, FTM, is now among the top-performing altcoins, trading at an ATH $193.
Recently, Antimatter announced a partnership with Fantom to launch perpetual options and Financial NFTs on the blockchain. They believe that it's the best time to benefit from the attraction around Fantom and offer services to more users. Next to these headlines, there is other great news that confirms Fantom is on the growth path and may go even higher.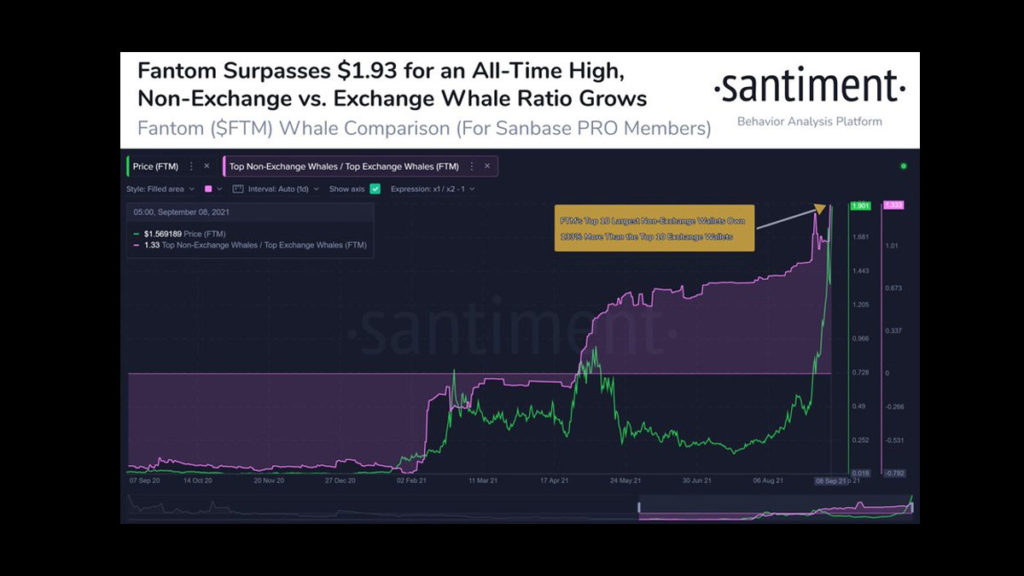 The latest report from Santiment says that more whales are holding FTM in non-exchange wallets. According to their tweet:
"#Fantom has now pumped an astonishing +545% in the past month, and has surpassed $193 for an #AllTimeHigh. $ FTM's top 10 non-exchange whales now own 133% more than the top 10 exchange whales. This ratio was last this high in Feb, 2019 (31 months ago)."
Holding a token in non-exchange wallets has one big meaning. Whales are willing to hold the token. It's a signal, like a coin outflow, that shows people won't sell their tokens soon. According to Santiment, the FTM token that is being held outside of wallets is 133% more than FTM in exchanges. The report analyzes the whale wallets that are always good indicators for the market.
Next to on-chain data and news, there are always good reasons to consider Fantom as a successful project. It's in partnership with major projects like Chainlink, Ren, Band Protocol, and the graph that are all innovative solutions for a faster and scalable decentralized world. The latest pump in the FTM token can help this ecosystem attract more users and move faster along the growth path.
---
If you found this article interesting, here you can find more Blockchain and cryptocurrency news