Some crypto experts believe Fantom (FTM) can hit 5-10x price growth in 2022, and many metrics confirm this prediction. Miles Deutscher, a crypto investor, and trader tweeted about this prediction detailing the reasons behind a possible price jump for FTM in the coming year. He believes Fantom is among the most undervalued projects in the market, and there is still a lot of space for this blockchain to grow.
Fantom had a good year in 2021, showing strong price momentum along with numerous integrations and partnerships. Many crypto enthusiasts believe this blockchain can become the first choice for many use-cases and has huge potentials ahead.
FTM recorded an eye-opening 14,474% price jump in 2021 and was the 4th best performing token of the year. It's an L1 blockchain offering numerous features to developers and users. Yet, it's still behind other similar tokens like AVAX, SOL, and ADA. All of them are trying to offer alternatives to current L1 solutions like Ethereum and had a good year in 2021 in terms of price jumps and adoption.
Miles describes many reasons for FTM being a wonderful solution among L1 networks. The first one is its directed acyclic graph or DAG that offers scalability features. Besides, DAG makes it possible for Fantom to offer near-instant transactions at a very low cost.
Fantom's consensus algorithm is called Lachesis and provides many features to the blockchain. The finality of this network, for example, is about one second. Compared to 11 seconds on Solana and three seconds on Avalanche. The current TPS is 10,000 on Fantom, and the developers are trying to push it to 300k+. Another important advantage is very low cost for transactions that are cheaper than Avalanche and comparable to Solana and Terra.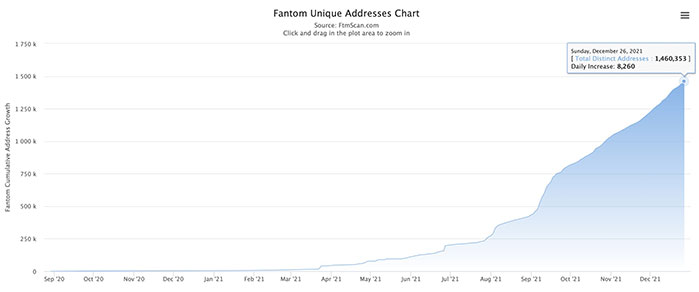 Although Fantom is showing big potentials for growth, there are some drawbacks to this blockchain, too. Miles says:
"Considering the blockchain trilemma, the only drawback to $FTM is centralization (50 validators), BUT 1) @FantomFDN plans to onboard 1000+ validators over the next couple of years. 2) Investors have shown they simply don't care (as evidenced by SOL and BNB)."
After knowing Fantom's technological advantages, we should ask why FTM is still undervalued and can jump 5-10x. There are many reasons that the growing size of blockchain can be among the top ones. Besides, FTM is still in a good price line for those who missed the jump of SOL and AVAX. The blockchain is becoming very utilized, and it can help the price jump even higher in 2022.