The crypto world was a buzz with excitement and anticipation on Monday as digital currency enthusiasts eagerly awaited the latest monetary policy outlook from the Fed. Meanwhile, the crypto market continued to digest the latest regulatory developments, leading to a slightly weaker trading session.
The Last Colds of Winter?
Bitcoin, the king of the crypto world, struggled to regain footing, with the price hovering just below the $22,000 mark. Its closest rival, Ethereum, also felt the pinch, dropping just enough to cling to the $1,500 level. Despite the lackluster performance from the top dogs, a handful of altcoins outperformed the rest of the pack.
As the weekend drew closer, most cryptocurrencies experienced a much-needed correction. 
XRP and Avalanche were among the biggest losers, plummeting by 3%, while Polygon, Polkadot, and Cardano saw a drop of 2% each. Tron, Solana, and BNB were among the few tokens trading in the green.
The crypto market as a whole took a hit, with the global market cap slipping to below $1.0 trillion, down 1% from the previous 24 hours. However, trading volumes surged by 22%, reaching $41.46 billion.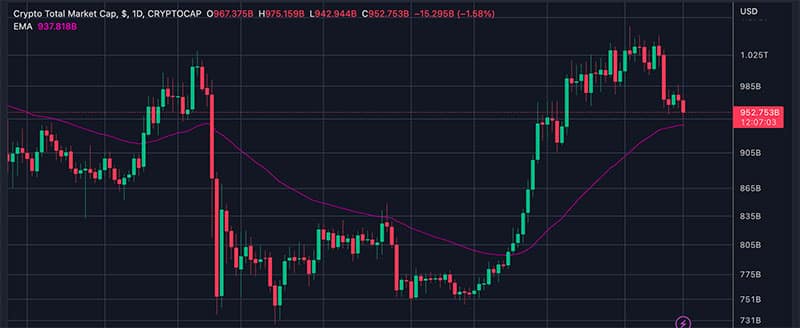 The price of Bitcoin fell below the critical resistance level, and the 200-day EMA trendline near $21,500 provides some support, but if the price continues to fall below $21,750, there may be room for further declines. Regarding the top coins in the market, Dogecoin (DOGE) had a rough day, registering a 24-hour loss of 0.17%, with a current price of $0.08179.
The crypto market is navigating choppy waters as it digests the latest regulatory developments, including a $30 million fine for Kraken for its staking program and rumors that Paxos may be next on the SEC's hit list for its Binance USD stablecoin.
The recent bear market has left many crypto traders in disbelief. This brutal market downturn has not only erased all of the hard-won gains from the previous bull run but has also inflicted even more significant losses. 
As if that wasn't enough, the crypto community is now bracing for the potential aftershocks of the Genesis and FTX collapses. Meanwhile, a vortex of uncertainty continues to swirl around the macroeconomic landscape, with inflation stubbornly refusing to subside and the specter of a U.S. recession lurking ominously. It's enough to make even the most seasoned trader question whether this is worth it.
Despite the challenges, crypto enthusiasts remain optimistic about the future of digital currencies.