A surge of hope has awoken in the crypto world as Bitcoin experienced a massive spike in value, soaring from $21,500 to a breathtaking high of nearly $25,000. And the good news doesn't stop there! Alternative coins, including OKB, FTM, APT, and NEAR, follow suit with notable gains, reaching double-digit increases.
A New Hope
The past few days haven't been easy for Bitcoin, as regulatory scrutiny from the SEC and other US watchdogs caused its value to plummet from over $24,000 to $21,500. But then, like a ray of light breaking through the clouds, came the US CPI numbers.
With a 0.5 percent increase in the Consumer Price Index for All Urban Consumers, seasonally adjusted, and a 6.4 percent rise over the last 12 months, not seasonally adjusted, many believe it has had a positive impact on the crypto market.
Bitcoin's impressive rally continued, with the primary cryptocurrency initiating one of its most big green candles in months and reaching a high of $24,900, the highest it has been since August 15. Despite a slight retracement by a few hundred dollars, BTC is still up over 11% on the day, giving hope to those who believe Mike Novogratz's prediction of $30,000 by the end of March.
As is often the case with solid volatility in BTC, the alternative coins also saw a surge in value. Ethereum, the second-largest cryptocurrency, rose by 9% to trade close to $1,700 after dipping beneath $1,500 just a few days ago.
But the good news doesn't stop there. Binance Coin, affected by the SEC-Paxos-BUSD drama, has risen from $290 to above $320, while Cardano, Polygon, Solana, Shiba Inu, Polkadot, Litecoin, and many others have also seen significant gains.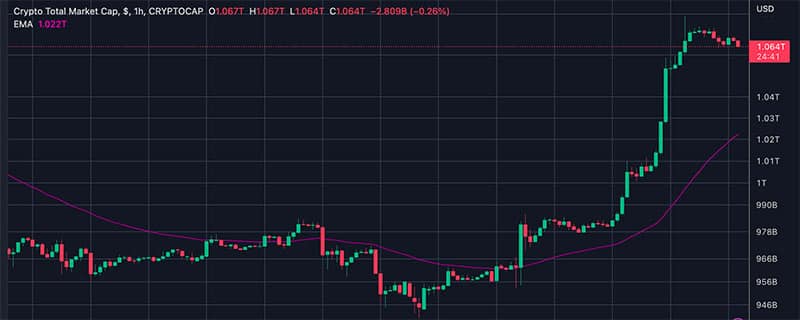 OKB has skyrocketed by over 15% in the past 24 hours, reaching an all-time high of almost $50. And there's more good news, with NEAR, APT, FTM, and other lower-cap altcoins also seeing double-digit price increases.
Regulatory pressures were unsuccessful in dumping the crypto market, as shown by the shares of Coinbase, which were up 17% on the day, and MicroStrategy Inc., which rose by 10.05%. Silvergate Capital Corp. and Signature Bank, two crypto banks that have come under pressure due to their links to collapsed crypto exchange FTX, were up 29% and 3.6%, respectively.
Despite the SEC's Wednesday proposal that could potentially threaten crypto custody services providers, the cryptocurrency-sector rally on Wednesday suggests that investors had been bracing for a steeper regulatory crackdown.
According to Vijay Ayyar, vice president of corporate development and international at crypto exchange Luno, there are increasing signs that the market has turned bullish, and any bad news is being shrugged off. These are typical signs that the market believes the worst is over, and we are gaining momentum here.