On Friday, the market faced a bearish correction affecting all players, both large and small, in the crypto world, experiencing value losses and drops in volume.
The market capitalization suffered a 2.36% decline and now stands at approximately $1.38 trillion. Meanwhile, the volume over the last 24 hours saw a reduction of over 11%, amounting to around $65.68 billion.
Solana, Avalanche, Cardano, Ethereum, and Bitcoin, among others, are undergoing price corrections. This phenomenon has several facets to consider. Starting with the quintessential cryptocurrency, Bitcoin.
Bitcoin (BTC) fell 1.5% in the last 24 hours, currently trading at $35,993.11 after accumulating a 3.64% loss over the past 7 days. Its capitalization dropped 1.45% to $704 billion, and its volume decreased significantly by 20%, now at approximately $20 billion.
Expert analysts at JPMorgan, led by Nikolaos Panigirtzoglou, suggested that the bullish sentiment around Bitcoin and the market, in general, may have been exaggerated.

The key driver of this sentiment was the hope that the SEC would soon approve the first spot Bitcoin ETF, with the belief that it would bring a fresh wave of capital into the crypto market and signal regulatory leniency. However, JPMorgan analysts proposed a different scenario.
"Instead of fresh capital entering the crypto industry to be invested in the newly-approved ETFs, we see as a more likely scenario existing capital shifting from existing Bitcoin products such as the Grayscale Bitcoin Trust, Bitcoin futures ETFs, and publicly listed Bitcoin mining companies into the newly-approved spot bitcoin ETFs."
JPMorgan analysts also expressed skepticism about a significant market easing, stating that the regulatory tightening of the crypto industry might not lessen significantly, given its unregulated nature.
They found the argument that the upcoming Bitcoin halving event would induce a further rally to be unconvincing, considering it is a predictable event and, in their opinion, well factored into Bitcoin's price.
Finally, and perhaps most significantly for the crypto rally, JPMorgan's view is that the factors contributing to Bitcoin's previous bear market still exist.
Despite widespread optimism, the possibility of the SEC delaying ETFs again could have triggered long liquidations of over $160 million, impacting prices due to a lack of buying pressure.
According to CoinMarketCap, the fear and greed index is at 71.27 points, suggesting that aggressive market entries may have preceded the ongoing correction.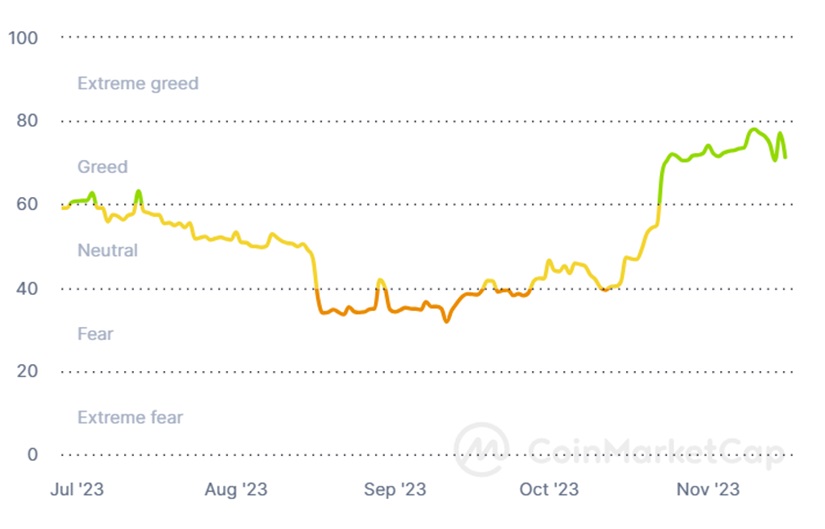 The Whole Market Shudders
Regarding daily quotes, Ethereum (ETH) trades at $1,930.77 after losing 3.9% of its value in 24 hours. Its capitalization also decreased to $232 billion, while its volume lost 10.64%, reaching $13.487 billion.
Solana (SOL) recorded a 9.8% loss in its price in the last day, trading at $56.43. Its capitalization dropped by 9.7% to $23.863 billion, and its volume decreased by 7% to about $3.745 billion.
Cardano (ADA) also experienced losses in the session, with a 5% price decline, trading at $0.3635. The capitalization dropped by an equal amount to $12.828 billion, and the volume was negatively impacted by a 25% loss, now at around $535 million.
Avalanche (AVAX) fell again after recent recovery. Its price decreased by 7.15%, currently valued at $21.18. While its capitalization continues this decline with a 7.3% loss, reaching $7.520 billion, its volume experienced moderate growth, close to 2.7%, now at $1.947 billion.
Finally, Arbitrum (ARB) dropped to $1.09 after an 8.6% decline in the last day. While its volume grew by 2%, slightly exceeding $500 million, its market capitalization decreased by 8.55%, now at $1.31 billion.