Staking is one of the most significant financial incentives in the cryptocurrency ecosystem. Many cryptocurrencies work on the proof-of-stake protocol and offer rewards to token holders. The offering makes it logic to hold a coin that will provide the maintenance features needed for the main blockchain.
Tron Foundation decided to provide a new way of staking for TRX holders in 2020. It lets them earn a new token called SUN by staking TRX. The staking feature is available for all TRX holders through multiple wallets and the main Sun.io website.
Why Tron Foundation needs a new token? Sure, the DeFi boom has resulted in new plans on many blockchain projects, and Tron is not an exception. They issued the new SUN token to be focused on DeFi development and community building.
What is SUN?
SUN is the result of new plans in the Tron Foundation focused on building a DeFi ecosystem. It can be considered as a social experiment. Tron team tries to make SUN a unique token with community-driven governance that acts as the primary component of a DeFi ecosystem.
According to SUN official website, "Designed as the quintessential Bitcoin equivalent on TRON, SUN features zero VC investments, zero PE investments, no pre-mining or reserve for the team, and is fully operated by the community through its open-source smart contracts. SUN is a TRC20-based crypto asset with a total supply of 19900730."
Users can earn SUN tokens by staking LP or TRX tokens. These tokens act as entry tickets to the mining process of SUN. Staking TRX to earn SUN is the most common solution that you only need a compatible TRX wallet.
Genesis Mining
Tron Foundation provides an easy way to earn SUN tokens for TRX users. Genesis Mining was the name of this process at phase 1 that only needed depositing TRX tokens in a compatible wallet like TronLink, imtoken, TokenPoket, BitPie wallet, and BitKeep. Users could easily send their TRX holdings to one of these wallets and start staking in the official Sun.io website.
Genesis Mining phase was finished and now the regular mining is available for users which is pretty similar to phase 1. The most important difference in regular mining is that "staked TRX can be unlocked anytime during the Regular Mining period for SUN reward."
SUN token will act as kind of a governance tool for the holders. The more SUN token they have, the greater their power will be in the governance procedures.
How Stake Trx To Earn SUN?
To stake TRX using TronLink wallet, follow the instructions below:
1- Download and install TronLink wallet Chrome extension from www.tronlink.org/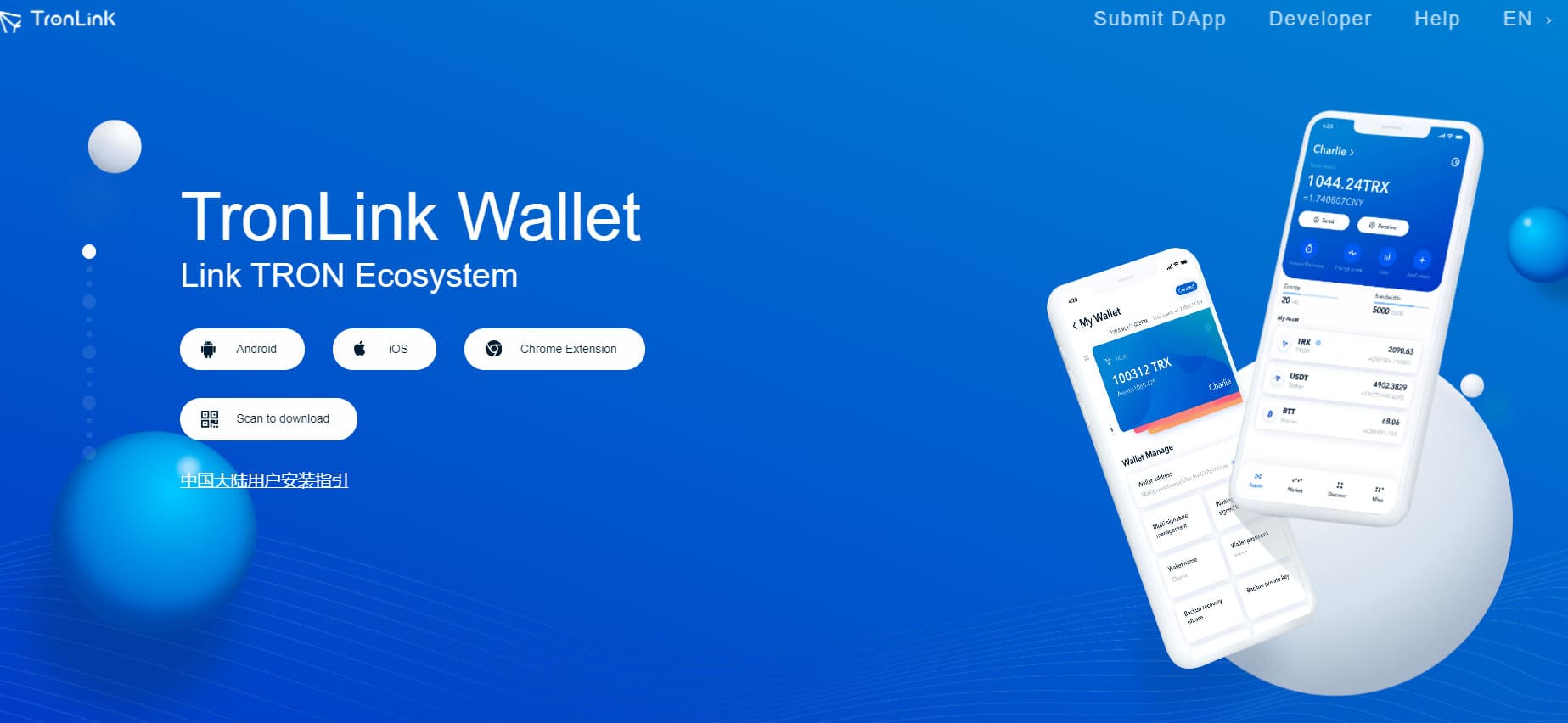 2- Click on the TronLink extension icon in the top right corner of the Chrome page and log-in or sign-up for a new account.
3- Transfer your preferred amount of TRX from any previous wallet to TronLink address.
4- If you don't have any TRX token, you can buy some from JustSwap or any other exchange.
5- Open Sun.io and click on Connect to Wallet in the top right corner.

6- You can see your TRX balance if you are signed-in correctly to the TronLink wallet.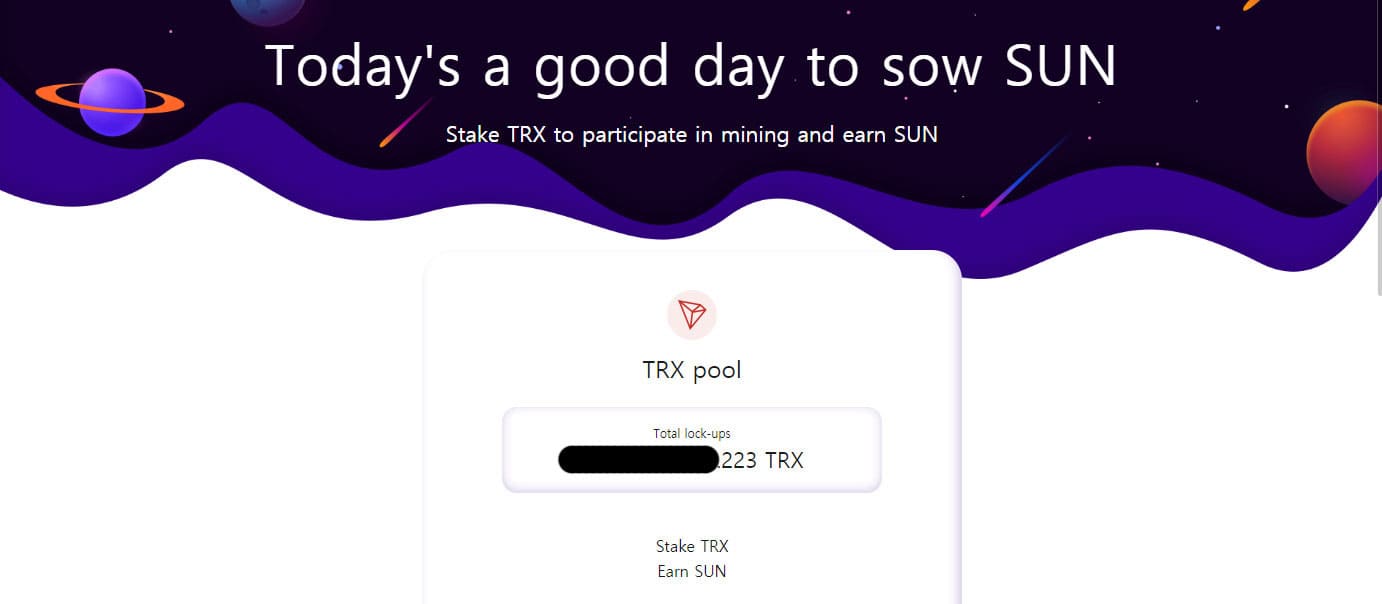 7- Click on the Mining button. A new window opens.
8- Enter the amount of TRX in the new window and follow the steps to finally click on Accept and finish the staking.
About Justin Sun
Justin Sun is the founder of TRON and one of the celebrities of the cryptocurrency ecosystem. He is well known for his comments about Tron and the future of the crypto world. He founded Tron in 2017 and raised $70 million through one of the biggest and most successful ICOs in history.
Sun converted TRX from an ERC-20 token in Ethereum network to an independent one in 2018. He has tried significantly to grow his organization named Tron Foundation. The most important acquisition in this process has been Bittorrent that joined Tron Foundation in February 2019.
Justin Sun has been criticized for many of his comments and actions regarding Tron Foundation and TRX token. But he has always been a good promoter for the entire cryptocurrency industry. He won the bid to have a launch with the legendary investor, Warren Buffet in 2020.
Sun brought many guests with him from the crypto world to try and convince Buffet in the benefits of the cryptocurrencies. After all, SUN token is the effort from Justin Sun and his team to enter the new evolving market of DeFi.
About Tron
Tron, launched in 2017, aims at the fundamental benefits of blockchain for financial services. It was initially launched with TRX token as an ERC-20 token but later moved to an independent mainnet.
Tronix or TRX is the principal cryptocurrency in Tron network. It can be used in the projects launched on Tron as a payment solution. TRX is one of the most famous cryptocurrencies that many major exchanges support it.
About Tronlink
TronLink is the most famous cryptocurrency wallet supporting TRX. It is available for Android, iOS and Chrome users. The easiest way to use TronLink is the Chrome extension that lets you connect faster to the wallet and connect it to multiple services like SUN.io.
TronLink, developed by Tron Foundation team, supports all TRC-10 and TRC-20 tokens next to TRX. Justin Sun is one of the serious supporters of TronLink wallet that calls it one of the most secure and easy wallets for Tron users.
Conclusion
Tron Foundation tries its best to enter the DeFi movement. SUN token is the most crucial move toward that goal that offers the community governance to DeFi projects on Tron. Letting users mine SUN with their TRX tokens is the easiest way Tron Foundation has chosen to simplify the initial processes.
DeFi is here to stay, and big blockchain projects like Tron can leverage its powers by providing the most straightforward processes for users and developers. Plans like SUN are just the initial steps toward that goal and indeed the more developers using SUN and Tron's DeFi ecosystem, the easier the adoption will be.
---
Si este artículo le pareció interesante, aquí puede encontrar más noticias de Tron TRX