SingularityNET (AGI) is a platform that works to allow any person, company, organization or developer to create, monetize and use Artificial Intelligence (AI) on a large scale.
It began to be commercialized less than 2 months ago and is already in the TOP 100 of the cryptocurrencies with the highest capitalization, currently it is in position 98 and accumulates more than 176 million dollars of capitalization.
According to experts, the Artificial Intelligence market is currently valued at around 200 billion dollars and estimate that by 2025 this figure will increase to 3.1 billion dollars.
Nowadays the functionality of the Artificial Intelligence ​​is expensive, slow and difficult to use, SingularityNET (AGI) is designed to solve these problems and open the market of the AI ​​to the whole world.
The token of SigularityNET is called AGI and is what makes the decentralized economy of the project possible and solves the problem of credit.
Hanson Robotics is the founding partner of SingularityNET and creator of Sophia, the most expressive humanoid in the world, its patented software, firmware and hardware make it almost impossible to replicate. With SingularityNET, anyone could access Sophia's mind very soon, all her mind will live on the network, allowing her to learn from other AIs in SingularityNET. And everyone can talk to her.
We can even see Sophia as a member of the SingularityNET team with the position of "Humanoid Chief".
Last January SingularityNet was invited to the 2018 World Economic Forum held in Davos, where it attracted the interest of the main influencers and global businesses, artificial intelligence and Blockchain led the event's agenda.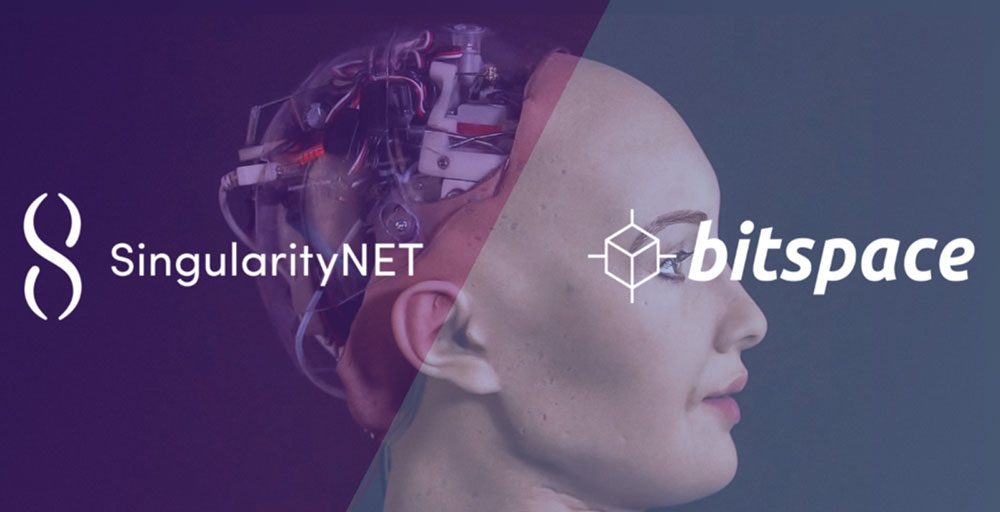 BitSpace recently partnered with SingularityNET to advance in this field, where they will work together to create awareness about open and decentralized AI block chains, and also want to organize events across Europe aimed at developers and entrepreneurs.
The CEOS of both companies announced in Twiter the collaboration of both companies, showing the illusion with which they start this project.
Manuel Lain – CEO of Bitspace
"We are very pleased to partner with a global leader in AI innovation and we hope to discover the true potential of the Blockchain industry"
Ben Goertzel, CEO of SingularityNET
"Bitspace is a proven innovator with a world-class team, and together we can take our message directly to valuable communities."