As Anthony Scaramucci, the CEO of Skybridge Capital, said on Monday, there are two factors that will drive bitcoin's demand in the long term. Bitcoin fundamentals should remain good for the crypto asset in the long run since there will be demand shocks in the near future, Scaramucci said.
The takeaway from Scaramucci's interview with CNBC on Capital Connection is that everyone is a long-term investor until they suffer a short-term loss.
What does it Have for Investors?
Despite the fact that investors are experiencing some losses on bitcoin, he believes the fundamentals are quite strong over the long run. Despite a recent increase in bitcoin's price, the currency is still more than 60% below its November high of almost $69,000.
According to Scaramucci, he is optimistic that there will be a lot of demand for bitcoin in the future due to two major developments on the institutional side of things.
According to him, one of the reasons why Fidelity Investments is allowing companies to offer employees the option to invest up to 20% of their retirement and savings plans in bitcoin is because they are allowing companies to offer employees the option to invest up to 20% of their retirement and savings plans in bitcoin.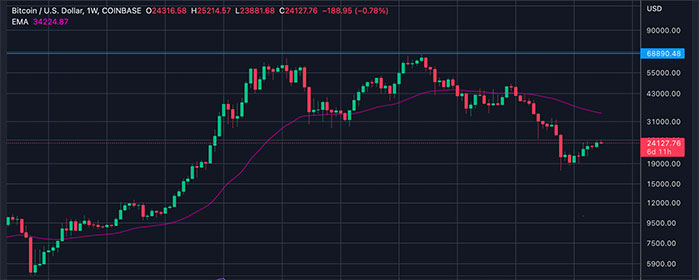 Scaramucci cited another reason that he believes will generate tailwinds for bitcoin as a result of Blackrock's offering of a private trust for clients who wish to invest in digital currency.
Additionally, Blackrock said that they are partnering with Coinbase to build a risk management program called Aladdin as well as offering a private trust through which their clients will be able to invest directly in bitcoin in addition to their new Aladdin risk management program.
A leading asset management company with assets worth nearly $8.5 trillion recently announced that it has entered into a partnership with Coinbase that allows it to offer its institutional clients a way to buy cryptocurrencies, starting with bitcoins.
A recent report from Scaramucci said that the rise in the value of Ethereum's decentralized blockchain-based network is attributed to a so-called merger that will take place in a few days.
A merger between Ethereum and Litecoin is about to take place, and the gas and transaction fees are about to be reduced. The reason for the rise in the price of ethereum over the last five and a half weeks has been attributed to the fact that it is up about 70 plus percent.