Ripple is all about creating an internet of value. An immutable, transparent web where transactions from across the globe can be processed securely and instantaneously. At least that is how things stand at right now.
SWIFT is Dominant
Ripple has been striving to be a world leader in that quarter and standing on its way is a legacy system that was founded in the 1970s. SWIFT, has over the years managed to convince over 11,000 banks and financial institutions.
Even so, they are relatively expensive and despite efforts in recent years to improve through GPI and lowering processing times. And this is what Ripple as a company that has over 300 banks connected to its ledger has an edge over Swift.
XRP Positioned as a replacement for SWIFT
In a recent podcast, Chris Larsen, the co-founder of Ripple, said they are positioning XRP to replace SWIFT explaining that banks cannot trust Bitcoin and their proof-of-work system. The risks of a 51 percent are too high.
"The miners can rewrite history. So that's why I think you probably won't see proof-of-work models be the guts of the global financial system to take the place of Swift and correspondent banking, for example. Whereas I think XRP Ledger, I think is already proving to be, can be that replacement to that existing inefficient system."
Ripple to issue Working Capital Loan to RippleNet Partners
Others news is that Ripple plans to be a loan provider for clients connected to the RippleNet.
By issuing working capital to their partners, they hope to solve a major pain-point while concurrently incorporating XRP via the On-Demand Liquidity (ODL).
Ripple is currently searching and plans to hire a director for their Loans division.
XRP/USD Price analysis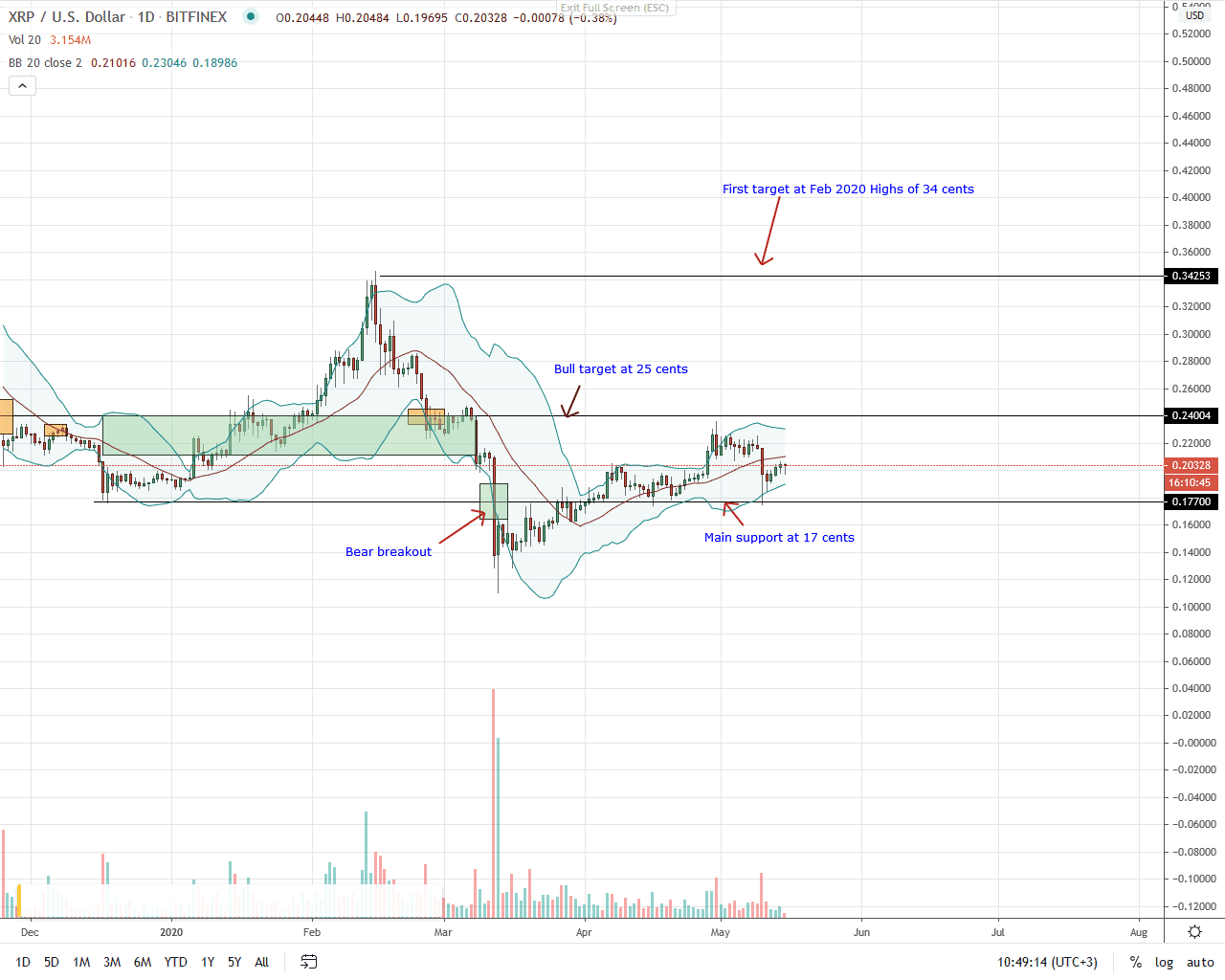 At the time of press, XRP is stable but down seven percent in the last trading week. Technically bullish, aggressive can accumulate on every dips since there are series of higher high relative to the lower BB.
Besides, in early session, bulls rejected bearish attempts with the results being a long lower wick in the daily chart hinting of buy pressure in lower time frames. For aggressive traders, the first target will be 25 cents.
Generally, XRP is consolidating against the greenback. Unless otherwise there is a sharp up thrust that will lift XRP price above 21 cents or May 10 highs, risk-averse traders can hold their guns. Any break above 25 cents complete with high trading volumes will prop the case for a rally towards 34 cents or Feb 2020 highs.
Disclaimer: This is not investment advice. Opinions expressed here are those of the author and not the view of the publication.
---
If you found this article interesting, here you can find more Ripple news