The XRP price has skyrocketed more than a staggerring 20% in the last 24 hours as investors continue to grow more confident of Ripple winning the case against the ongoing lawsuit with the United States Securities and Exchange Commission (SEC).
XRP Hits Nitro Boosters
Amidst the bubbling postive sentiments in favor of Ripple, XRP has exploded in both its daily and weekly charts. According to CoinMarketCap, XRP trades at $0.46. Over the past seven days, the coin witnessed a gargantuan rally of more than 23% to lead altcoins growth. As a result, XRP's market capitalization has also increased from $20 billion to a new yearly high of $25 billion, further solidifying its uptrend.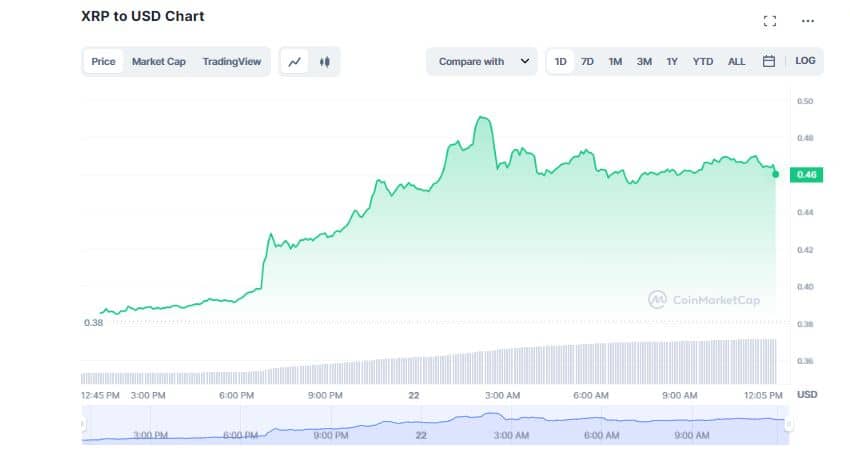 As per a recent study by the market research firm Messari, despite the ongoing Ripple vs SEC legal battle, the XRP Ledger (XRPL), a decentralized blockchain technology supported by the San Francisco- payments company, has trigerred XRP's recent surge.
The report claimed the adoption of the XRPL has increased significantly since February, as more institutions and individuals are using the XRPL for cross-currency transactions and other use cases.
Messari's report highlights that the XRPL's features include several functionalities that would revolutionize the global financial system. Due to this, investors may become more interested in investing in XRP, which could further fuel its price growth in the coming future.
1/ Despite the external pressure being applied by U.S. regulatory authorities, the $XRP Ledger (XRPL), supported by @Ripple, aims to provide a digital payment infra not just for individuals, but also for existing financial entities such as central banks.

XRPL Overview👇🧵 pic.twitter.com/Cv08YK2HrO

— Messari (@MessariCrypto) March 21, 2023
Ripple's Possibility of Winning Lawsuit Grows
In recent months, the federal district judge from Manhattan, Analisa Torres has sided with Ripple on various motions, including its demands for emails and other documents from SEC officials in an effort to show the agency may have unfairly targeted Ripple.
Earlier this month, Judge Torres had issued a much-awaited ruling on the parties' motions to preclude expert testimony in the lawsuit, elevating Ripple's hope to win the two year long legal battle. Several crypto critics have also fervently advocated for the blockchain based firm over the American agency.
On March 8, John E. Deaton, a popular crypto lawyer, took to Twitter to suggest that Ripple will bag a win against the SEC, as the years-long securities legal battle draws closer to an end. It seems the chances of the lawsuit ending in Ripple's favor are looking better each day as Ripple Labs said in court papers on March 3 that a recent U.S. Supreme Court decision supports one of its key defenses in the SEC's case over the cryptocurrency XRP.
In Ripple, the judge said SEC lawyers are more interested in advancing their own agenda than adhering to the law. Think about how significant that is. How do SEC lawyers enforce the law if they don't themselves honor the law. As a former federal prosecutor, I'd be ashamed.

— John E Deaton (@JohnEDeaton1) March 8, 2023
Ripple Gathers Support
Aside these developments, fifteen other industry players and organizations, including Coinbase and The Blockchain Association, submitted amicus briefs either on behalf of Ripple or on behalf of the wider crypto industry.
By comparison, the SEC received just two amicus briefs to support its case against Ripple. Moreover, in the beginning of this month, dozens of crypto whales with up to $100 million in XRP transferred more than $53 million in XRP from one unknown wallet to another. Furthermore, crypto research firm Messari CEO Ryan Selkis noted,
"Ripple should win the overreaching XRP-SEC case, and the XRP Ledger should be afforded the opportunity to compete fairly on digital payments infra globally."
I've been critical of Ripple in the past (various reasons), but more aligned with them than ever before.

Ripple should win the overreaching XRP-SEC case, and the XRP Ledger should be afforded the opportunity to compete fairly on digital payments infra globally.

Demand is there! https://t.co/fewaEami0p

— Ryan Selkis 🥷 (@twobitidiot) March 21, 2023
Although Ripple's win aginst the SEC may not have immediate effects on XRP but the judgement would have far-reaching effects on the cryptocurrency industry. In a statement, Perianne Boring, founder and CEO of the Chamber of Digital Commerce said,
"This case may set a precedent that could impact not only the digital asset industry, but also the capital markets."