Ripple prices closed Q1 2023 strong, surging to register new highs on March 29. Technically, the uptrend remains, and buyers are bullish, expecting even more gains in the days ahead.
In Q1 2023, XRP rose roughly 75% to peak at $0.58 last week before contracting. Even though the coin is down 10%, the path of least resistance remains, and buyers remain upbeat.
Going forward, traders can watch out for how prices react at March 20 highs of around $0.50, reading from the arrangement in the daily chart. This bar is a high-volume bullish breakout candlestick that initiated the recent leg up.
Hope behind SEC Case Sparks Rally
As it is, XRP is bullish. The path of least resistance, despite losses over the weekend, is northwards. Even so, there are elements of weakness, but traders remain hopeful fundamental tailwinds will propel the coin to new highs.
The ongoing case between Ripple, the blockchain company, and the United States Securities and Exchange Commission (SEC), will soon be concluded. The regulator claims XRP, a coin issued by Ripple Labs, is a security and, thus, must be within its purview to regulate it.
However, after two years, XRP supporters are convinced the ruling will favor them, supporting prices and aiding XRP's recovery after last year's bear run.
It will also be a win for crypto when the regulator has been cracking the whip on blockchain-focused projects.
Ripple Price Analysis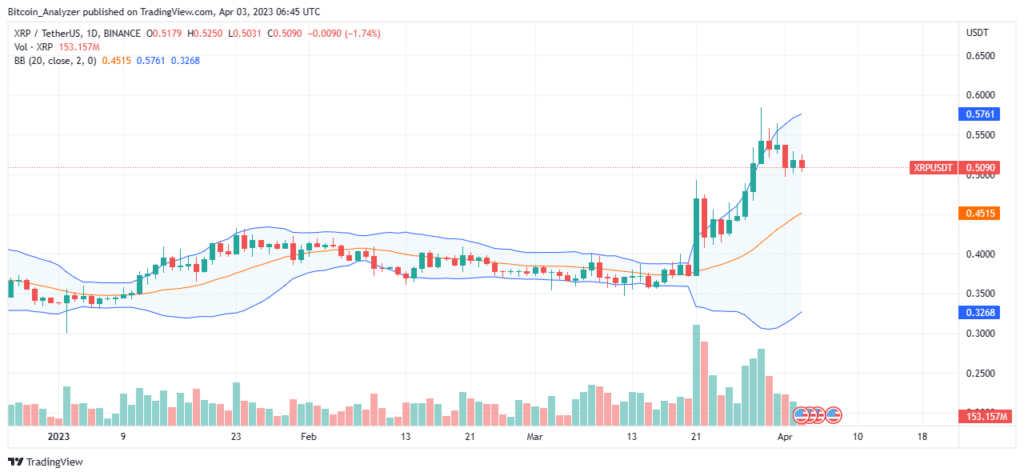 The uptrend remains as XRP prices trend on the range established in early October 2022.
From an effort-versus-result perspective, the uptrend is valid, especially if prices are above $0.50, coinciding with the bullish bar of March 21.
Traders can load the dips as long as prices are above this level.
Notice that the correction from recent peaks is with lighter volumes, supporting this bullish outlook.
On a more positive outlook, any rally above $0.58 will be the base for a leg up toward $0.68 in the coming sessions.
Technical charts courtesy of 
Trading View.
Disclaimer: 
Opinions expressed are not investment advice. Do your research
.
---
If you found this article interesting, here you can find more Ripple news.