Even with the SEC stripping over $15 billion of value from the digital asset, the Ripple price is still up a decent 51 percent year-to-date. Undoubtedly, it was wavy for the digital asset in Q4 2020.
After the Flare Network snapshot—with a promise of an airdrop, the XRP price rallied to over $0.75 before the shocker from the United States Securities and Exchange Commission (SEC).
Ripple's Increasing Client Count
However, a recent report from Ripple suggests a relatively successful quarter. Despite the setbacks, the platform saw an influx of new banks to their Ripple Cloud.
Since its launch in June 2020, nearly 40 banks and payment service providers have migrated to the global payment network based entirely on the cloud.
Besides, more than half of RippleNet transactions pass through the cloud. Ripple also revealed their signing of new 15 ODL clients even with the SEC lawsuit.
For a more precise understanding, RippleNet comprises On-Demand Liquidity (ODL) and xVia, built on top of the open-source xCurrent.
ODL is integral to Ripple's core mission of rolling out a new blockchain-based solution that facilitates the near-instantaneous flow of value by using XRP.
Rising XRP Trading Volumes
Outside of strategic partnerships, Ripple's trading volumes rose 300 percent, indicating trading (mostly bears dumping the coin from the SEC scare)
While there are initial challenges, Ripple focuses on OTC sales and short-term leasing the coin to a few ODL customers.
Ripple Price Analysis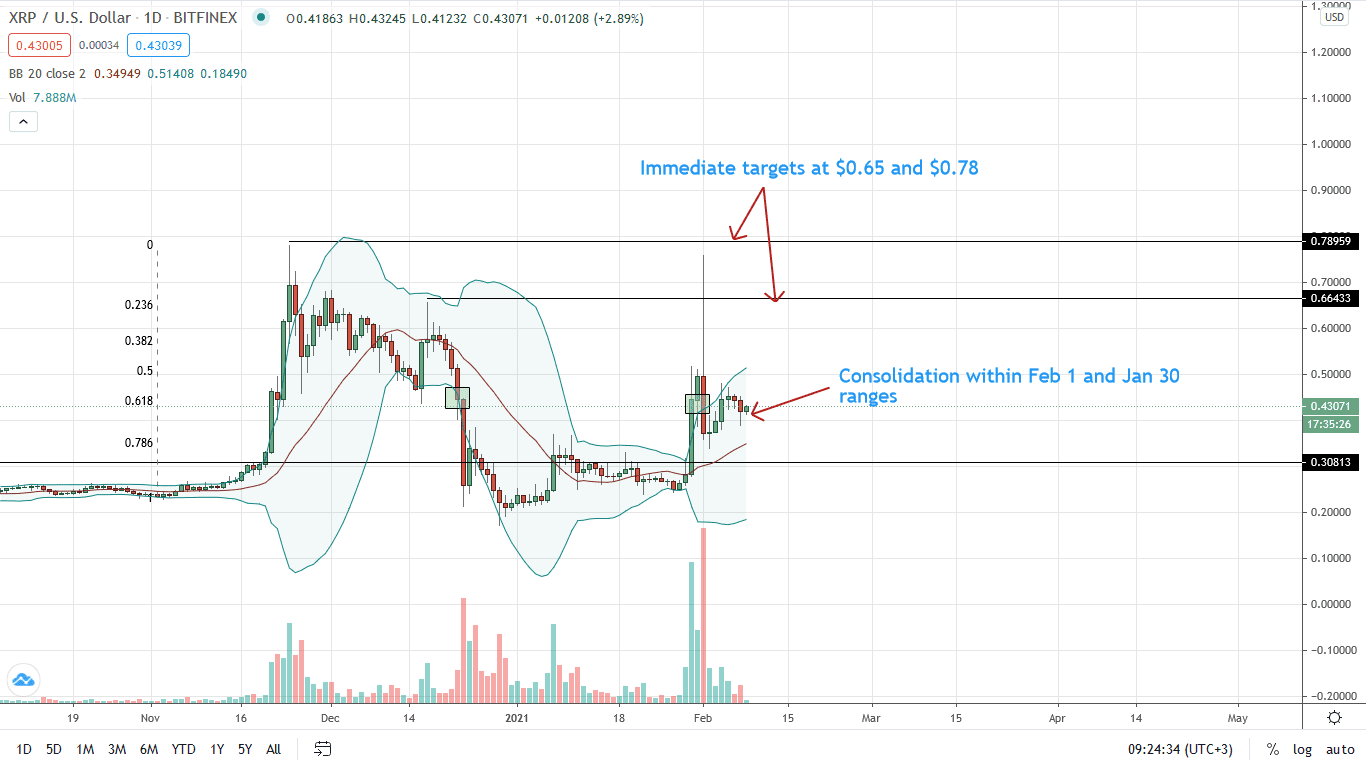 As of writing on Feb 8, the XRP/USD price is steady on the last day, losing seven percent week-to-date.
Ripple's fundamentals are, nonetheless, solid. However, there are hints of short-term bears judging from price action. Notably, the Feb 1 bear bar with a long-upper wick has high trading volumes eclipsing those of Jan 30. Technically, this is bearish even if prices are oscillating inside Jan 30 bull bar.
For trend continuation, XRP/USD prices should push back above the current consolidation back above $0.50 in a reflection of buyers of late Jan 2021. It will give traders the confidence of trend continuation as they target $0.65—Dec 2020 highs.
On the other hand, losses below $0.33 and $0.30 could see the XRP/USD price tumble back to $0.25 in a bear trend continuation reflecting losses of Dec 23 and the massive liquidation of Feb 1.
Chart Courtesy of Trading View
Disclosure: Opinions Expressed Are Not Investment Advice. Do Your Research.
---
If you found this article interesting, here you can find more Ripple news