Speaking during the Chamber of Digital Commerce's Parallel Summit on July 17, 2020, Brad Garlinghouse, the CEO of Ripple, expressed his admiration for China saying it was ahead of the United States in formulating laws around cryptocurrencies and blockchain.
It is no secret that China has made it clear that their plan is to eclipse the United States in matters technology.
In October 2019, during his speech, Xi Jinping said China needed to integrate emerging technologies like blockchain in all their core sectors and to be a leader in the future.
As such, not only has the second largest economic powerhouse formulated laws towards that end but some of their cities are already using blockchain for validating the authenticity of documents.
During the summit, Brad, said he was in "awe" further stating that the growth of the industry will largely depend on how fast and clear the regulatory front is.
"I think they're realizing that some of these technologies may in fact be very foundational for the future of how financial systems work, and they want to make sure that they have capabilities at the heart of them. Today, because of the mining control of Bitcoin and Ether in China, these are technologies controlled by China. Twenty-five years ago the U.S. was a leader in making the internet what it is today, but part of that came from regulatory clarity."
Ripple is already entangled in a regulatory quagmire. The U.S. SEC has failed to acknowledge XRP as a utility. Besides, a lawsuit claiming XRP is an unregistered security is also pending determination.
Ripple Price Analysis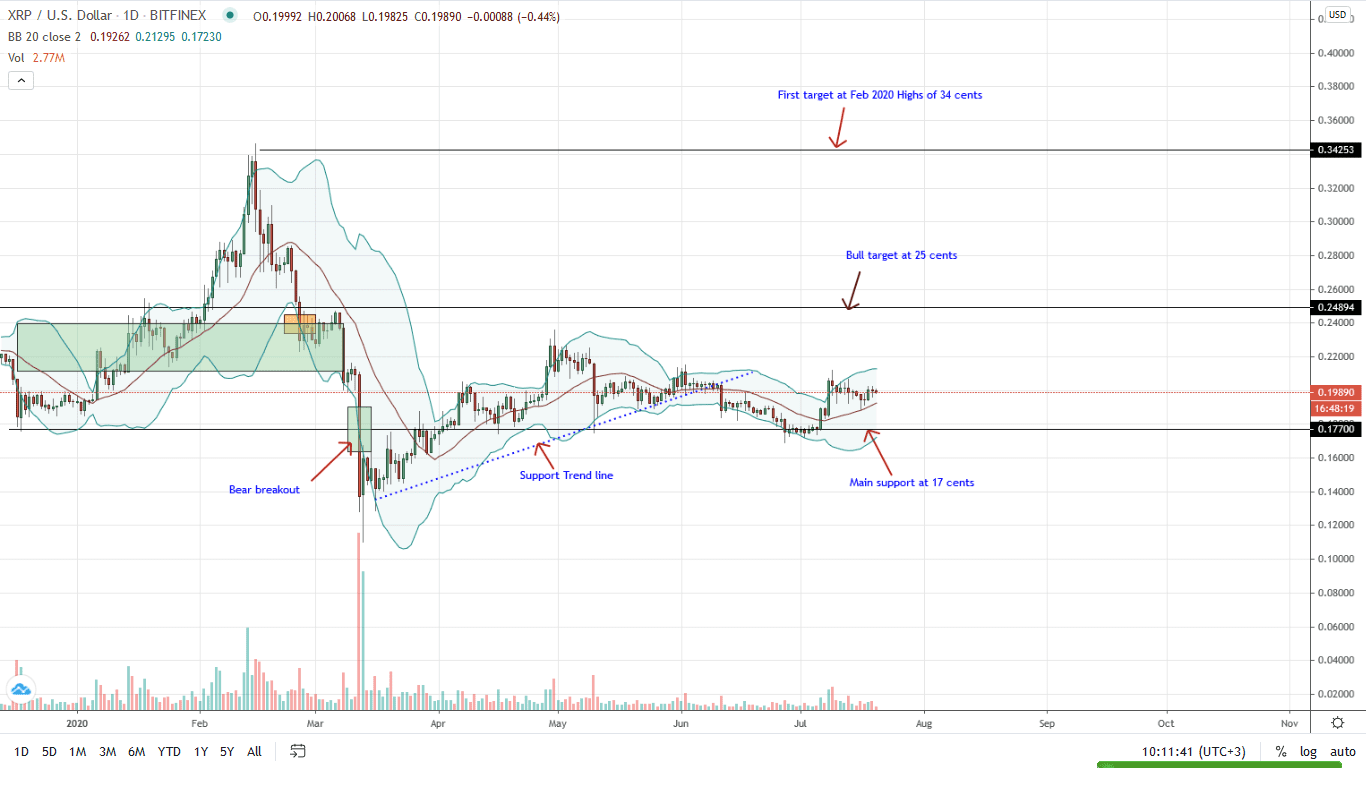 At the time of writing, the Ripple price is largely stable. It has failed to gain against both the BTC and USD. Still, the path of least resistance—judging from price action, is northwards.
From the daily chart, XRP prices are oscillating inside a bullish bar of July 8, 2020. From an effort versus results point of view, this is a net positive and prices may edge up higher in days ahead.
Also note that in the midst of this consolidation, XRP bulls are firm above the 20-day moving average (the middle BB).
This means that though bears may press lower, every low should technically be a buying opportunity. However, leaning on caution, risk-averse traders should wait for a sharp close above July 8, 2020, highs of $0.211 before initiating longs.
In that case, immediate resistance and target should be $0.25.
On the flip side, any close below $0.190—or the middle BB, may force liquidation. In that eventuality, XRP prices may slide back to 17 cents in the immediate term.
Chart courtesy of Trading View
Disclaimer: Views and opinions expressed are those of the author and is not investment advice. Trading of any form involves risk. Do your research.
---
If you found this article interesting, here you can find more Ripple News