For blockchain to flourish, its community must be vibrant. Speculators are a big part of this but at core are developers. And this is key considering the open source nature of blockchain-based projects.
Funding Projects
Ripple is no exception.
Yes, there are questions around the tight grip of Ripple Inc. being the majority holders of XRP issued by the ledger maintainers, Ripple Labs, but they are doing a pretty good job at financing teams and startups that use XRP, incorporating them into their daily operations.
Of them is Wietse Wind and Stefan Thomas, the former CTO of Ripple and now the founder of Coil. There are other projects what plan to incorporate XRP in their operations but in the short term, traders are focused more on price action.
In Q1 2020, XRP was one of the worst performing assets as its price hovered around the 10-20 cents level.
However, given the influence of BTC and how it is directly coupled with altcoins—despite Brad Garlinghouse assertions that XRP is decoupling away from the most valuable asset, there are odds of XRP edging higher in the immediate term.
Ripple's Community is shrinking
It is vital that price improve. A recent study reveals that the Ripple community has been shrinking over the last two years. With its correlation with price, the investment and trading community is sensitive to market performance.
If price drop, traders, who are emotionally tied, are more likely to give up. This could explain the loss as the Ripple and Litecoin communities lost members the most over the last two years. Over the same period, prices tanked.
XRP/USD Price Analysis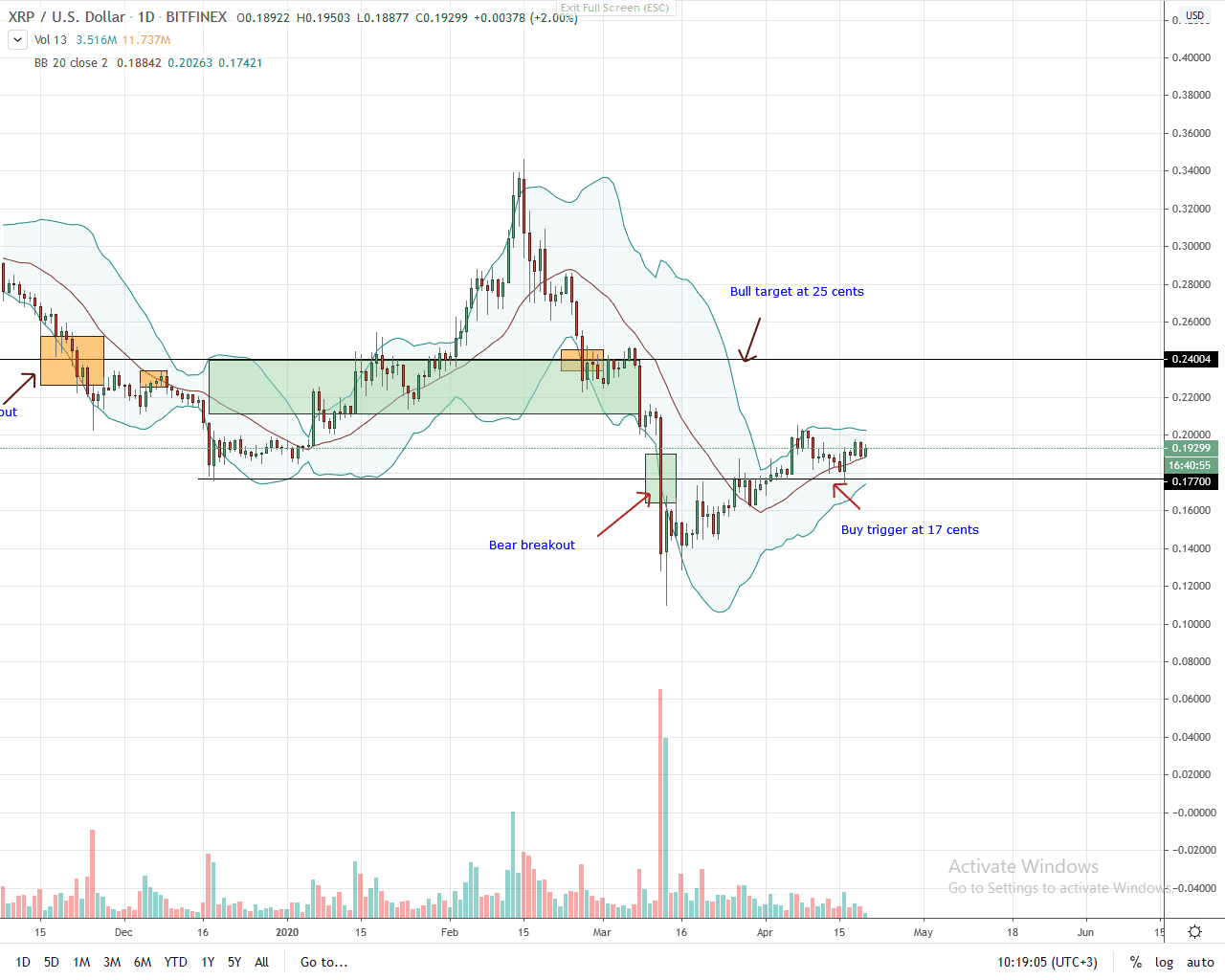 Prices are largely consolidating and week-to-date, XRP is stable. Although down roughly one percent in the last trading day, bulls are in command in the short term.
Most importantly, buyers are building their momentum and confirming buyers of April 16. With a double bar bull reversal pattern with above average trading volumes, aggressive traders can buy the dips as long as prices are trending above 17 cents or April 6 low.
The first target should be 25 cents for aggressive traders. However, a clear break above 20 cents, or April 6 highs, with above average trading volumes open the doors for 25 cents and 30 cents.
On the flip side, losses below the 16-17 cents zone nullifies this bullish projection and confirms the bear continuation pattern of Mar 12. Immediate target for contracts traders will be 2020 low of 10 cents.
Disclaimer: This is not investment advice. Opinions expressed here are those of the author and not the view of the publication.
---
If you found this article interesting, here you can find more Ripple News