Eleven months ago, Ripple Inc., the firm whose CEO is Bradley Garlinghouse, sued YouTube. In a court filing, it said the video-sharing platform was an agent, enabling scammers con XRP holders.
Ripple and YouTube Settle
Specifically, Ripple alleged that YouTube failed to protect its clients. The payments firm said it let scammers carry on their illicit businesses using non-existent "giveaway scams" via fake social media personalities.
Notably, scammers were impersonating the CEO, Bradley Garlinghouse, subsequently causing users to lose millions of dollars.
Fast-forward 11 months later, and Ripple—itself entangled in a case with the U.S. SEC, appears to be settling with YouTube. In a tweet, Brad said they would fight the problem together to "prevent, detect and take down these scams."
In a series of tweets, Brad said:
"Social platforms are starting to acknowledge their role in allowing crypto scams to persist and recognize the need to be part of the solution. Some like are helping detect/track stolen funds, but platforms need to lead the charge, or it's still just whack-a-mole."
Adding,
"While specific settlement terms are confidential here, it's clear to all that without accountability and action, trust erodes in this industry, at a crucial time when governments around the world are looking closely at crypto."
Will the SEC Case against Ripple stand?
Meanwhile, the SEC is stumbling if recent developments are anything to go by.
The case by John E. Deaton, a Personal injury lawyer, seemed to have sparked a wave of requests from other XRP holders.
In a class-action suit, they now claim their holdings shouldn't be classified as a security since they didn't buy the asset as an investment contract.
Ripple Price Analysis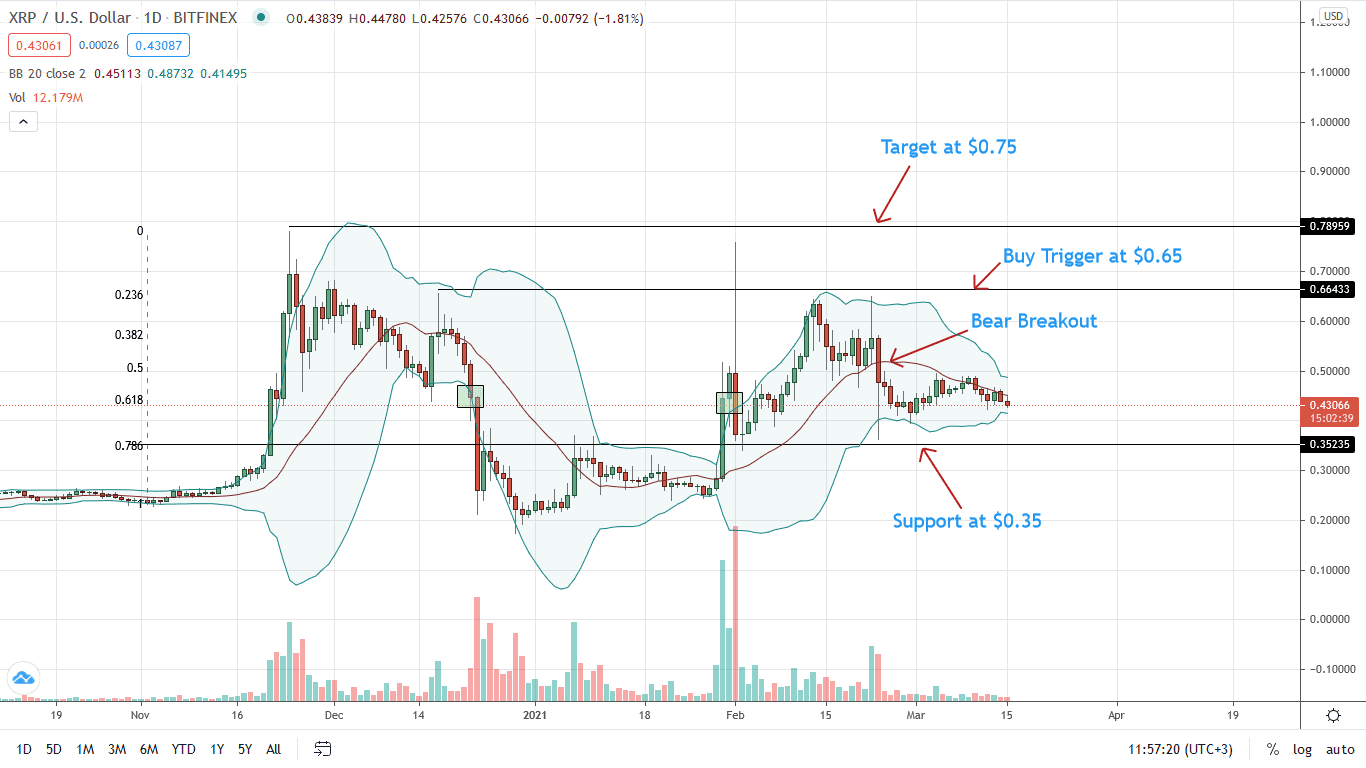 Nonetheless, the Ripple price remains in range, down roughly five percent week-to-date. The XRP price is weak against the BTC and ETH in the weekly chart.
The XRP/USD price is trading below the middle BB from the daily chart, in sync with losses of Feb 23 in a bear trend continuation pattern. Although traders are confident, the path of least resistance could be southwards provided bulls fail to reverse losses of Feb 23.
In the immediate term, a break above $0.50 and the middle BB may spark demand for the XRP price, driving it back to $0.60 and $0.65 resistance levels.
On the flip side, losses below the Mar 12 lows of $0.42 may force the XRP/USD back to $0.35, confirming bears of Feb 23.
Chart Courtesy of Trading View
Disclosure: Opinions Expressed Are Not Investment Advice. Do Your Research.
---
If you found this article interesting, here you can find more Ripple news